by Sue Finley.
Photos (except as indicated) by Sarah K. Andrew
(Listen to this story as a podcast.)
Passion is a funny thing.
What is it, you wonder, about one place or another, one person or another, one career or another that is so compelling that the person caught in its grip will do anything to have it?
Ferrin Peterson can't exactly tell you why she will at least temporarily put aside the eight years of study and sacrifice that earned her a veterinary degree from UC Davis, one of the top schools in the country, and a lucrative–and safe–career as a large-animal vet. Nor can she say why she's willing to let her acupuncture skills and certification lie dormant, for now.
All she knows is this: "I'm following my passion."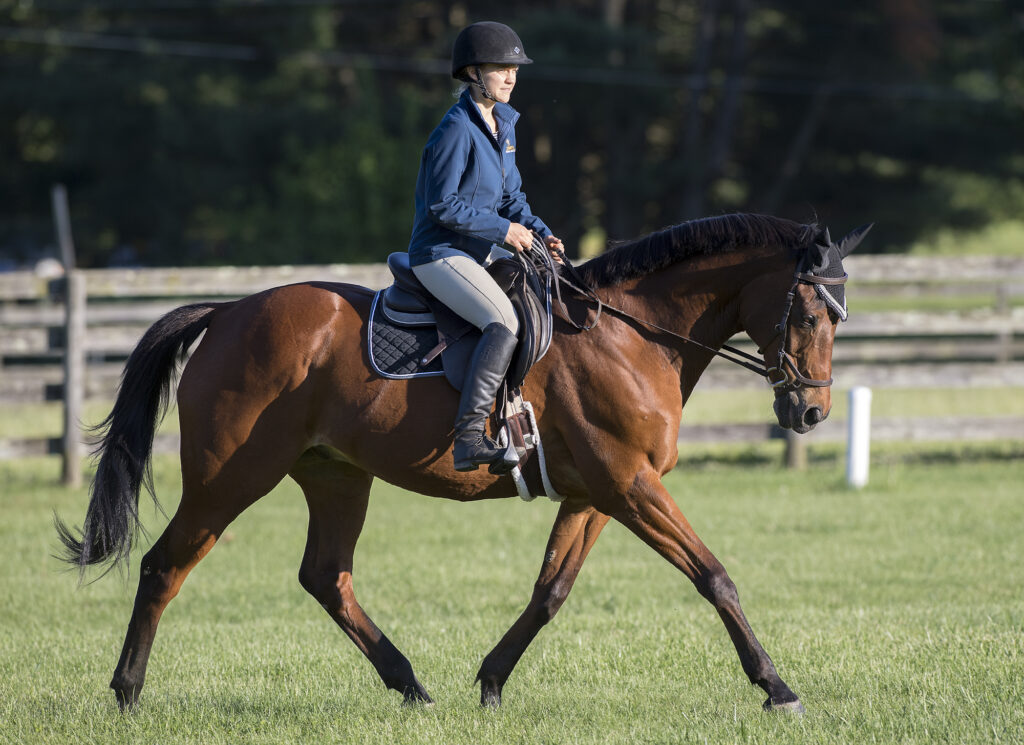 That alone would be an interesting story: girl sets aside career as a veterinarian to pursue her dream of being a jockey. But Peterson took the interest in her choice to a new level when she hired Julie Krone to be her agent, and announced that they would get their start together at Krone's old stomping grounds, Monmouth Park, when the meet opens July 3.
Peterson is 5'4″, 108 pounds, with a polite manner. At 28, she brings a maturity and confidence to her career not found in most seven-pound apprentices. In all likelihood, she is the best-educated jockey in history, and her accomplishments go beyond that. She is also a certified acupuncturist and was a Division I pole vaulter at Cal Poly San Luis Obispo who reached the state finals in high school and at junior college.
"She wants to be a jockey with the passion of nothing I've ever seen in my life. Literally. Like, unmeasurable craziness." –Julie Krone
Krone met Peterson at Del Mar last summer, and she made the snap decision to become involved in her story, and to represent her in her own first try at being a jockey's agent.
"She had a reputation for being the girl who loves racehorses so much that she's going to ride races while she goes to vet school," said Krone. "She wants to be a jockey with passion of nothing I've ever seen in my life. Literally. Like, unmeasurable craziness. I've seen people try to talk her out of it, and they're like, `Oh, you're a nice girl. You've got a great education.' And the way she sees it, she's going to be a jockey until she's old, and then she can be a veterinarian."
"This is literally what I wanted to do my entire life," said Peterson, who graduated a year ago, and felt the call of riding races pulling her back to the track full-time after getting on horses for trainers in the morning during her final years at school. "When I was a young kid, I was always talking about becoming a jockey. I grew up on the back of a horse."
Monmouth was Krone's idea. She said that the strength of the jockey colony and the small fields that have plagued Southern California make it a tough place to get your start. Krone parlayed her own success at Monmouth, where she won the riding title from 1987-1989, into a career on the New York and later Southern California circuits. And it's not the only page they'll take out of the Krone playbook.
John Forbes and his then-assistant Pat McBurney played a key part in getting Krone's career off the ground when Forbes, the perennial leading trainer at Monmouth at the time, used her as his regular rider. McBurney has now taken over the reins at the stable, and when it came time to entrust Peterson's career to someone, Krone sent her east to work with McBurney. She spent this spring exercising eight or nine horses a day for the trainer at Overbrook Farm, where McBurney stabled his horses until Monmouth Park opened for training. McBurney said that when Krone called, he listened.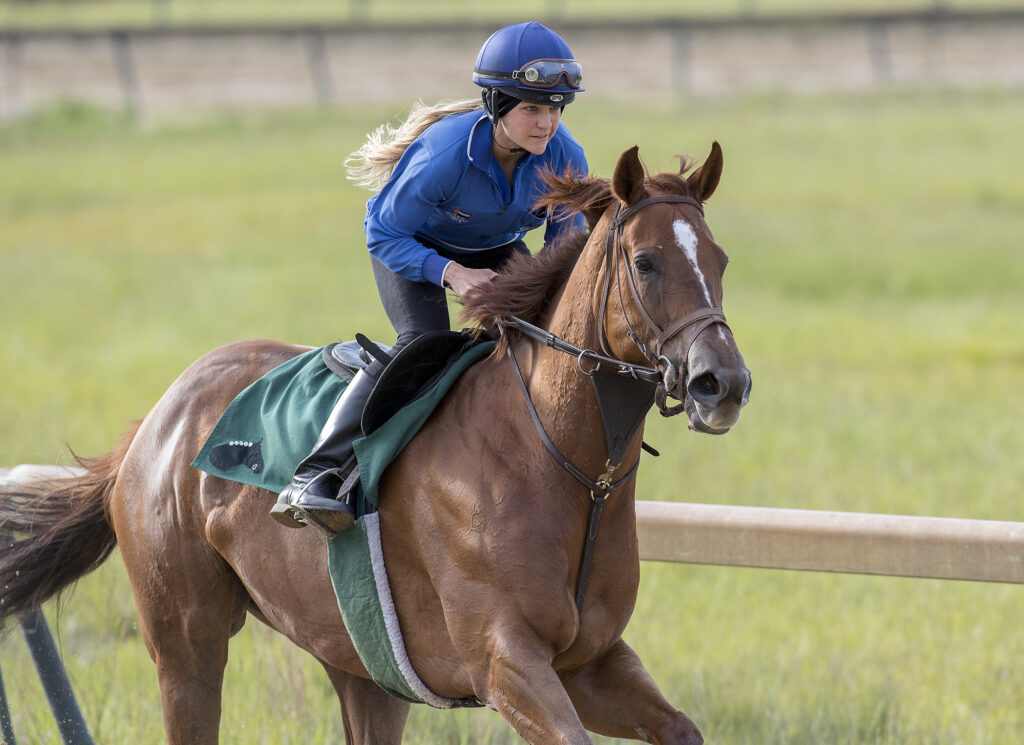 "I received a call from Julie Krone and she asked me about an apprentice rider coming out to Monmouth Park this summer," McBurney recalled. "If Julie was excited about a rider, of course we were going to listen to that. So she came out to Overbrook and has just been galloping and breezing horses. We only have a half-mile track here, so you can't kick on too fast, but she's doing very good; gets along with the horses as she learns about them, getting them to relax and everything. It's hard to say what kind of jockey she is at this point, but has a great way with horses. She's a very hard worker with a great attitude. Everyone likes her in the barn, and everyone is interested to see her get riding and see how she can do."
In all likelihood, Peterson is the best-educated jockey in history.
Krone was inducted into racing's Hall of Fame in 2000, and retired for the second and final time in 2004 after winning 3,704 races in a career that spanned almost 20 years. She has taken a particular interest in Peterson since meeting her at Del Mar last year, moving her into the home she shares with her husband, the writer Jay Hovdey, and their daughter in order to more efficiently impart her knowledge. They have reviewed films and form, done strength training, strengthened other muscles by surfing and playing pickleball, and have formed a strong friendship as well as working relationship.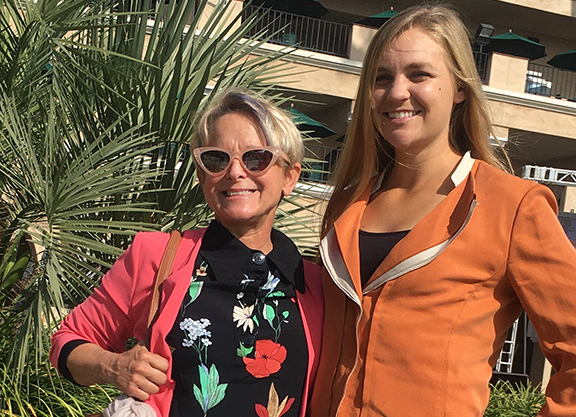 Before they met, Peterson had been riding at Golden Gate while she completed her clinical year in veterinary school, but she always had her sights set on the Southern California circuit. "I thought, `I'm going to go to where I know of the best jockeys and trainers and try to learn from them. And if I don't make it, then at least I tried my hardest and had an awesome experience.'"
She had had a handful of winners when, that summer at Del Mar, she set out to meet Krone, who was doing a book signing on Pacific Classic Day. Peterson saw the line that had formed, and realized that it wouldn't be a good opportunity to talk, but happened to run into on her way out of the track that night. She introduced herself, and Krone invited her to her house to talk the next day. The following week, Krone suggested that she stay in San Diego and train with her, and return to racing in the spring.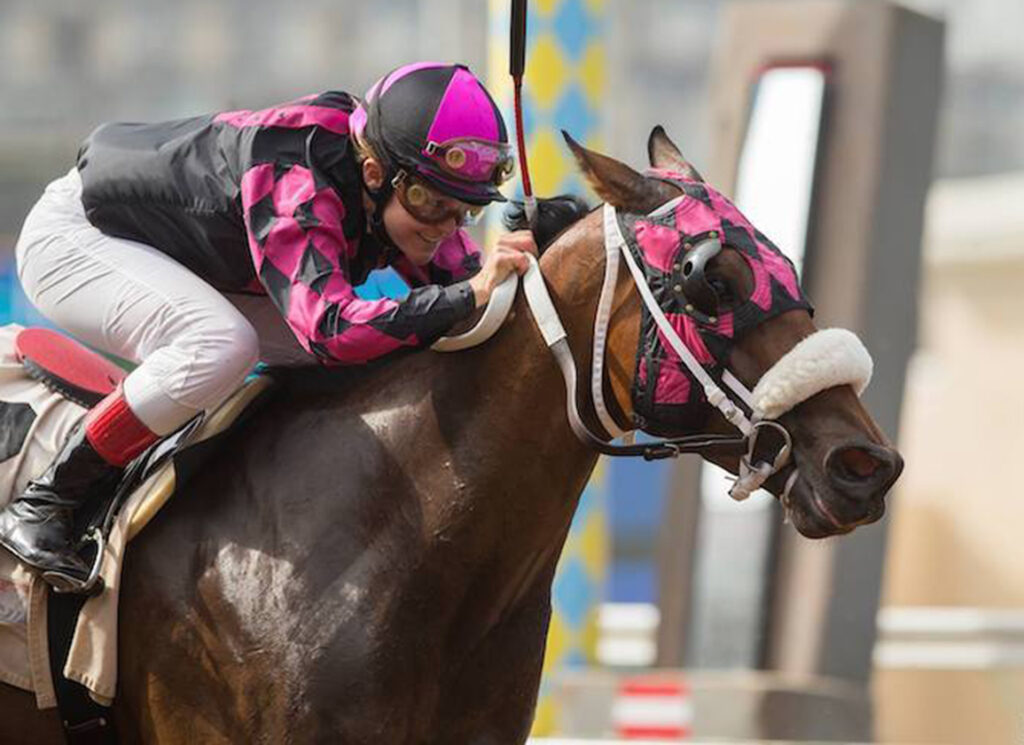 For the past 15 years, Krone's nearly full-time occupation has been as a mother. While she has done some racing commentating work here and there, her main focus has been her daughter Lorelei, a gifted singer and actress who is a community theater regular in the San Diego area who hopes to pursue that interest in college. Lorelei tearfully confessed her lack of interest in horses when she was young, and Krone has supported her passion for theater, helping out by painting sets, sewing costumes and even acting a bit here and there.
But in Peterson, she might have found not only her return to the sport, but a new career after her daughter heads off to school. While Peterson is 28, Krone has definitely taken her under her wing as if she's her second child.
"I started coming over to Julie's every day just to train," Peterson recalled. "And then she said, ` Well, there's a spare room here if you ever need to stay the night.' So it was like, okay, that's nice. And then one day she's like, `and I put a closet in there and I put some hangers.' And so eventually, as we got to know each other better, she just kind of moved me in."
Peterson spent hours on the Equicizer (which features Colonial Affair's 1993 Belmont saddle towel) in Krone's living room. Krone came to the track in the morning to watch her ride. She took her to ride jumpers and to practice dressage to work on her foundation of horsemanship. Peterson said the latter is one of the key takeaways from their association.
"I always felt like I had great horsemanship growing up with horses and going through veterinary school," said Peterson. "But Julie just has such a unique way of looking at each individual horse. And so she has just really helped me to understand horses on a deeper level. And she really wanted me to focus on weight training, and I had done a lot of weight training back when I was a pole vaulter, but then as a jockey I was mostly just doing cardio. And just having her finesse things on the Equicizer, things that I would do in dressage that I didn't think applied to riding race horses. And I remember she would tell me, `Oh no, you're going to do this just like you do in dressage.' And I would think, `that can't work on a racehorse'."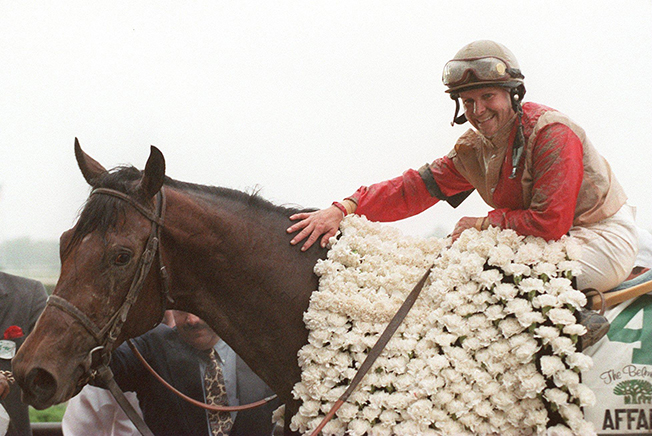 "She has all of these ideas," said Peterson. "There are a lot of athletes who are talented, but can't necessarily teach it to someone else. And she really has a great ability to teach people and she thinks outside the box. And so the training was never dull. There was always something new. She'd find inspirational pictures of herself or other riders riding and put those in my room and be like, `okay, look at this.' And even now that we're apart on opposite coasts (Krone will move to New Jersey in mid-June), she'll send me pictures and be like, `Okay, this is what I want you to look like.' And it really helps me to have those ideas in my head of what she's looking for."
And what did she teach her, Krone was asked?
"People ask me this question all the time," she said. "They say to me, `What advice would you give somebody who wants to be a jockey?' And I always think that's funny because the people I've known that want to be jockeys, they don't need very much advice, because it had better come with the territory. You better be strong and egotistical. And I mean that in a powerful, sportsmanship way. You better have an ego that can carry you past a couple of mistakes. When somebody tells you, `You stink,' there better be some qualities to you. And if a person has the qualities that you would give advice to, I would advise people to be like Ferrin. Because she is all in."
I would advise people to be like Ferrin. Because she is all in." –Julie Krone
Of course, for Krone, all in wasn't always a good thing. After a decade or so of smooth sailing when she started riding, her luck took a turn for the worse in the early-to-mid-90s when she suffered a string of serious accidents. In 1993, after the high of her Belmont Stakes win, and 10 days after she had a five-win day at Saratoga, her horse clipped heels with another entering the first turn on the Saratoga turf, and a trailing horse hoof shattered her ankle so badly that her foot was turned backwards. The bones, she recalled at the time, looked like dust. A week after she returned in 1995, she was the leading rider at Gulfstream when the horse she was riding broke down. She fell, and broke both hands, along with several fingers and knuckes, requiring surgery.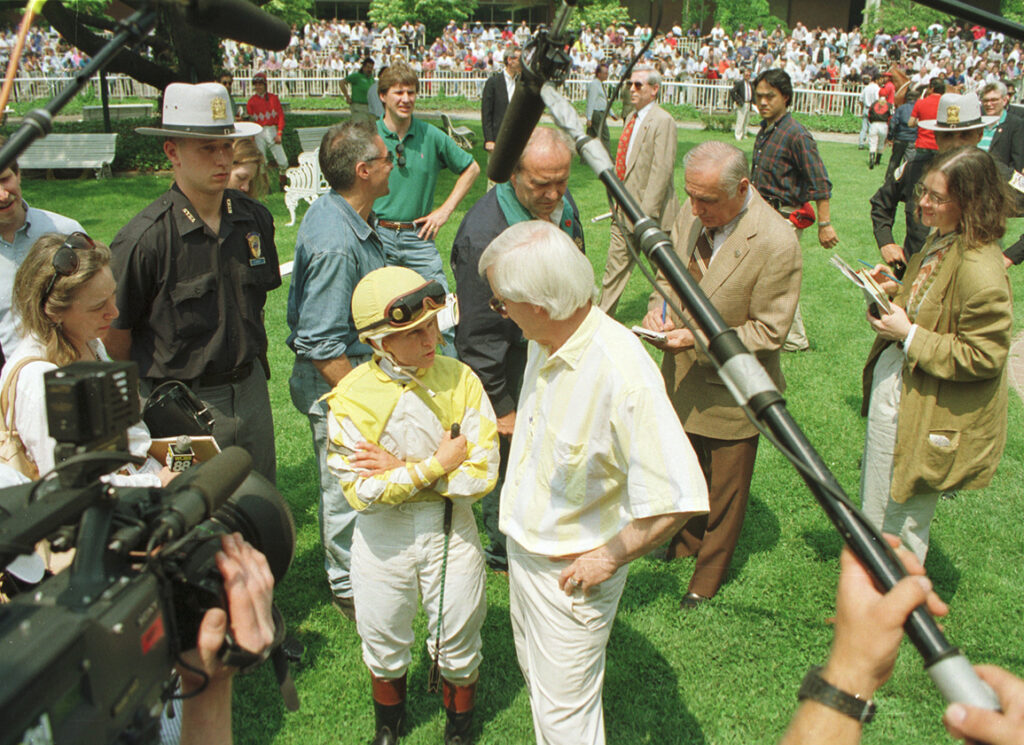 She retired for the first time in 1999 after post-traumatic stress triggered by the injuries left her unable to ride. Krone had once told people that she would trade a body part to continue doing what she was doing. Suddenly, there were days when it seemed as if that may be what was being asked of her. Her mind and her body rebelled.
"I had so many physical things that happened to me that had to do with trauma," she said. "I'd be in the post parade. And this is part of the disorientation that probably adds to the anxiety. It feels like you've been flushed with blood like Kool-Aid and you think you're going to die. And you can't even stop the rapid-fire thoughts. I would look at the starting gate and I would not even be able to see the numbers on the gate, like the gigantic numbers. They'd be so fuzzy. And then I'd look down at at my horse. And I'd be like, `Who in the heck is this?' Like, I wouldn't even remember who my horse was. I'd have to borrow the pony girl's program and look, because I was so embarrassed to say, `Who trains this horse?' Like, I just met the guy five minutes ago in the paddock."
Through therapy, she discovered that she was suffering from PTSD, that the injuries had brought her back to the trauma she had suffered as a child. "It was really strange to come through the stages of that because it wasn't popular, you know, to be like, 'Oh, I'm a damaged athlete. I take Zoloft and I have trauma.' It was the last thing I wanted to do–to be an athlete and share any of my challenges with people or tell people that I was afraid, because that's like the taboo of all taboos. You don't ever admit that."
The therapy allowed her to return to riding in 2002. She broke her back in a spill in 2003, won the Breeders' Cup Juvenile Fillies aboard Halfbridled that same year, and retired for good in 2004.
With all that, it's easy to wonder why she didn't try to talk Peterson out of the same career.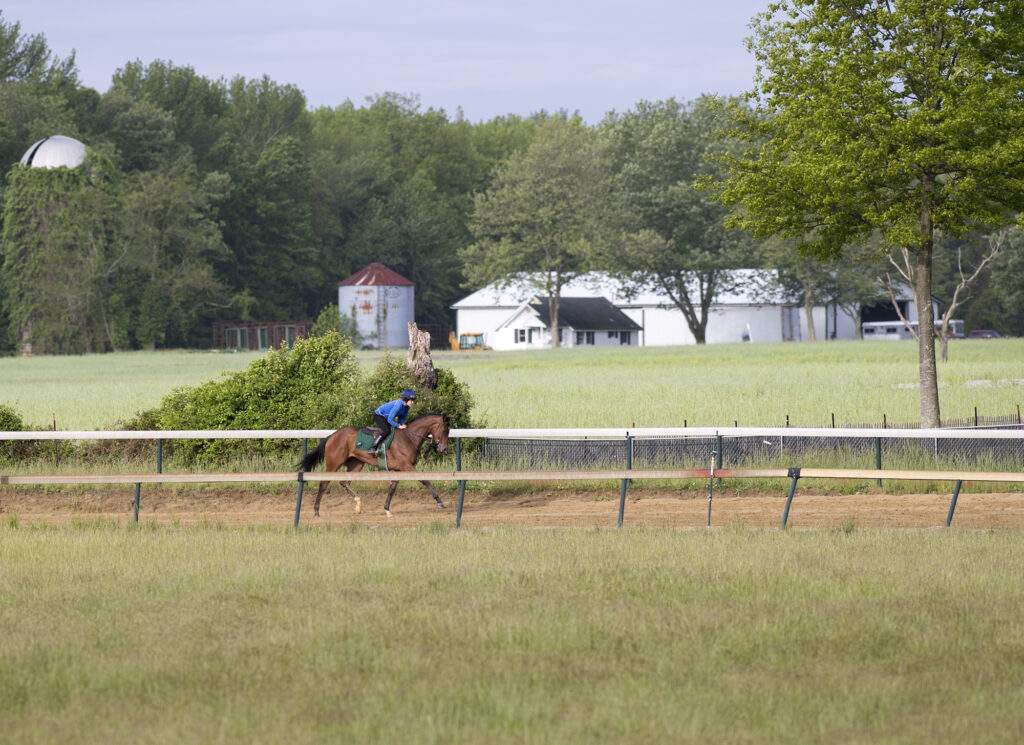 "Oh, don't think I didn't try," says Krone. "I did. That's how I'm sure. That's how I am so sure that this is the one. I even talked with her father. I was like, `Do you really know what you guys are getting into?' And then that's how sure I was that I wanted to represent her and be her agent, because you just don't … you just can't. What she's done to get to this point is so huge and so straight and narrow and pinpointed, that when you try to talk to her about it, you realize, `Oh, I better just join this instead of telling her not do this.""
Peterson said that her family has overcome their reservations as well.
"My parents are actually surprisingly supportive," she said. "I was worried about telling them when I decided to pursue my jockey license, because I knew that they'd be worried about me getting injured, especially my dad. When I first told him, he said, `Ferrin, this is what you have always talked about doing. The only reason I discouraged it was because I didn't see how it was going to happen. We didn't even know how to get into a racetrack. And things I'd heard were just so gruesome about the life of a jockey, but things have changed. I just feel like doors keep opening and you should follow that.""
Coming to Monmouth and being represented by not only its most famous graduate but her racing idol, is a dream come true, she said.
"It's pretty cool to follow in her footsteps and follow the journey that she took. And for people out here, she just has so much respect. You can just say `Julie Krone,' anywhere, but especially here, to people who really saw her paving the way."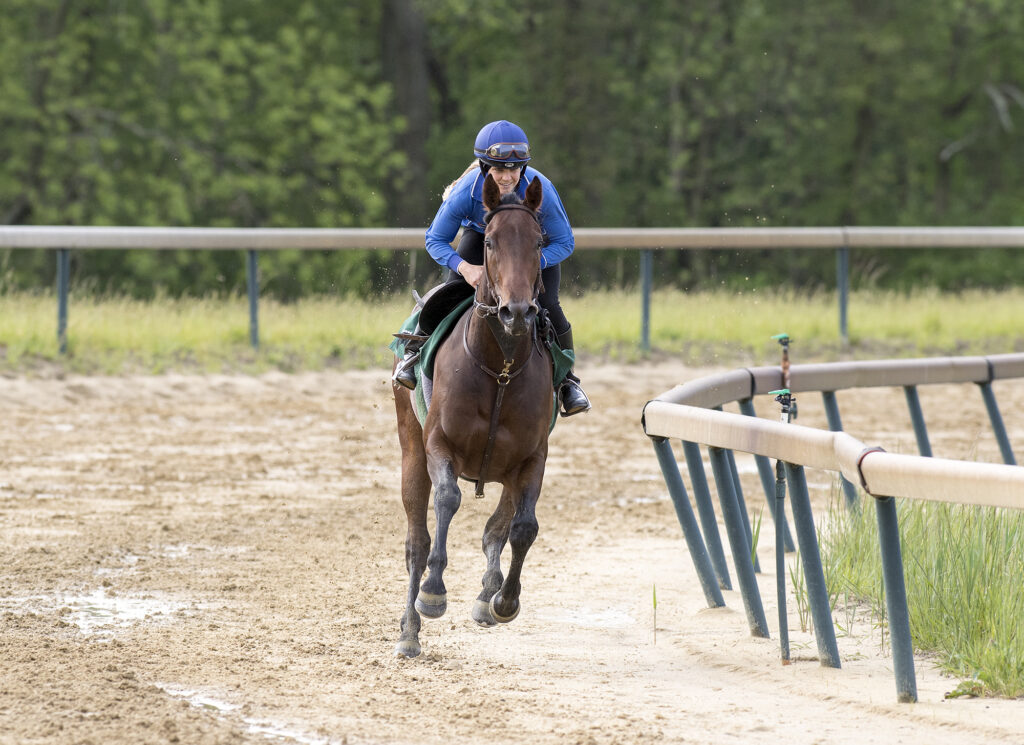 "She told me once, `You can't talk someone into being a jockey and you can't talk them out of it.' And I mean, that's how we both are. And it's like, yeah, we're aware that there's danger and it's not always the best profession, but it's what we absolutely love. And she had some serious accidents, but that didn't stop her from coming back."
Krone says Peterson is the most driven person she has ever met, and she would have to be in order to have accomplished everything she has. She's also unfailingly nice, and hard-working, and isn't looking for any favors; just an opportunity.
McBurney, for one, is hopeful that the story will turn out well.
"She's a seven-pound bug," he said. "Any time you come to a new circuit, it's hard to get going because trainers are all leery and we all have to answer to our owners, but I think with her attitude and if you get a little bit lucky and look good out there, you'll get a chance."
Before motherhood, Krone said that she always had to be the center of attention, but watching her daughter excel on stage, watching the spotlight be on someone else, has taught her to revel in the successes of others. "I have this image of her riding into the winner's circle and me literally on my knees weeping," she said. "I'm not even going to pretend like it's not going to be one of the happiest racing days I've ever had."