by Katie Ritz 
(Listen to this story as a podcast.)
After following a roundabout encircling a giant bronze statue of Secretariat, a 16.9 mile historic road called Old Frankfort Pike twists and turns alongside ancient limestone rock walls and fenceline that holds some of the best Thoroughbred breeding stock in the country.
The byway connecting Lexington and Frankfort has been named one of 'America's Most Outstanding Scenic Byways' and is often referred to as 'Thoroughbred Alley'– a nod to the industry that has been a part of the area's history even before Kentucky was admitted to the Union in 1792. Three Chimneys, Darby Dan, Darley America, Lane's End, and Stonestreet are just a few of the imposing gates tourists often slow beside to take a snapshot, leaving the locals shaking their heads at the habitual delay.
About halfway between the two cities, just outside of Midway and past Three Chimneys Farm, sits an aged but well-preserved building, an antique in a postcard from a bygone century. For many that pass, it receives nothing more than a glance. But on a warm, sunny day, a line stretching out the door and around the corner indicates that the place is worth notice.
The building that is home to Wallace Station has received a spot on the National Register for Historic Places, but the restaurant itself has won the praise of both Lexington natives and world-renowned culinary professionals.
Wallace Station had its biggest claim-to-fame when it was featured on Guy Fieri's Diners, Drive-Ins, and Dives, but most days, guests include various staff from nearby farms relaxing on their lunch break.
Owner Ouita Michel is world-renowned for the family of restaurants she has built in Lexington over the past two decades. Her businesses have been featured in the New York Times, Southern Living, and the Food Network. But Michel said she believes that the horse racing community is the heartbeat of Wallace Station.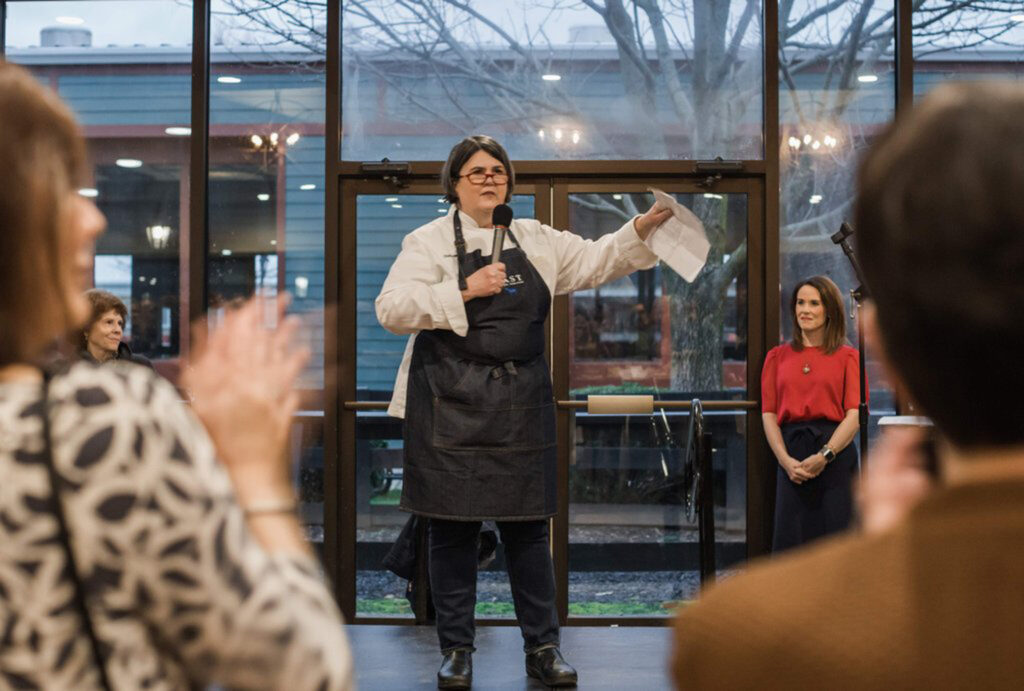 Michel was born and raised in Lexington, but she said that her true introduction to the world of Thoroughbreds didn't happen until she moved back to the heart of horse country after a stint in New York City and was introduced to a certain horse racing ambassador upon her return.
"To be honest, I didn't know much about the Thoroughbred industry until I moved to Midway about 20 years ago," Michel said. "I started learning the history from Michael Blowen, who owns Old Friends (equine retirement farm). Michael and his wife Diane moved to Midway the same year as my husband and I. They were some of our very first customers, and Michael gave me an education in Thoroughbred history. It was amazing to know right where we were living was where it all started."
Michel grew up downtown on State Street. Her father was a professor at the University of Kentucky's medical school. Michel would grow up to become a Kentucky Wildcat, making a name for herself on campus by winning the National Debate Tournament her senior year. From there, she made the move to New York City.
"My family really wanted me to go to law school," she recalled. "But I got my first restaurant job in New York City, and the rest is history."
Michel honed her new trade for several years in Manhattan, working at various restaurants and attending the Culinary Institute of America. While there, she met her husband Chris.
"I came back to Kentucky to plan my wedding. My mom was so worried we were going to have a New York wedding. She begged me to come home," Michel said with a laugh.
Upon her return, Michel said she knew immediately that Kentucky was where she belonged.
"Once I got back to Lexington, I just really loved it," she said. "I loved how accessible everything was. I also had a strong feeling that when I owned a restaurant, I wanted to cook for people that I knew and loved, for my family and my friends."
In 2000, Michel and her husband sold their house in Lexington and purchased their first restaurant, the Holly Hill Inn, located in Midway. The building was constructed in 1845 and is listed on the National Register of Historic Places, but the couple moved in upstairs and transformed the main level into a successful fine dining establishment.
I also had a strong feeling that when I owned a restaurant, I wanted to cook for people that I knew and loved, for my family and my friends.
As word quickly got out about Holly Hill Inn, Michel started looking for a new location to expand her business. She found it while driving along the scenic byway of Old Frankfort Pike.
"We would drive up and down this beautiful road here, and this place always had a little 'for rent' sign in it," she said. "So one day we just stopped. We called the number on the sign on a whim, and before the conversation was over, we had been convinced to rent it. I don't know really why or how. People thought we were crazy, and we were, but now Wallace Station has been a wonderful business for us."
At the time, people were perhaps slightly justifiable in their skepticism. After all, the building was over a hundred years old, built just at the turn of the 20th century. But Michel saw the character behind the faded wood and worn-down siding.
"This was the heart of Wallace, Kentucky," she said. "That's why we kept the name the same. It was once a train station. The railroad ran from Midway to Versailles and Georgetown. And there was a spur on the line that came down this way."
The current building was originally a general store— distributing feed, machinery, and some fabric and groceries. Michel recounted how kids would ride bicycles from Midway to the store, and how it was a common place for the locals to buy their coal. Even when the railroad was dismantled  in 1941, the small business stayed open.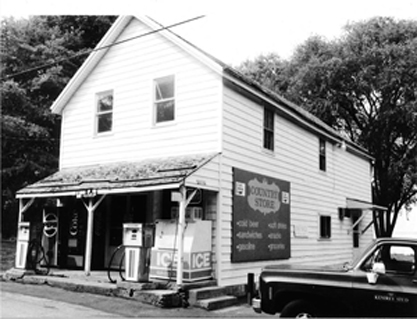 In 2003, Chris and Ouita officially opened Wallace Station Deli and Bakery, keeping the same counter that had been used when the building was a general store. From there, they expanded their family of restaurants with several additions throughout Lexington including The Midway Bakery, Windy Corner Market and Restaurant, Smithtown Seafood, and Honeywood Restaurant.
Michel got a new taste of the Thoroughbred industry a few years ago when she began catering for Fasig-Tipton. Today, Windy Corner at Fasig-Tipton, located just behind the back walking ring, serves hungry sales-goers from all over the world and offers various Kentucky-proud products.
The chef admits that she's been tempted to dip her toes in the sales experience while she's serving up hot dishes at Fasig-Tipton, and apparently the sales company's bid spotters have been working to convince her to take the plunge.
"The guys there are always trying to get me to raise my hand," she said with a laugh. "What kills me is when the horse isn't selling, and it's such a beautiful horse, but Lord, I have no idea. And I'm on the phone with my husband saying, 'Honey, it's only $1,000! This horse is gorgeous.' And he's like. 'If you buy that horse, I'm divorcing you. Don't do it!'"
I'm not in the business, but I feel like I'm part of the hospitality arm of the Thoroughbred industry, just from living and working in Woodford County. I think that it's an amazing asset for our whole community.
So while not directly involved in the Thoroughbred business, Michel said she feels like she has a strong connection to the industry.
"I'm not in the business, but I feel like I'm part of the hospitality arm of the Thoroughbred industry, just from living and working in Woodford County. I think that it's an amazing asset for our whole community."
Michel has harnessed her relationship with Fasig-Tipton to help give back to her community through a self-founded organization called FEAST.
The nonprofit serves a major community service program in Lexington called Food Chain, which provides fresh, locally-sourced fruits and vegetables to communities in need throughout the city, and works to educate those groups on sustainable food systems. Michel said that this year when schools were unexpectedly cancelled due to the pandemic, the organization worked to provide thousands of meals every week to children in need.
Michel explained the premise behind her FEAST program. "FEAST is a groups of friends of mine, all girlfriends and from all around the country and all over the state. Last time we had 19 female chefs. They've come for four years in a row, and we make a giant dinner. Everybody cooks their best plate, and we have a big feast out at Fasig-Tipton and raise money for Food Chain."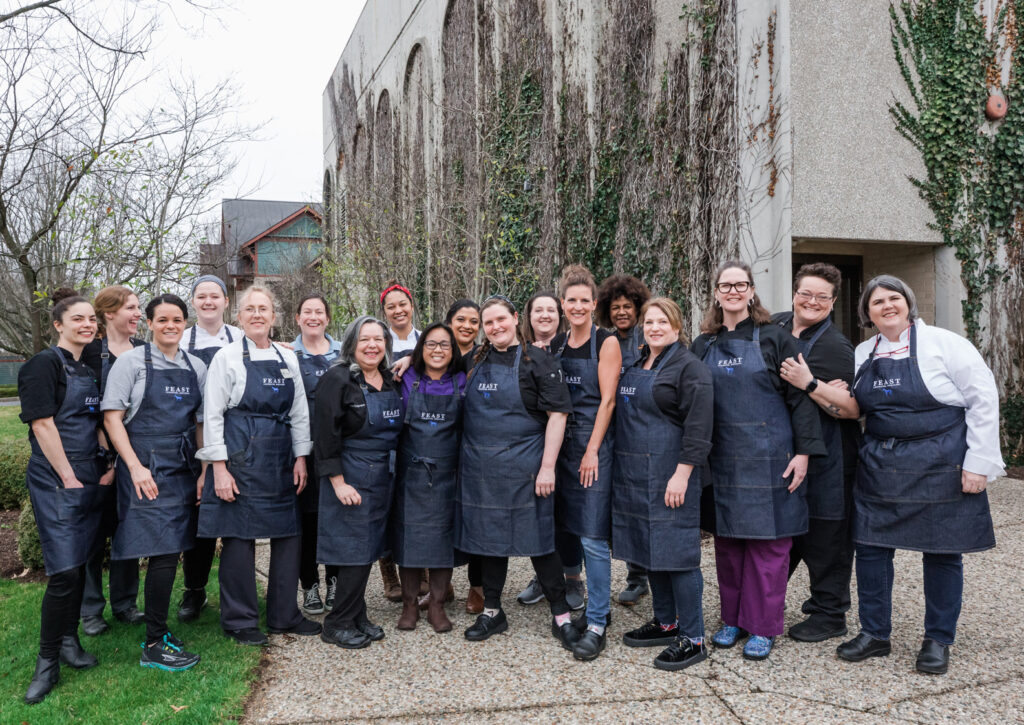 Now celebrating her 20th anniversary of running her successful business, Michel has collected a number of awards and accolades over the last two decades. She's been a James Beard Foundation Award nominee as Outstanding Restaurateur and as Best Chef Southeast several times, which Michel cites as some of her most meaningful recognition since the nominations come from her culinary peers.
Michel couldn't give an answer on which of her numerous awards meant the most to her. But she did say that the Josephine Abercrombie Vision Award was one of her most cherished accolades because of her relationship with the Pin Oak Stud horsewoman and philanthropist.
"I cherish Mrs. Abercrombie and the stewardship that she's shown with Pin Oak Stud," Michel said. "I admire her as a person, and she was one of my very first customers at Holly Hill Inn and wrote me a testimonial."
When we first started, we didn't have the giant crowds here. And so the farm employees would come, and have supported Wallace Station all these years. We're really grateful for that.
Michel is grateful to admit that without the strong Thoroughbred farm presence surrounding Wallace Station, the restaurant might not have survived even its first year.
"Three Chimneys, Lane's End, Airdrie Stud, and all those farms is what kept this little business going.," Michel recounted. "Our horse community has really supported it. When we first started, we didn't have the giant crowds here. And so the farm employees would come, and have supported Wallace Station all these years. We're really grateful for that."
She also noted that the restaurant's Thoroughbred-related guests span from all levels of the industry and all walks of life.
"One thing I love about this place is that everybody eats here," she said. "The owners, the trainers, the breeders, and the grooms. When California Chrome won the Derby, they were here."
With such a strong horse community presence in the restaurant, Michel said they wanted to call out their favorite Thoroughbreds on the menu as much as they could. Past dishes have included the American Pharoah Burger and the Justifry Sandwich. And today, there's the famous Big Brown Burger, which was named one of Guy Fieri's top five burgers.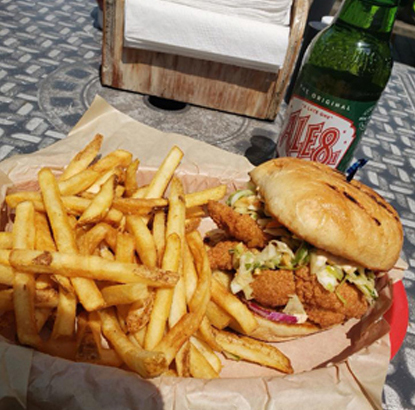 "It's a Kentucky-proud hamburger. All of our burgers are locally raised," Michel said. "Then it has a little white cheddar Mornay sauce, bacon, ham, and tomato. It's one of our top-selling dishes."
Michel said that non-horse people usually assume that the name originates from a Kentucky Hot Brown, but that she uses the popular burger's title as a chance to educate guests on the burger's namesake and the industry behind the Kentucky Derby hero.
When asked to characterize the atmosphere of the successful establishment, Michel burst out laughing.
"Well it's been on Diners, Drive-Ins, and Dives, so that might give you a word," she said. "We try to keep it a clean dive, but it's kind of a dive."
While it may not have the typical "dive" conditions, there is no denying the community and family atmosphere the place captures.
The back of the property features a big deck with mismatched tables and chairs, a sprawling backyard with dozens of picnic tables, tall trees offering ample shade, and a backdrop of blue grass horse pasture– the perfect recipe for good conversation and casual socialization.
During a typical summer morning, employees trickle in to prepare for a hectic sunny afternoon. A plump gray tabby cat, the restaurant's resident mascot, approaches anyone who passes by in hopes that someone may take pity on him and offer up a scrap of bacon.
Meanwhile, Michel zips from one chore to another, calling one of her teenage employees by name in greeting as they step out of their car. She hauls away a branch that ended up on the deck during last night's thunderstorm and then lifts her hand and waves to address an older-aged man barreling down the side of Old Frankfort Pike at an surprisingly quick pace.
Michel notes that the fellow is her father, who resides on a small, self-run farm nearby. "We tell him he shouldn't run on this road, but he said if he's going to go, that wouldn't be a bad way to end," she said with a shake of her head and an affectionate smile.
The community ambiance envisioned by Michel years ago continues to represent the restaurant today.
"The idea is just to bring your kids and have fun out on the back deck," she said. "The only trick is that sometimes we'll have whole softball teams show up, so we get very, very busy."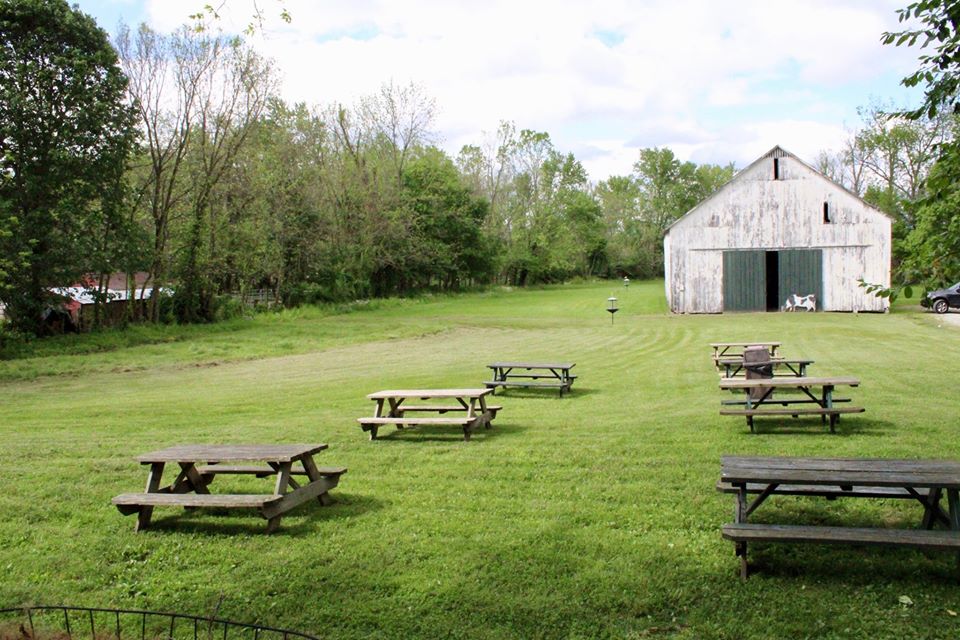 Even during the worst phases of the Coronavirus pandemic, Wallace Station stayed open as a popular take-out spot.
Michel's secret to running several restaurants during a time where customers could not dine-in?
Disney songs.
"My friend always says to 'do the next right thing', which are lyrics from the movie Frozen," Michel said. "So I keep that song in my head. You have to conquer your fear. I've learned that. You have to take action. I'm very proud of my team. Everybody is back open now. We have to operate under different conditions, but so far it's going really well."
Even as she navigates the new world of running a restaurant during a pandemic, Michel is still working on fulfilling new goals.
"We have a cookbook that's coming out," she said. "It will be released next year on the Tuesday of Kentucky Derby week."
The busy chef also said that their team is working on expanding their mail-order baking business.
"Those are some of my big goals, and then retirement at some point," Michel admitted. "But my dream is to recover enough financially so that one day I can have a stakes race at Keeneland. My husband moved from Long Island to Kentucky. He'd never been to the races and now he's totally addicted to Keeneland. So that's one our big goals."
While Michel waits in anticipation for the day when there's a "Ouita Michel Stakes" or a "Wallace Station Handicap" at the  Keeneland meet, she will continue to serve as an ambassador to the outside world for Lexington's Thoroughbred community.