TDN is proud to partner with the Keeneland Library and the Nunn Center for Oral History at the University of Kentucky Libraries in a very special new collaboration: the Keeneland 'Life's Work' Oral History Project, a series of filmed interviews by TDN columnist Chris McGrath with significant figures in the Thoroughbred industry. The first of these, with Seth Hancock of Claiborne Farm, appears here.
by Chris McGrath (12-minute read)
(AUDIO: Click to listen as a podcast.)
"You ever see me around the sales wearing short pants, you better run for cover–because the world's getting ready to come to an end."
Seth Hancock is remembering Swale. Bittersweet animal! He slaked Claiborne's ancestral thirst for a Kentucky Derby, trained by the great Woody Stephens. A week after Swale added the Belmont, Hancock was back in New York to see one of the farm's fillies run in the Mother Goose.
"I went over to the barn, it was a nice, late spring day, and Swale was standing there, head out over the webbing," he recalls. "Breeze blowing foretop, looked like the happiest horse on the face of the earth. Came home that night and Woody called next morning and said, 'You sitting down?' I said, 'Well, yeah. What's going on?' He said, 'Swale dropped dead this morning, Seth.'"
The whole saga comes flooding back. How his late father, the force of nature that was "Bull" Hancock, had raged when one of the best Claiborne mares not only delivered another damned filly–and so prolonged the wait for a Derby colt–but a filly with one eye. How Tuerta, Spanish for "one-eyed girl," was retained only because she had become the last stakes winner in his father's name. And how her yearling colt by Seattle Slew had gone missing from a paddock one misty morning.
They figured he must have jumped the fence, they called and hollered. And eventually found him asleep, overlooked in a swale. That was the kind of horse he was: all the hoopla of Derby day was never going to bother him.
The joy Hancock felt, when Swale exorcised the farm's Derby curse, was not so much on his own account. At 35, he hoped he might yet get another shot someday. But he exulted for his mother, after all those years of Derby frustration and disappointment shared with Bull; and also for his wonderful partners in the horse.
Now, out of a clear blue sky, Swale was gone forever. He would never become another Bold Ruler, or Nasrullah, or Princequillo; never become the next link in the chain forged by his father, and his grandfather before him.
I ain't the first that was dealt a bitter pill, and I won't be the last for sure. And I haven't been. LeRoy Jolley said it best: 'This game wasn't meant to be played by people wearing short pants.'"
"And you're like, 'Damn,'" Hancock says now, looking back across another 35 years. "'What am I doing in this thing here? This might be a little rough… But what the hell, I ain't the first that was dealt a bitter pill, and I won't be the last for sure.' And I haven't been. LeRoy Jolley said it best: 'This game wasn't meant to be played by people wearing short pants.'"
The irony, of course, is that Hancock had himself barely been out of knickerbockers when finding himself at the Claiborne helm, following the sudden death of his father in 1972. He was, in fact, just 23–six years younger than his brother Arthur, whose wild youth had notoriously so alarmed the powerful estate advisors that he soon left to be his own boss, on a small parcel of leased land. Arthur's triumphs at Stone Farm, not least a Derby success two years before Swale, are well chronicled. But the younger brother had always kept his head down–both as he watched Arthur's at times turbulent relationship with their father, and when this tragic void had opened at the heart of Claiborne.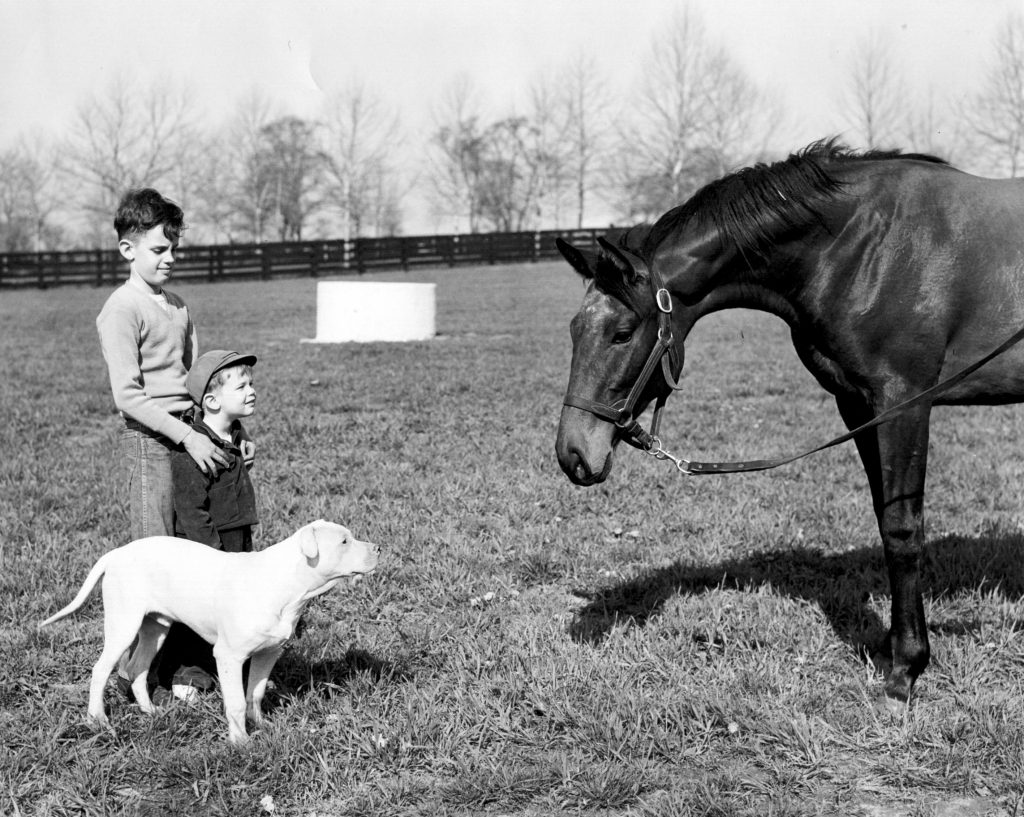 "I saw the mistakes [Arthur] made and where it got him," reflects Hancock. "I said, 'Well, I'm not going there!' [Then] when Daddy passed, Arthur was running and gunning. And you thought, 'Well, this will be a sobering effect on him. He'll realize he can't do that anymore.' Truth be told, he really didn't realize it. By his own admission."
He is gratified by Arthur's reformation since, and by his reconciliation to the way things played out to their mutual benefit. But it wasn't easy at the time.
"He had his areas of responsibility, I had mine, and I guess we were doing all right," Hancock reflects. "But we also had an advisory committee we had to run big decisions by. Which was fine with me. I mean, I was 23. Hell, I surely didn't have all the answers. But he was 29 and I guess he figured he did. And he made a couple of decisions he didn't run by them. And they called him on them. And he, in short order, said, 'I've had enough, I'm done.' And he left, and that was that."
So here was the younger brother, charged with replacing two of the modern Turf's greatest patriarchs: Bold Ruler, who had died the previous year, and Bull Hancock himself. All through his upbringing, the horsemanship had always been merely shown, rather than taught. Yet now he had to transform himself from learner to leader.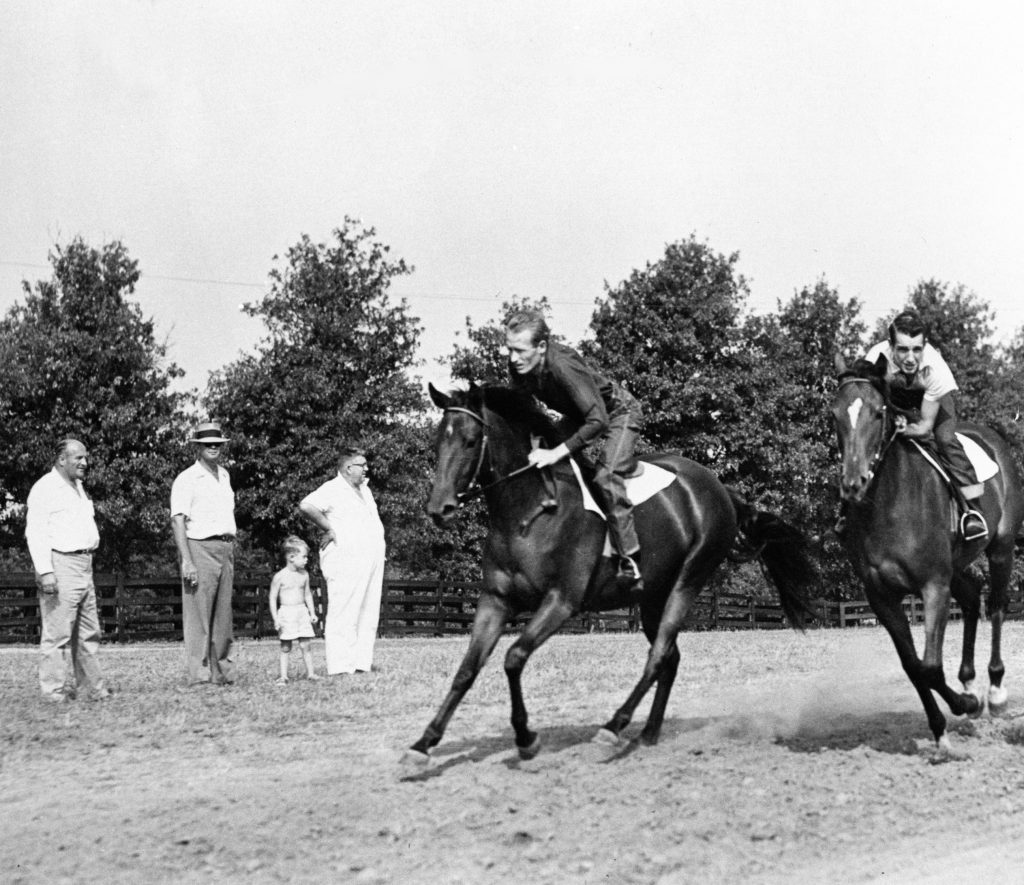 "It was never, 'Son, look at this, look at that,'" Hancock recalls. "When I got out [of the army reserves] in December of '71, he had a program set up for me: kind of a two-year apprenticeship. And then course September of the next year he passed. So that kind of went out the window."
He had completed the first stage, with the broodmare foreman for the 1972 breeding season; and had embarked on stage two, the breaking cycle with the yearling manager, when his father fell sick grouse hunting in Ireland. Within weeks he was dead.
And one thing about being young: you don't ever think you're going to fail. If you're 40 and you make a decision, you stop and consider what happens if this doesn't work. When you're 23, there's no thought that it ain't going to work."
"It's like somebody you throw overboard, they don't want to die so they learn how to swim," Hancock says. "I knew all the guys on the farm. Hell, I'd been around there ever since I was a kid. I had a good rapport with all of them. And one thing about being young: you don't ever think you're going to fail. If you're 40 and you make a decision, you stop and consider what happens if this doesn't work. When you're 23, there's no thought that it ain't going to work. Because you just figure, 'Hey, I'm bulletproof.'"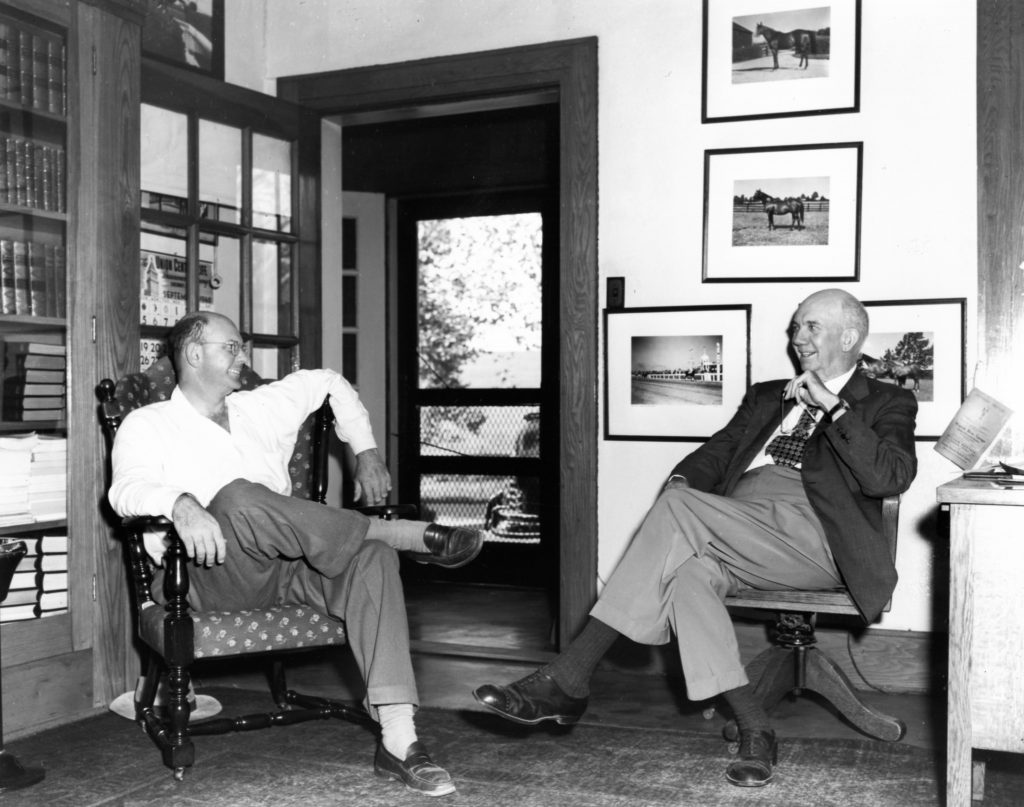 But while Hancock had the humility to know his limitations, and was grateful for the seasoned counsel available to him, he also had to make his mark; to show himself equal to the authority abruptly vested in him. And the next thing he knew, he was supervising the syndication of a champion 2-year-old–the parting bequest of Bold Ruler, horse name of Secretariat.
Hancock reiterates his debt to the old hands who shared the tiller, early on, like those of William Haggin Perry. "I'm not a person that has tremendous confidence, so I was very glad," he says.
He remembers taking a call from Perry.
"Seth, Chris Chenery died."
"Well, I'm sorry to hear about that."
"You're going to have to come over here for the funeral."
"I didn't even know the man, Mr. Perry."
"No, you need to come over here. Because the estate is probably going to have to sell some assets, to pay taxes, and one of them's liable to be Secretariat."
Well, if Perry thought that was what he should do, that's just what Hancock would do.
"So I flew over there," he says. "I'll never forget it. It was cold as hell, January. He gave me a pair of gloves, which I've still got, stitched William Haggin Perry. And he said, 'Now look, you be sure and tell Penny [Chenery] that you're ready, willing, and able to syndicate the horse, if that's something they might want to do.' Well, hell, about six weeks later, she called and said, 'I'm coming to Lexington with my lawyer and we want to talk about Secretariat.'
"We went to the Coach House over there and I wrote down the details on a cocktail napkin. Number of shares, price per share, how many they were keeping. But I was being coached up by Mr. Perry. If [Secretariat] had rolled craps and had a bad year [at three], it probably would have been the end for me."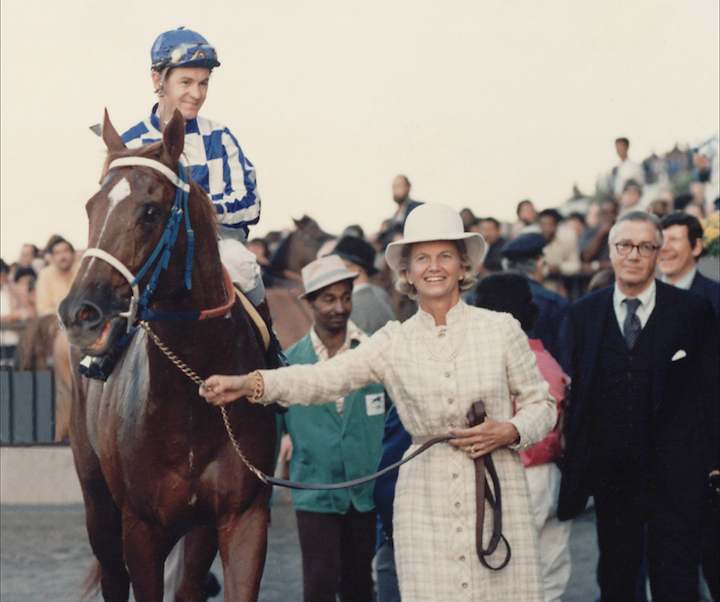 Even so Hancock modestly demurs that he had any kind of personal stake in the epoch-making Triple Crown campaign by which Secretariat made even a record syndication look smart business. If anything, he suggests, the deal should be credited posthumously to his father, through the relationship he had forged with the Chenerys. Yet the fact was that there was a whole lot of legacy at stake. Everyone had lost a father: Hancock, Penny Chenery, Secretariat himself.
Bull Hancock had always told how the sale of Round Table, before the death of his own father, paid the estate duties and saved the farm. Sure enough, knowing the difficulties that would follow his own exit, he had left instructions that the yearlings be sold commercially.
A garden that's been cultivated and weeded and watered. And everything bred to the best stallions you can. That's all the people at Claiborne Farm do. I mean, we're not in the restaurant business. We don't play the stock market. We live on the farm."
"Racing's a risky business," his son reflects. "You might go five or six years and lose money every year and then a Forty Niner comes along, or a Pulpit or a Swale. But if you go too long you, you might be out of business. He couldn't know whether we were going to sink or swim. Selling yearlings would give you more time to learn how to swim. [But] the machinery he left behind–Nijinsky, Sir Ivor, Damascus, Buckpasser, Forli, Drone–I mean, we had a roster of stallions it would have taken you 10 years to ruin.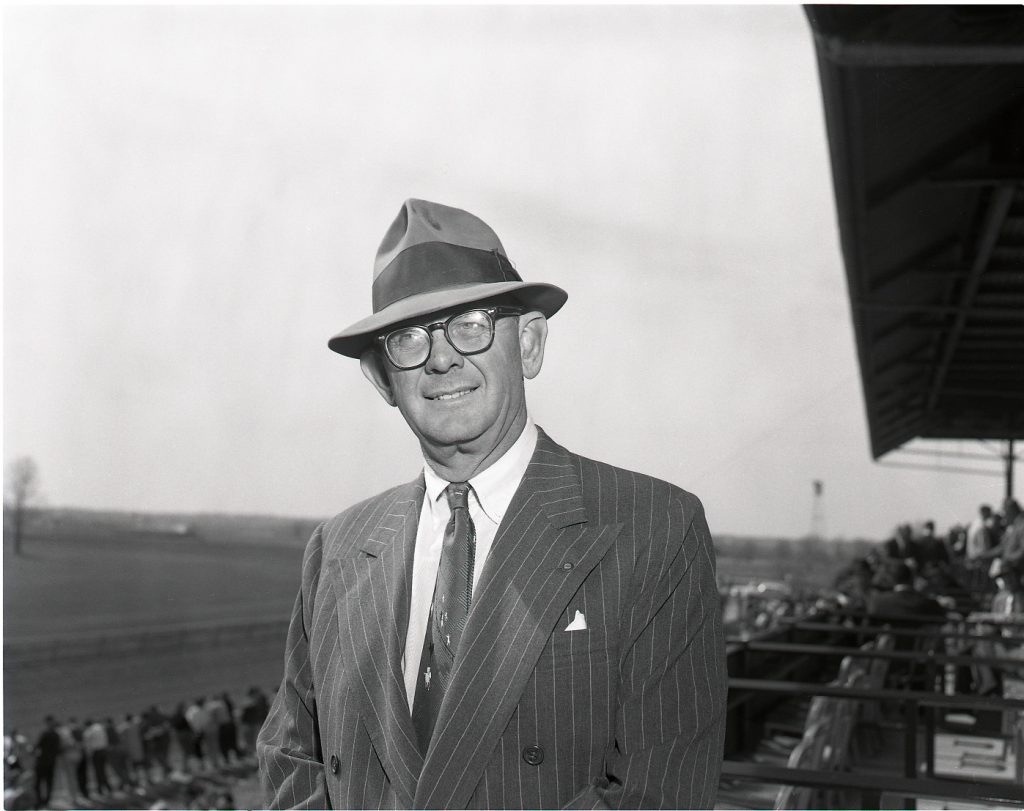 "But we got lucky right off the bat. Secretariat came in there and then we were able to keep adding some stallions and do okay. Danzig and Mr. Prospector came in '80 and carried us a long, long time. About the time they were kind of getting old, here comes Pulpit. By the time he was getting old, here comes War Front. And now he's getting old, and hopefully Runhappy or somebody else is going to pick up the ball and run with it."
Danzig and Mr. Prospector, doing okay! Yet one very nearly started in New York; and the other, of course, did start in Florida. Hancock remains indebted to Peter Brant for the transfer of Mr. P, a turning point for the modern breed.
"Well, any form of athletics that you fool with, speed is a precious commodity, and he had it in abundance," Hancock says. "And he threw it into his offspring. If you've got speed you go in with an edge, in my opinion. [But] he'll get you a grass horse, he'll get you one run long, he'll get you anything."
As for Danzig, he was all about Woody Stephens. With such an abbreviated track career, the horse looked a tough sell in Kentucky–and was actually destined for New York until his trainer insisted that Hancock come up to Belmont and meet with Henryk de Kwiatkowski in the Trustees' Room.
"Seth, you better take this horse," Stephens said. "He's the fastest I ever trained."
Hancock protested that he couldn't get close to the kind of money required.
Stephens looked at him and said, "What can you do, Seth?"
"I probably can sell 40 shares for $80,000 a share."
De Kwiatkowski stuck out his hand. "You got a deal."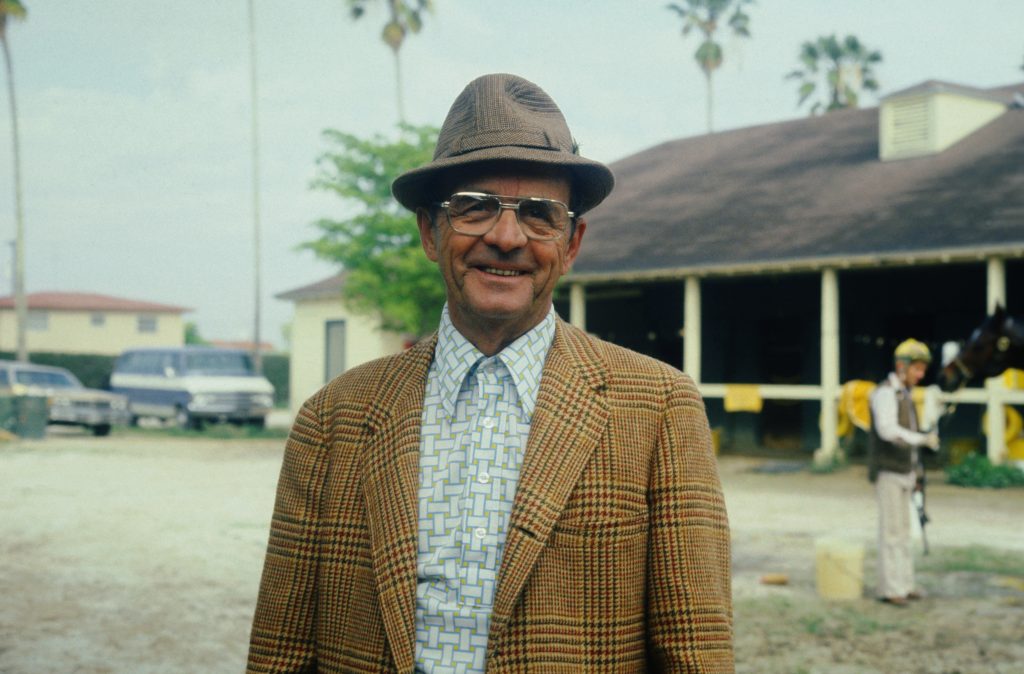 Hancock is palpably moved as he recalls the indispensable Stephens. "Greatest trainer that ever lived, in my opinion," he says. "He taught me more than anybody. And he took time to teach me. Whether it was our horse or another horse, Woody said: 'Let me show you this.' A tendon or puffy ankle, a bucked shin or whatever. And not only was he a mentor to me, he was also a really good friend. I'd have never made it without him."
The longstanding relationship between Claiborne and Coolmore introduced him to another horseman of genius in Vincent O'Brien, who had trained Sir Ivor and Nijinsky. "He'd walk up to [yearlings] and kind of look them in the eye," Hancock recalls. "He might kind of say something, and you realize they're going to say something to him they wouldn't say to somebody else. It's just a touch, a feel. Some guys have it, most guys don't."
Fortunately for Hancock, he too discovered an innate intuition as he sought to refine the families cultivated by his father and grandfather. For there were no hard-and-fast rules. After losing his father, Hancock went back over the matings book, looking for a pattern. He noticed how big mares, like Face the Facts and Moccasin, had been bred to a neater type like Round Table. So he figured he knew what was happening there: a quest for athletic balance. When it came to a big stallion like Unbridled, then, Hancock paired him with smaller mares. And it just never worked. He still thinks the principle is right; in a similar situation, he'd do the same again. But somehow it didn't click with Unbridled.
Nothing, then, is ever carved in tablets of stone. That said, there is one light that has always come on. "It must have been 10 days, two weeks after my father died," Hancock muses. "Clay Arnold's stud groom there at the farm. He said, 'Seth, they tell me you going to be responsible for all these stallions. You and I better walk through them here, and let me tell you what I know about them.' So we walked between the fences, and most of the time the horse would come over and I'd look at them. Nijinsky didn't have the best hind leg in the world. Hoist the Flag had kind of a hind leg set way out behind him. Buckpasser was back in the knee. [But] the one thing I did see in all of them, most, they had good, short cannon bones.
"And when Dr. Cheney was vetting yearlings here, we got to talking about it. And he'd say, 'When I go into a stall, if I got to raise that thing up to X-ray his knee then I'm pretty sure that ain't going to be no account. Well, I thought about what he said. If he's raising it up, he's got to have a long cannon bone. And if you think about it, it's easier for them to break over and stride again if they've a short cannon bone. That's the big common denominator I would really look for."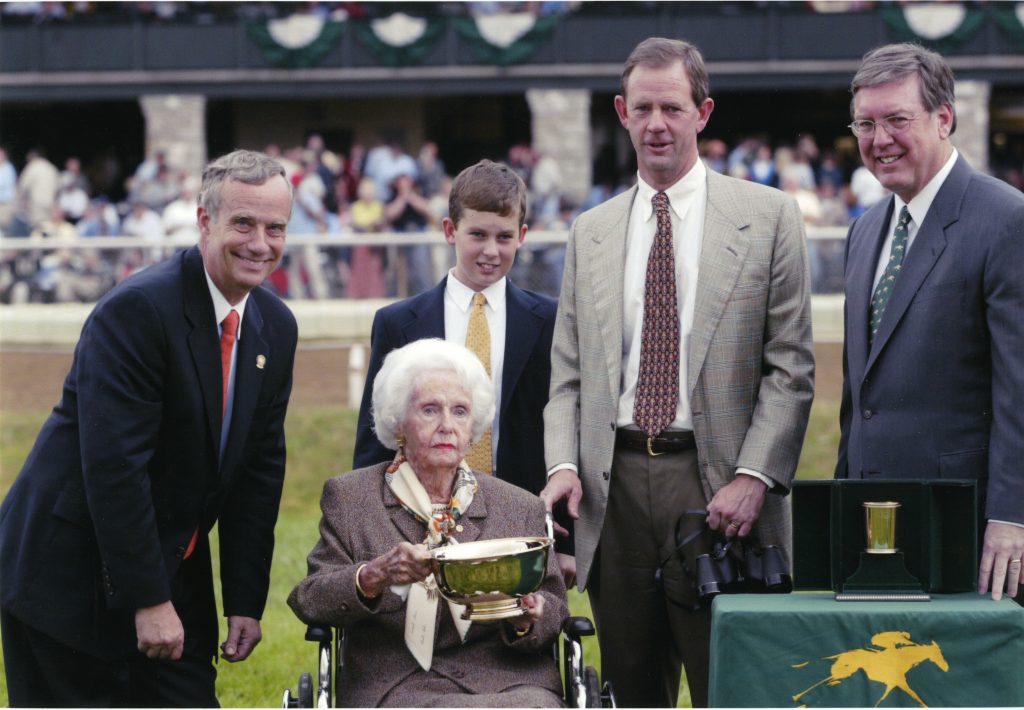 Regardless, each of the great Claiborne families is the work of generations. "A garden that's been cultivated and weeded and watered," Hancock says. "And everything bred to the best stallions you can. That's all the people at Claiborne Farm do. I mean, we're not in the restaurant business. We don't play the stock market. We live on the farm, 24/7, there's no absentee ownership. That's what I always did and, you know what, looks like hopefully what Walker's going to do."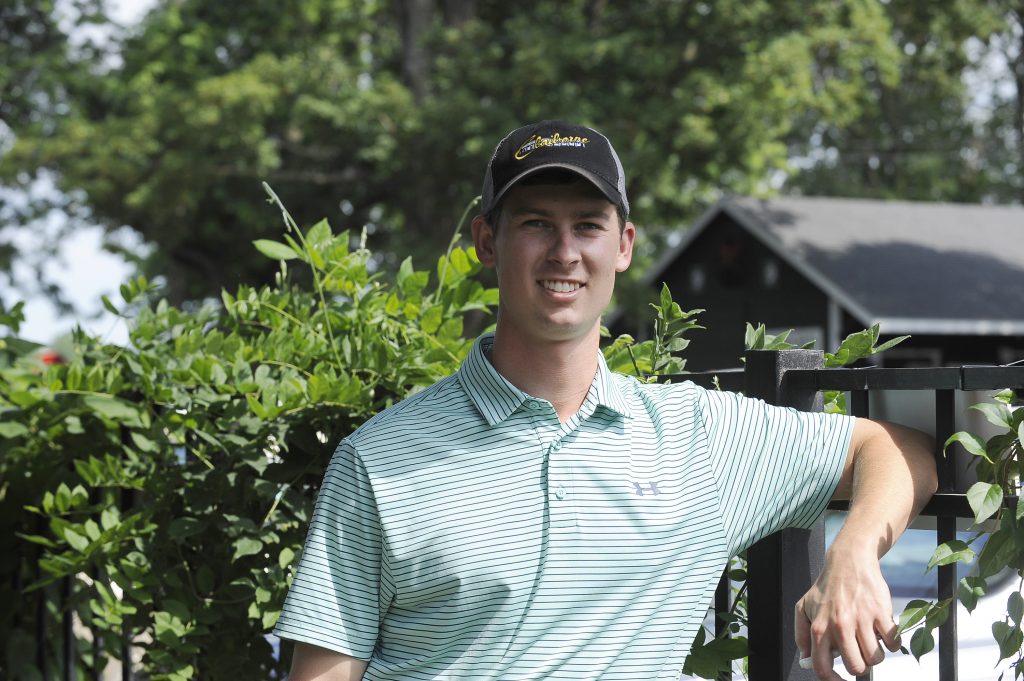 When appointed farm president in 2014, his son was only a little older than had been Hancock when himself handed the reins. The one big difference scarcely needs stating.
"People said, 'Seth, you sure you know what you're doing? He's awful young,'" says Hancock. "I said, 'You know, I don't want to listen to that young crap. He's a year older than I was, when I started, plus I still will be around and my father wasn't.' He doesn't rely on me much; he doesn't need to, because he knows what he's doing. But in the back of his mind knowing, well, if something happens I can always go ask him what I need to do, then I think that's probably comforting. At least I hope it is."
People come there and tell you that the place is dripping with history. And it's moving for other folks, probably more so than me, because it's always been there."
And what was true for Hancock is also true of Walker. "I was born into it," Hancock says. "Never really knew anything else. People come there and tell you that the place is dripping with history. And it's moving for other folks, probably more so than me, because it's always been there. My grandfather started Claiborne Farm in Kentucky back in 1910. And my father built it into what it was, and hopefully still is. I've just been somebody that's maintained it–or tried to. I don't feel I've had much to do with it, other than just keeping it going."