by Bill Finley (5-minute read)
Cameron Beatty was at that stage in life–young, healthy, athletic, motivated, naive–where he never even imagined the possibility that everything he had could be taken away from him. He was the starting quarterback at Freehold Township (NJ) High School and had accepted an offer to play at Fairleigh Dickinson, where he had an academic scholarship. He was going places, and on the fast track.
In an instant, everything changed.
In 2010, Beatty, now 27, was on his way to the gym to workout when he had a motorcycle accident so serious that it nearly cost him his life. He suffered a brain injury, a ruptured spleen and internal bleeding. At first, the doctors did not realize the extent of the spleen injury and the bleeding it was causing, but when his heart rate dropped to under 20 beats per minute he was rushed into emergency surgery.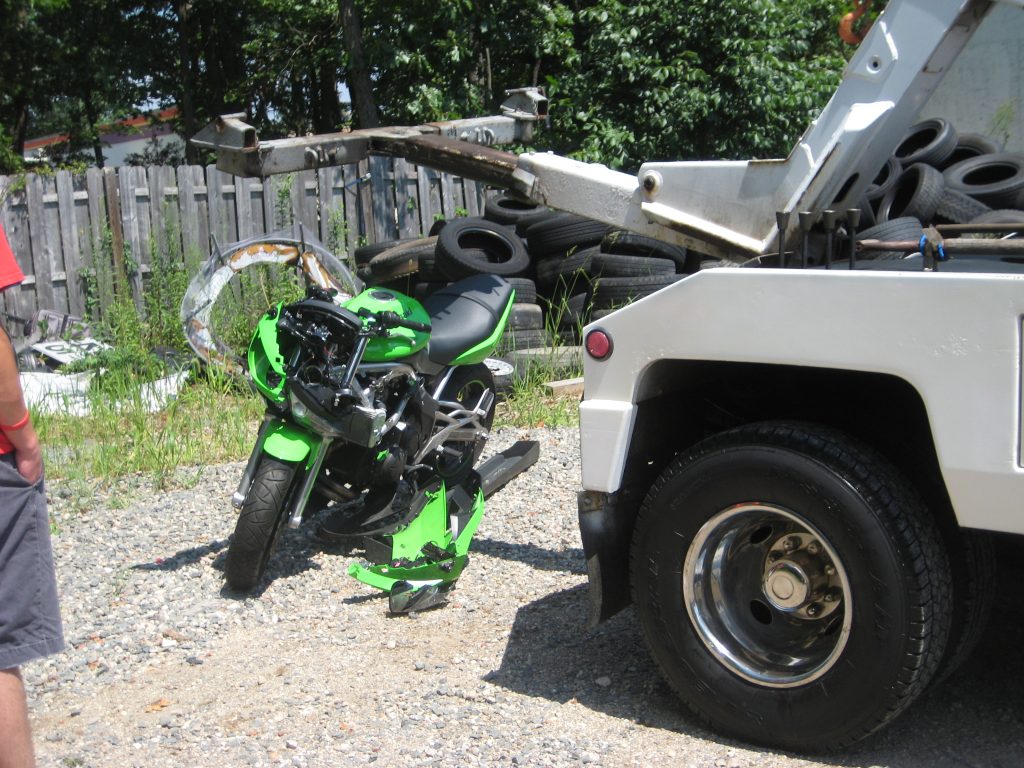 "I woke up one morning bleeding to death," he said.
It was a windy, grey morning on the backstretch at Monmouth Park as Beatty told his story. He was there not just to talk about his accident but about the horse he owns, Horologist (Gemologist). The New Jersey-bred is coming off an upset win over 2018 Eclipse Award winner Jaywalk (Cross Traffic) in the GIII Monmouth Oaks and is preparing for the biggest start of her career, the GI Cotillion S. Sept. 21 at Parx. Life is good now. He's married, got his degree from New Jersey City University, recovered from his accident to the point where he was able to play semi-pro football and owns a valuable and talented horse.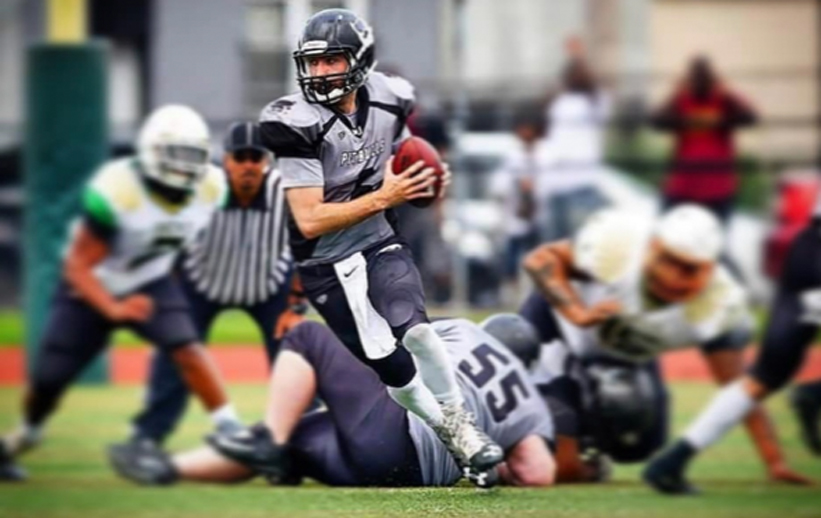 What does one story have to do with the other? Everything.
"He started bringing me around the barn and I just got hooked. Still, I was just a fan. I had no idea I would ever own a horse. Financially, I didn't think I could afford it."
"When it comes to the accident, everything happens for a reason," he said. "I actually feel lucky. Look at how I am benefitting from it now."
Beatty had to leave school, quit football and needed nearly 18 months of neurocognitive therapy before he could say he had fully recovered from the accident.
Though he had been warned that it might not be a good idea to return to football after all he had been through, Beatty wanted to go out on his own terms. He signed up to play for a semi-pro team called the New Jersey Pitbulls. And that led him down the path to Horologist.
With the Pitbulls, he met a coach named Don Gould who was friends with veteran New Jersey trainer John Mazza. Gould thought Beatty might enjoy a trip or two to the track so he started taking him and introduced him to Mazza.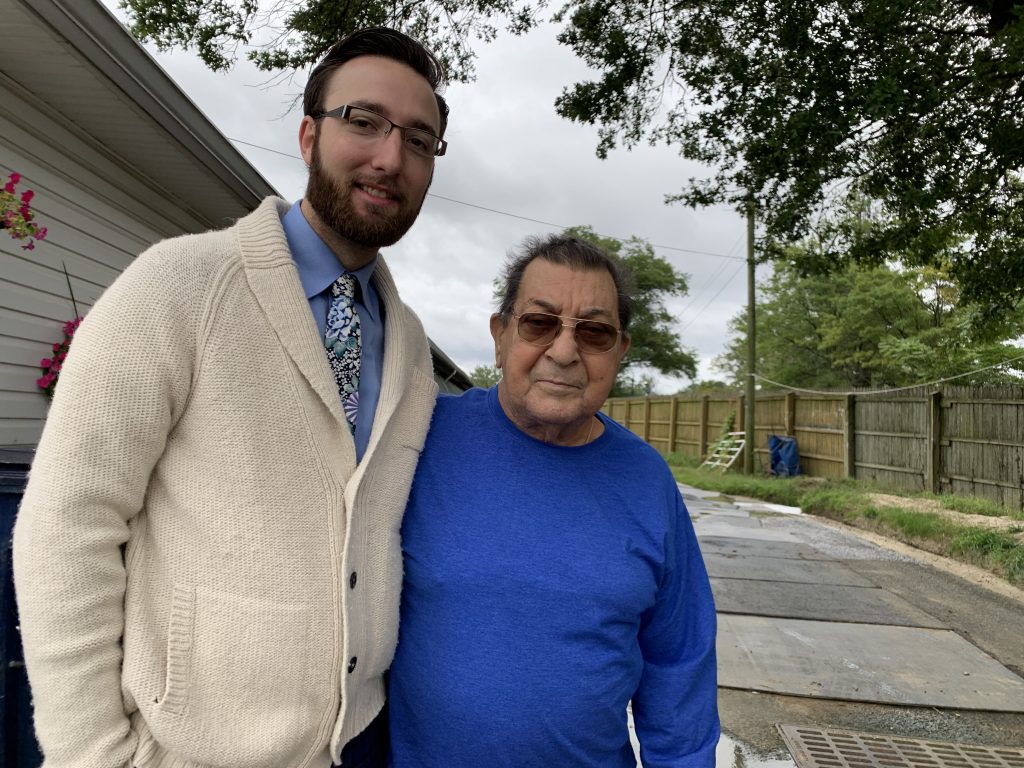 "He started bringing me around the barn and I just got hooked," said Beatty, who now works in banking. "Still, I was just a fan. I had no idea I would ever own a horse. Financially, I didn't think I could afford it."
But an unusual opportunity was presented to Beatty. Mazza's main client, Holly Crest Farm, was looking to cut down on its numbers and a deal was brokered that led to Beatty not only owning Horologist but acquiring her at a price he could afford.
"I became the owner of Horologist and I didn't have high expectations," Beatty said. "Sometimes, when you look at a Jersey-bred you never really think too highly of them at first."
That started to change when the filly broke her maiden by 20 3/4 lengths in her first start, a state-bred maiden Aug. 9, 2018, at Monmouth. It was hard to tell what they had. Despite the winning margin, Horologist got a modest Beyer figure in the race and, with the depletion of the New Jersey-bred program over the years, the level of competition was suspect. She lost her next five starts, so maybe Horologist was nothing better than an above-average Jersey-bred.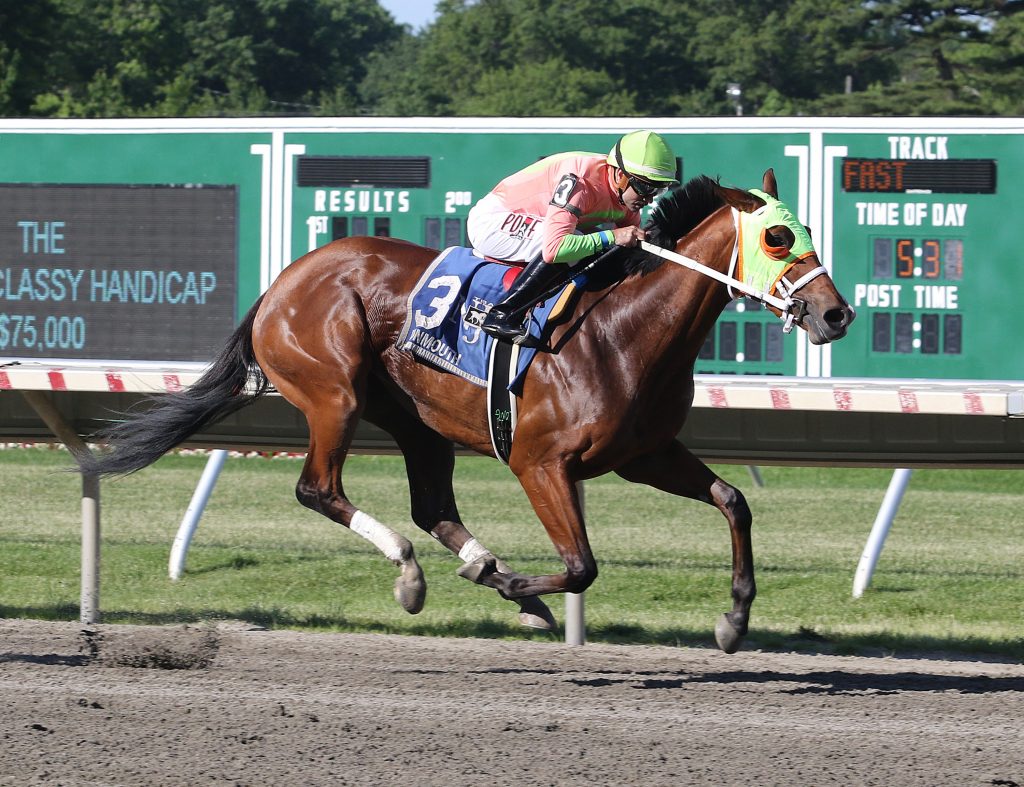 Then something clicked. An allowance win over open company at Gulfstream. Another allowance win at Monmouth. A victory over older fillies and mares in the Smart N Classy H. for New Jersey-breds.
"It was starting to get to the point where I'm thinking, 'Is this actually happening?'" Beatty said.
Mazza kept picking harder spots for the filly, so a try in graded stakes company made sense. The logical race was the Monmouth Oaks, but the problem was Jaywalk. After winning the GI Breeders' Cup Juvenile Fillies, she lost her next three races. But she looked like the Jaywalk of old when she won the GIII Delaware Oaks by nine lengths. For the Monmouth Oaks, she was the 2-5 favorite.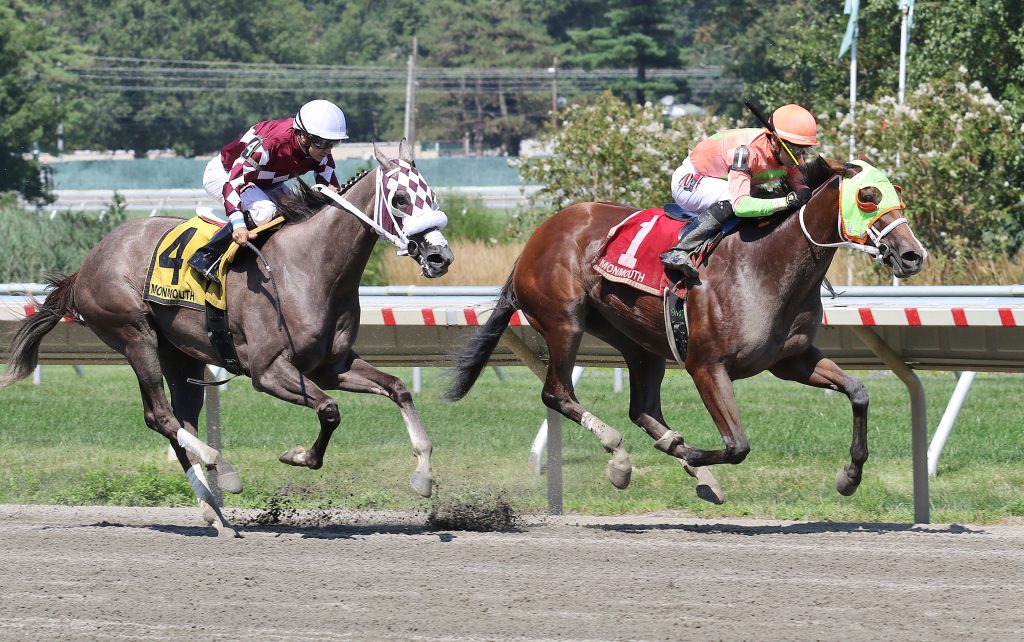 "Did I think we could beat her? No. But I also thought there's always a chance," said Beatty, whose stable is named There's A Chance Stable. "I look at a lot of things and think there is a chance because I'm a positive person and I always like to think that everything is going to be good in the end. But, honestly, I would have been happy with her coming in second and coming back healthy after the race."
Life can come and go. If you don't stop to take in the moments like the ones we've had with Horologist, they're just going to fly right by you."
Mazza said that with all Beatty has been through he understands there are more important things in life than whether or not Horologist wins or loses. "When they get beat he realizes that it's just a horse race, that anything can happen," he said.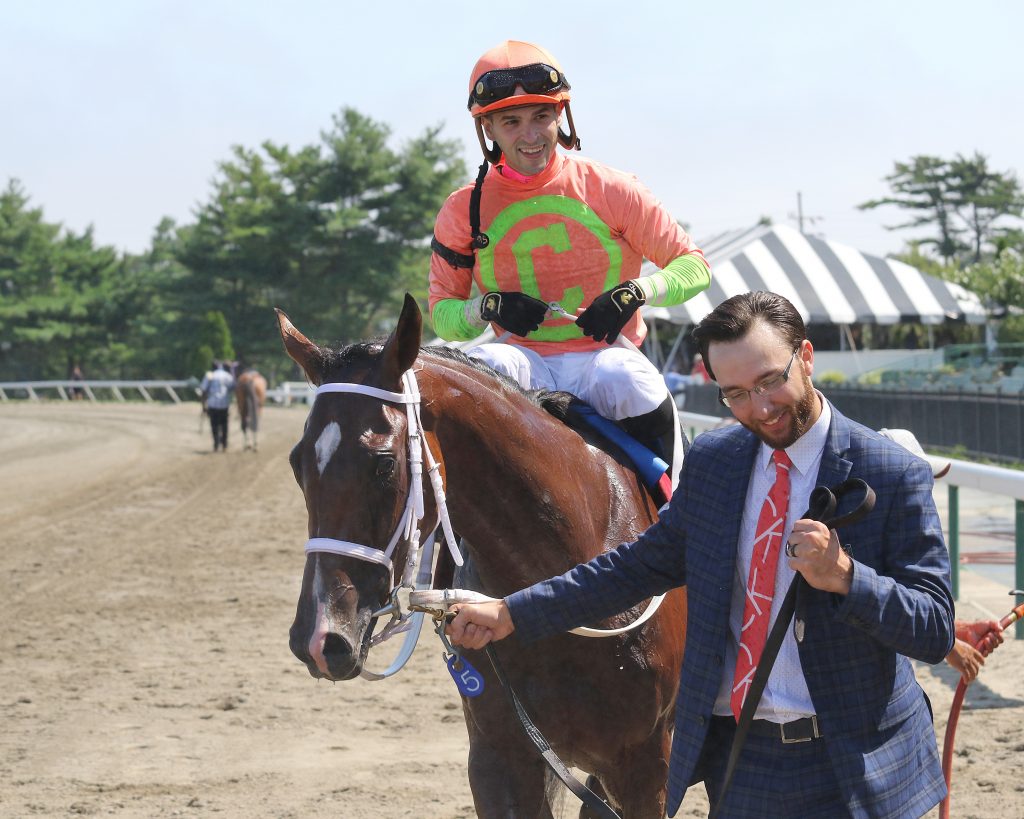 Anything can happen. The New Jersey-bred, owned by a 27-year-old who once had to scrape together the money to pay for his filly's boarding and training bills, beat the champion.
She hooked up with Jaywalk near the top of the stretch and the two went at it for nearly three-sixteenths of a mile before Horologist started to inch away inside the final 50 yards to win by three-quarters of a length.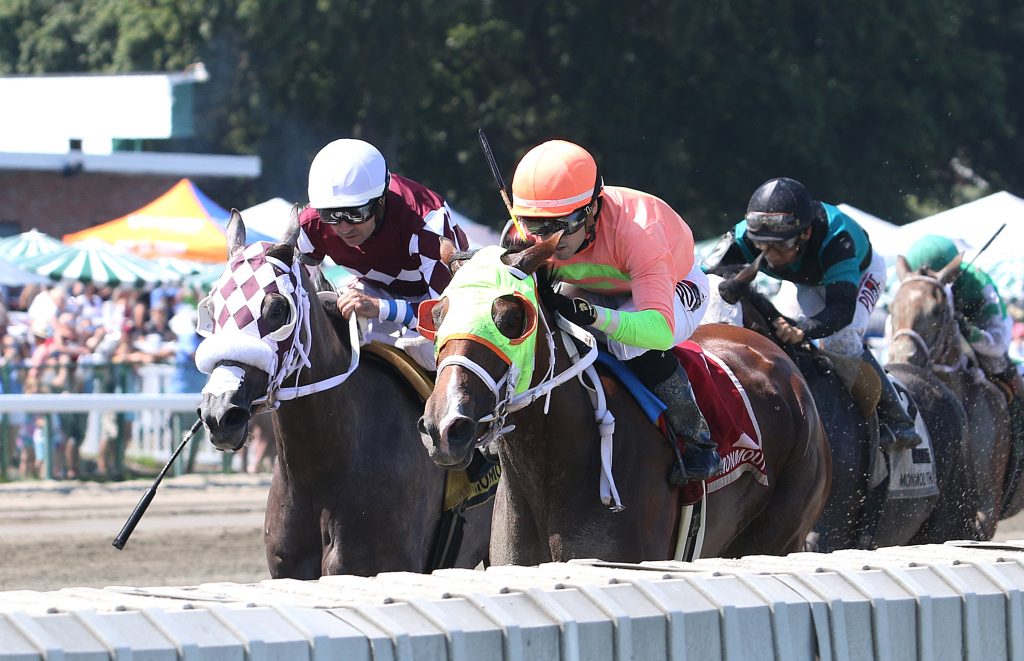 "When you're running up against Jaywalk, who's a Breeders' Cup champion, you never have high expectations," Beatty said. "But this horse has so much heart and that race definitely proved it. Jaywalk had run a 96 Beyer in that race at Delaware. Beating her was not a fluke."
With all the ups and downs in his life, Beatty seems to look at everything the same way–with healthy doses of optimism and realism.
He knows how tough it will be to win the $1 million Cotillion against what is expected to be one of the better groups of 3-year-old fillies assembled this year. But he also knows it can happen. That's because he has a good horse and because sometimes things in life just work out.
Look at his accident. He looks at it as a setback, but nothing worse. If not for the accident, he never would have played semi-pro football. That's how he met his wife, who was a cheerleader for one of the teams he played for. He never would have met Coach Don Gould, and if he hadn't met Gould he never would have met Mazza and never would have owned Horologist.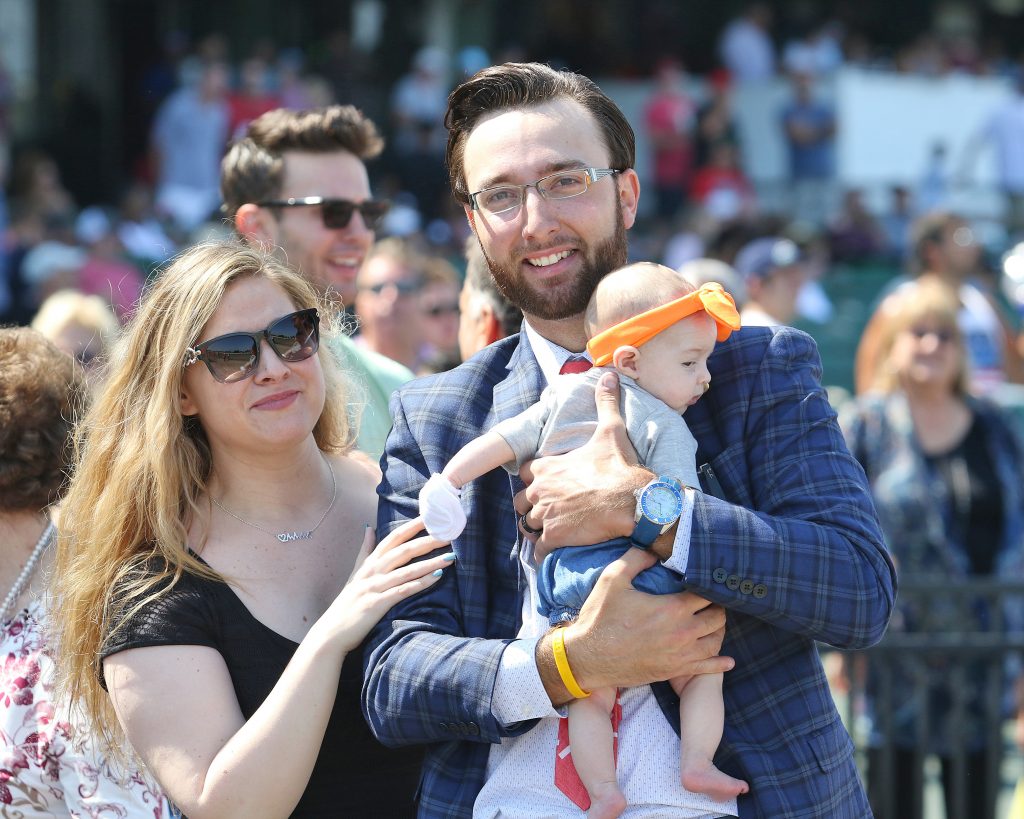 "When someone tells you something is impossible, remember, there's always a chance," he said. "I was told I would never play football again and not only did I play again, our team won the league's championship last year. There's always a chance. It's up to you."
And should Horologist lose the Cotillion or even if she never wins another race, Beatty will never complain.
"When you wake up every morning and see a scar that is eight inches long on your stomach, it kind of makes you realize that life can hit you fast," he said. "Life can come and go. If you don't stop to take in the moments like the ones we've had with Horologist, they're just going to fly right by you."