Twenty-five years ago, Cigar put together a perfect 10-for-10 season, the centerpiece of a three-year streak of 16 straight wins. We remember it here.
by Bill Finley (10-minute read)
It was the sixth race on an ordinary Friday card in October at Aqueduct some 26 years ago and there was nothing to suggest that the $34,000 allowance event would ever have any relevance. Jose Santos was aboard the favorite, a recent allowance winner who started out at Suffolk Downs named Golden Plover. Julie Krone had the mount for Tom Skiffington on second-choice Taddarruj. The third choice in the field of six was a Bill Mott-trained 4-year-old making the switch over to dirt after a lackluster 11-race run on the turf. His name was Cigar.
That's where and how it began, on a quiet fall day at the Big A when no one could have seen this coming. Owned by Allen Paulson, Cigar started off his career in California for trainer Alex Hassinger, Jr., winning just two of nine starts. Transferred to the barn of Bill Mott, he lost another four straight races, all of them allowances on the grass. Perhaps the shift to the dirt would help. They were running out of options.
"It was just the process of elimination for us," Mott said. "We tried him on the turf and that wasn't working out well enough, so we switched him to the dirt. There was no magic in it."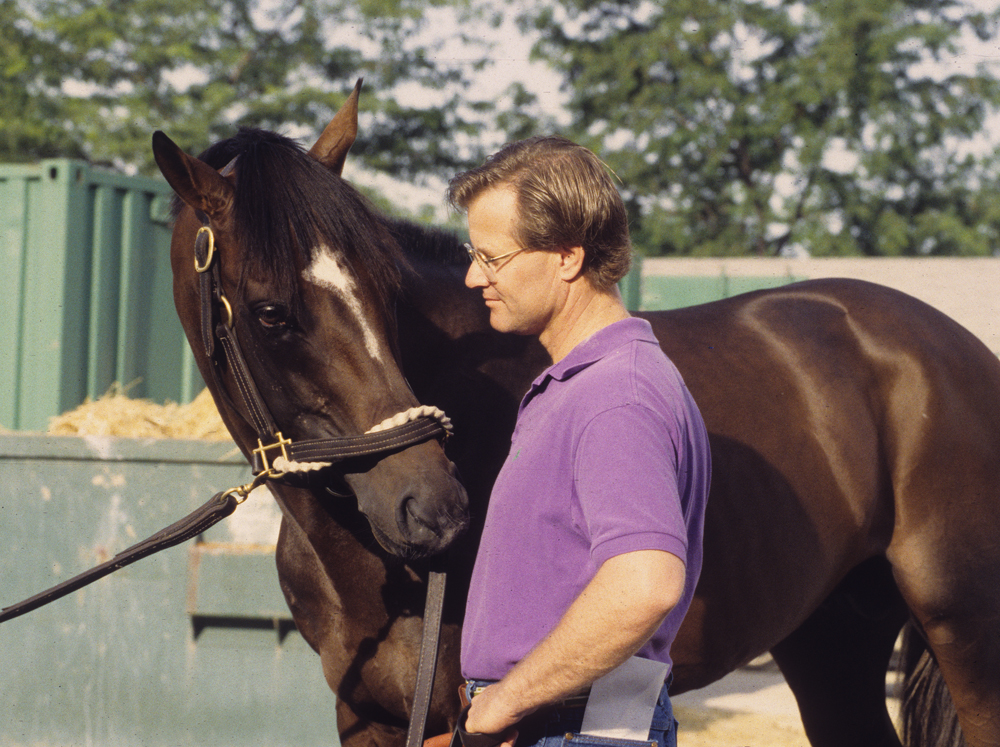 Cigar was dominant that day, winning by eight lengths. Twenty-one months, nine racetracks and two countries later, Cigar had pieced together an historic 16-race winning streak that is among the most extraordinary feats put together by a modern horse. It was the streak that would earn him two Horse of the Year titles, 11 Grade I wins, a spot in the Hall of Fame and legendary status. It was a streak that, for those who were part of it, will be forever etched in their memories.
Somebody asked me one time, 'Was he the best horse that you ever rode?' I think he's almost the best horse anybody could have ever ridden." –Jerry Bailey
I was fortunate to be there for almost all of it, 14 of the 16 wins. That was at a time when newspapers still mattered and not all had given up on horse racing. I was the racing writer for the New York Daily News, which allowed me to dart around the country, and to Dubai, to follow this horse.
"Greatness is neither easy to describe nor to qualify, but the criteria surely includes the ability to rise to any challenge, to be invincible," I wrote after Cigar won the 1996 Dubai World Cup, his 14th straight win. "This is Cigar, a champion."
Such breathless praise might ordinarily seem over the top, but not with this horse. He did what no other horse had done since the great Citation in 1948, who also won 16 in a row. Always show up. Always win. As the streak stretched on, through New York, California, Massachusetts, Florida, he really did seem to be invincible.
"Somebody asked me one time, 'Was he the best horse that you ever rode?'" said Jerry Bailey, who was aboard Cigar for 15 of his 16 wins during the streak. "I think he's almost the best horse anybody could have ever ridden."
Bailey didn't ride Cigar that day at Aqueduct. Mike Smith did. But Smith chose to ride Devil His Due over Cigar in what would be his next race, the GI NYRA Mile. It seemed like the right pick at the time. Cigar was sent off at 8-1 in the NYRA Mile while Devil His Due was the 2-1 favorite.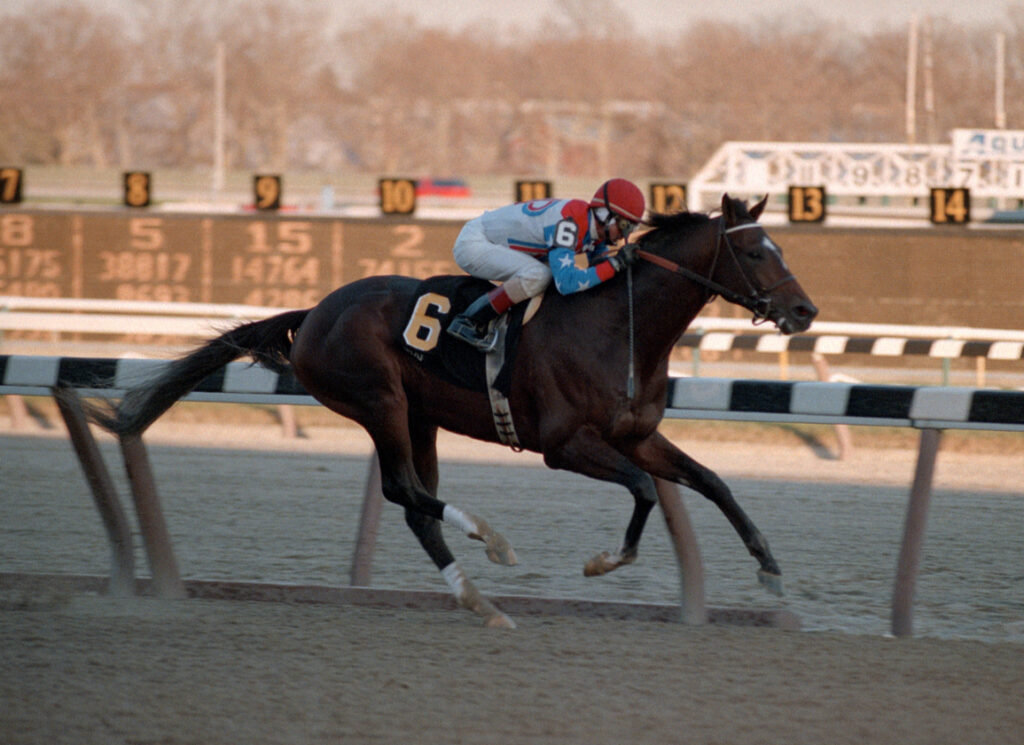 It was no contest. Cigar beat Devil His Due by seven lengths. Winning at the Grade I level and winning easily, this was the race that first signaled that he might just be something special.
"He really smoked them," Bailey said after the race. "I rode him before, but that was on the grass and he was flat that day. On the dirt he's been different."
He would head to Florida after that and win an allowance race in January at Gulfstream. I stayed behind in New York, never imagining that the race would become part of a much bigger story. Cigar won by two lengths.
The 1995 GI Donn H. was one of the most anticipated races of the year, but Cigar had little to do with that. Holy Bull was the story. After running dismally in the GI Kentucky Derby, he had reeled off six straight wins, was named champion 3-year-old colt and Horse of the Year in 1994 and was being compared to the sport's all-time greats.
"The Donn figures to be another walk in the park for the gray monster most recognize as the best since Spectacular Bid retired in 1980. In this race, only NYRA Mile winner Cigar can be considered anything close to a threat," I wrote from Florida.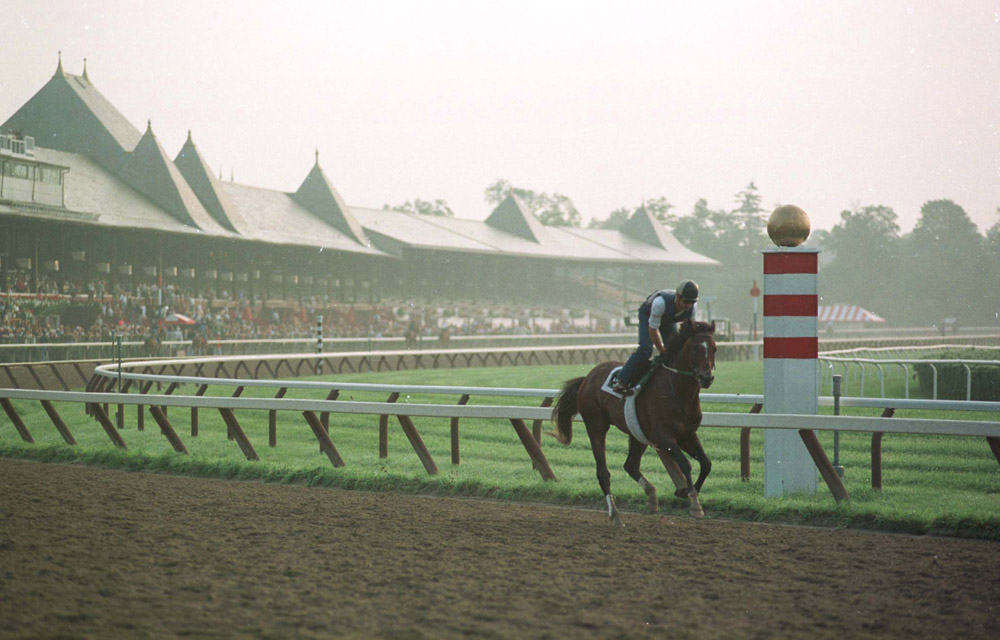 Cigar and Holy Bull were two of the best horses of their era and an eyeball-to-eyeball stretch battle could have made for one of the most exciting moments in the sport's history. Would Cigar prove to be better than Holy Bull? No one will ever know. Holy Bull strained a tendon and was pulled up by Smith shortly after the field made its way down the backstretch.
The Holy Bull injury was such a dramatic development that my Daily News story mentioned Cigar just once and not until the ninth paragraph.
Holy Bull was retired after the Donn, which meant that Cigar had taken over as the best horse in training. It was just four races into his streak, but he was already building a case that he could be a major star. Since Mott had put him on the dirt, he had won two Grade Is and won his races by a combined 22 1/2 lengths. The trainer sensed there was more to come.
"To be a part of this was really very, very special," he said. "I told my crew after he'd won the third or fourth in a row, 'Guys, I think something very special is about to happen here.' I just hadn't been around a horse like this ever."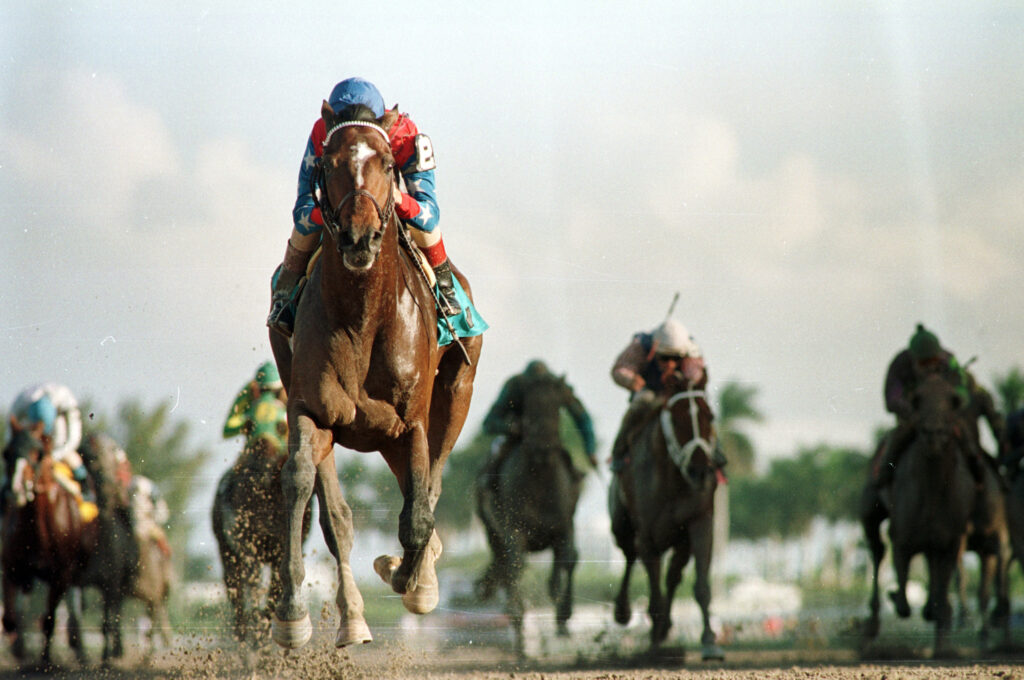 In March, he won the GI Gulfstream Park H. and in April won the GI Oaklawn H., another race I missed. The week before Timber Country won the 1995 GI Preakness S., Cigar won his seventh straight, capturing the GI Pimlico Special by 2 1/4 lengths.
This was no longer the horse that made no waves when he won that allowance race seven months earlier at Aqueduct or the one whose win in the Donn went all but unnoticed. He was now racing's brightest star.
"Perhaps Cigar will be beaten again someday–funny things happen in this game–but when and how?" I wrote in my Pimlico Special post-race coverage. "He faced another quality field in another Grade I race yesterday and turned it into a $600,000 public workout. There is an air of invincibility surrounding this horse and it's not about to go up in smoke."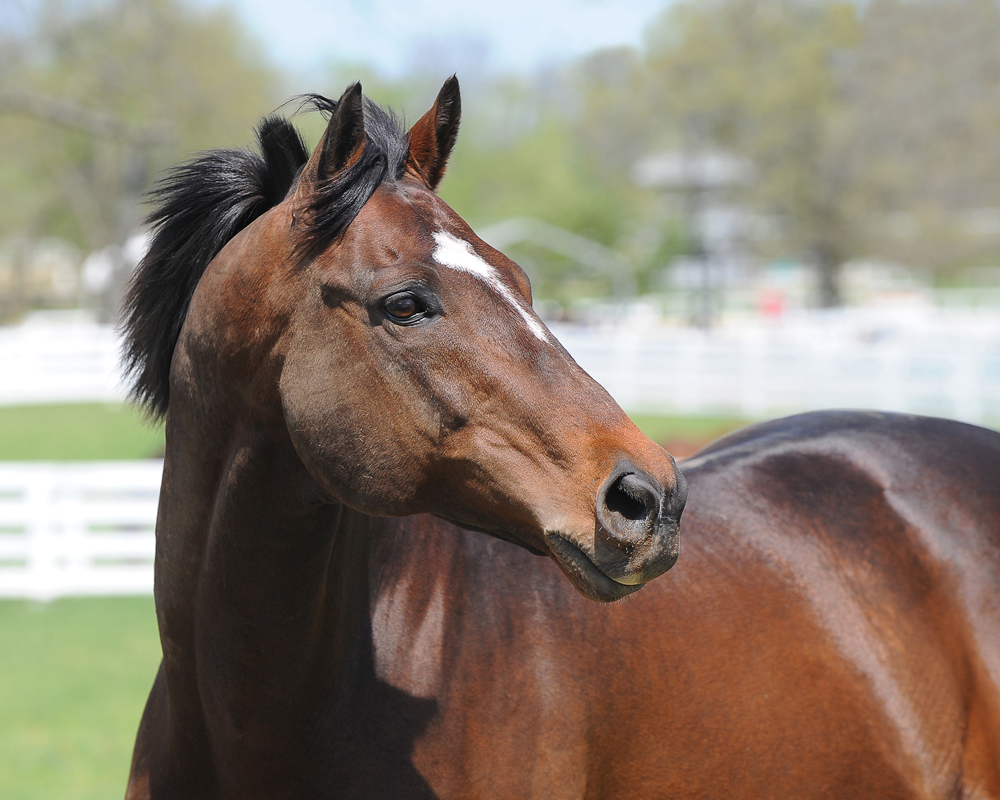 There was a time when Suffolk Downs would have been the last racetrack at which anyone would have expected a star Thoroughbred to show up. The track was run down and the racing product was among the worst in the country, so it was no surprise when the track closed down in 1989.
Two years later, Suffolk got a reprieve. It was purchased and reopened by James Moseley, who poured $9 million into the facility and made it his intention to revitalize the Massachusetts Handicap. In Suffolk's heyday, the "MassCap" attracted many of the best horses in the nation, horses like Whirlaway and Seabiscuit, and the Suffolk team hoped to get another marquee horse to come to Boston for the 1995 race. The $250,000 purse probably wasn't going to get that done, so they put together a $500,000 bonus package that would go to any horse who won the Gulfstream Park H., the Oaklawn H, the Pimlico Special and the MassCap. Cigar qualified.
At major tracks like Aqueduct, Gulfstream and Oaklawn, getting a top horse like Cigar wasn't that big of a deal. Not so at Suffolk, where legions of New England racing fans rejoiced when it was announced that Cigar would be coming to the track that was once known throughout the region as "Sufferin' Downs." Here, he would get the rock star treatment. Mott, Bailey and Paulson so enjoyed the experience that they brought Cigar back for the 1996 MassCap.
"I remember all the excitement and enthusiasm from the fans and how excited they were that such a good horse had come to Suffolk," Mott said. "In the past, many good horses had raced at Suffolk, but it had been a long time since they had had a horse the quality of Cigar up there. Not only when we were there did they show their appreciation, years afterward I still would have people from Boston come up to me and say, 'Thank you so much for bringing him to Boston.' It warned my heart to have people show that much appreciation and enthusiasm."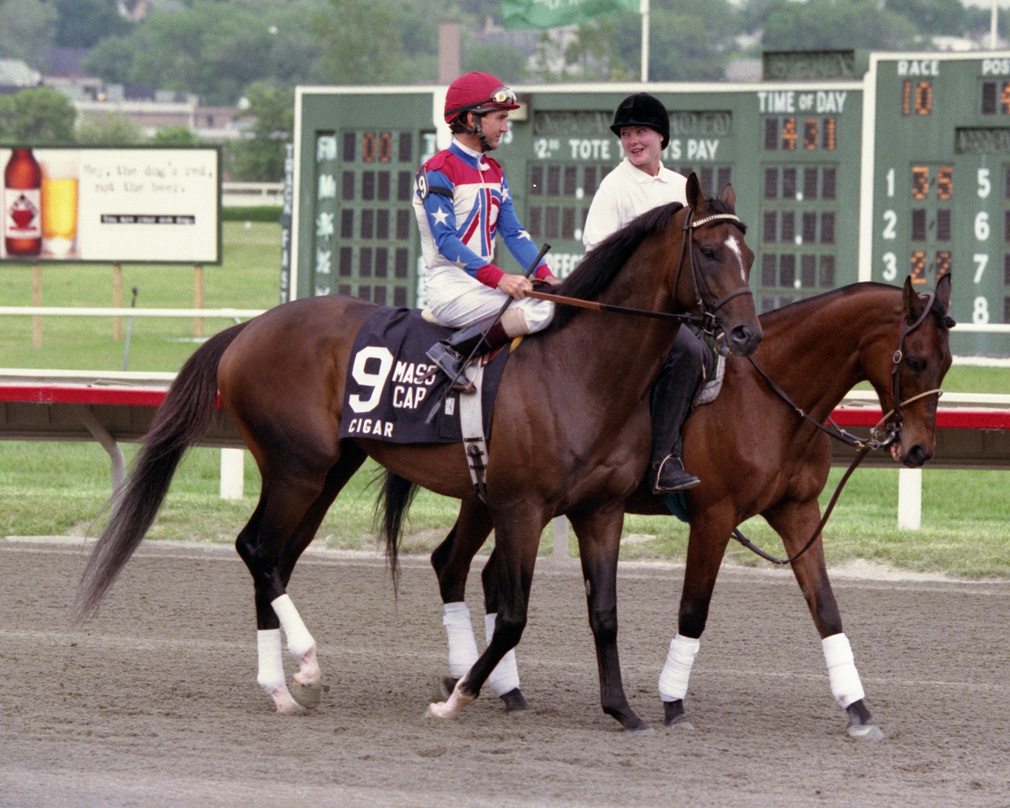 The 1995 MassCap was a case of more of the same. Cigar wasn't just winning his races, he was dominating them and doing so without Bailey asking him to run. It was hard to imagine him getting beat. That was still the case after he won the GI Hollywood Gold Cup and the GI Woodward S. for his ninth and tenth straight wins.
The 1995 GI Jockey Club Gold Cup, run 25 years before Saturday's running at Belmont, finally put Cigar in the starting gate against a horse who figured to give him a fight. Trained by D. Wayne Lukas, Thunder Gulch was the best 3-year-old colt in racing. He had won the Derby, the GI Belmont S., the GI Travers S. and five other races during the year. The Gold Cup was billed as the race of the year, but the showdown never materialized. In one of his least impressive wins during the streak, Cigar won by a length over Unaccounted For, while Thunder Gulch was a distant fifth. After the race, it was discovered that Thunder Gulch had fractured his left front cannon bone and he was retired.
The magical year that was 1995 wrapped up in the GI Breeders' Cup Classic at Belmont Park. Once again, there didn't appear to be anyone in the race that could beat him, but Cigar would face at least one new obstacle. There was a downpour prior to the race and the track was a sea of mud. Each of his 11 prior wins had come over a fast track.
To be a part of this was really very, very special. I told my crew after he'd won the third or fourth in a row, 'Guys, I think something very special is about to happen here.' I just hadn't been around a horse like this ever." –Bill Mott
Cigar had become one of the most popular horses of modern times and it seemed that nobody wanted him to lose. He had already clinched the Horse of the Year title, but a Breeders' Cup was the biggest race he had ever run in and a defeat would have spoiled the fairy tale story.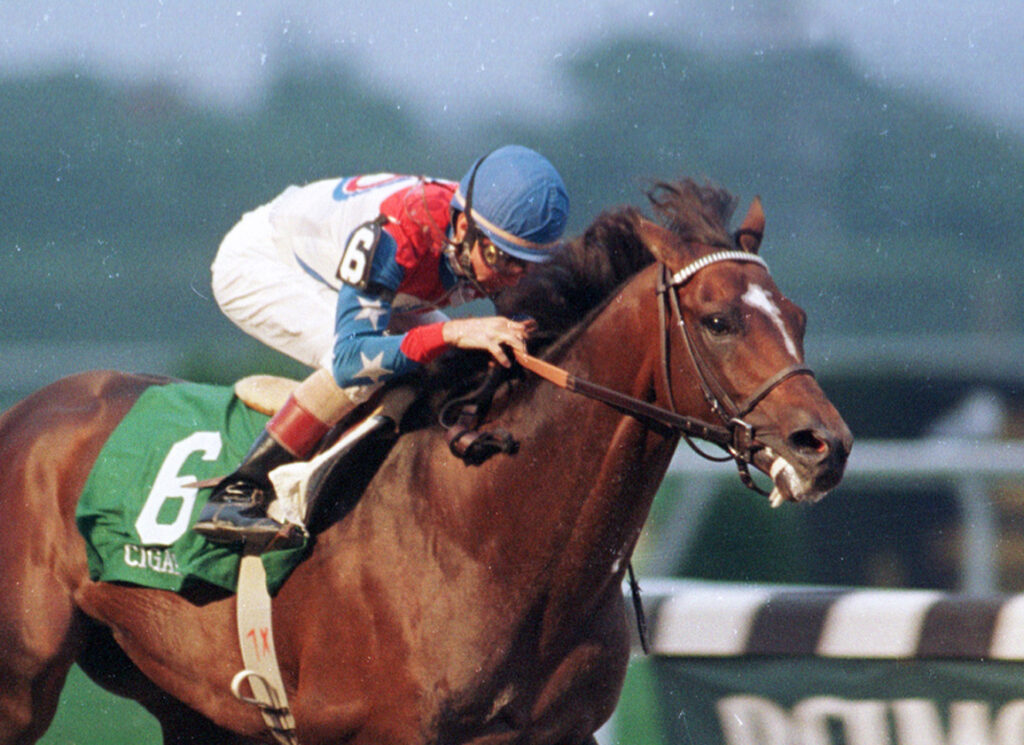 The mud couldn't stop him and neither could the 10 horses who showed up to challenge him. About 10 jumps before the wire, it was clear that Cigar had the race won. It was then that Tom Durkin, the voice of Belmont Park and the Breeders' Cup, put an exclamation point on the performance with one of the most memorable lines ever uttered by an announcer. He captured the moment and the essence of this horse. "Here he is,"Durkin said, "the incomparable, invincible, unbeatable Cigar."
Cigar kicked things off in 1996 with another easy win in the Donn, his prep for the inaugural running of the Dubai World Cup. The World Cup was unlike anything the sport had ever seen. Run in the desert of Dubai, it brought in horses from all over the world to compete for the biggest purse in the history of racing. A journalist is supposed to be objective, which means that rooting for a horse is seen as unprofessional. I didn't care. This was America's horse and he was on one of the biggest stages there had ever been in racing. I sensed that a lot of people would have been happy to see him fall flat on his face. I had never rooted harder for a horse to win.
It was not one of the foreign horses that challenged Cigar, but a horse out of the Richard Mandella barn, Soul of the Matter. He drew alongside Cigar's flank with three-sixteenths of a mile to go and had every opportunity to go by him. Cigar wouldn't let it happen, and won by a half-length.
"That was just sheer grit," Mott said after it was over.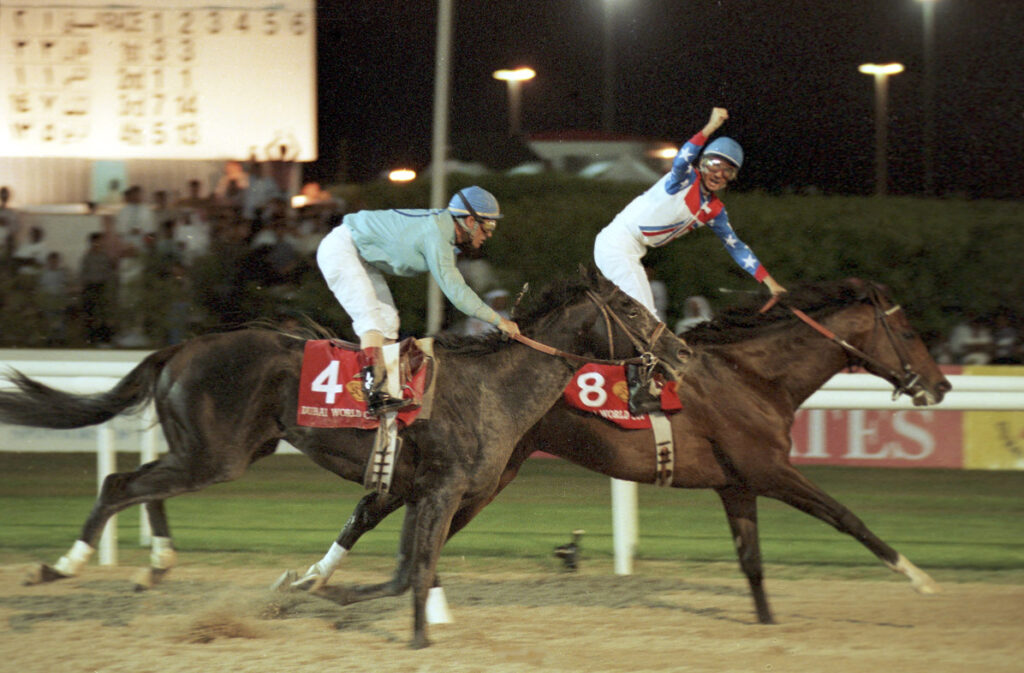 The fifteenth win came back at Suffolk Downs for the 1996 MassCap, and Cigar received a hero's welcome. Suffolk arranged for the van carrying Cigar to be met by Massachusetts state police at the Massachusetts-Connecticut border and escort him the remaining 85 miles to the track. The biggest crowd (22,169) to attend racing at Suffolk Downs since 1966 watched him roll to another win.
The streak that had begun at Aqueduct some 20 months prior had reached 15. The target was now Citation. The 1948 Triple Crown winner, his streak began in the 1948 Chesapeake S. at old the Havre de Grace track in Maryland. It included the three Triple Crown races, the Pimlico Special, the Jockey Club Gold Cup and ended  when he lost a handicap race at Santa Anita in 1950.
To lure the horse that had become the biggest draw in the sport in decades, Arlington Park put together a special race virtually overnight. The purse for the Arlington Citation Challenge was $750,000, with an extra $300,000 paid out to the winner. With 34,223 packing the Arlington stands, Cigar did not disappoint. He won by 3 1/2 lengths.
"I'm not an emotional guy, but it makes me want to cry when I ride this horse," Bailey said afterward. "He's that good."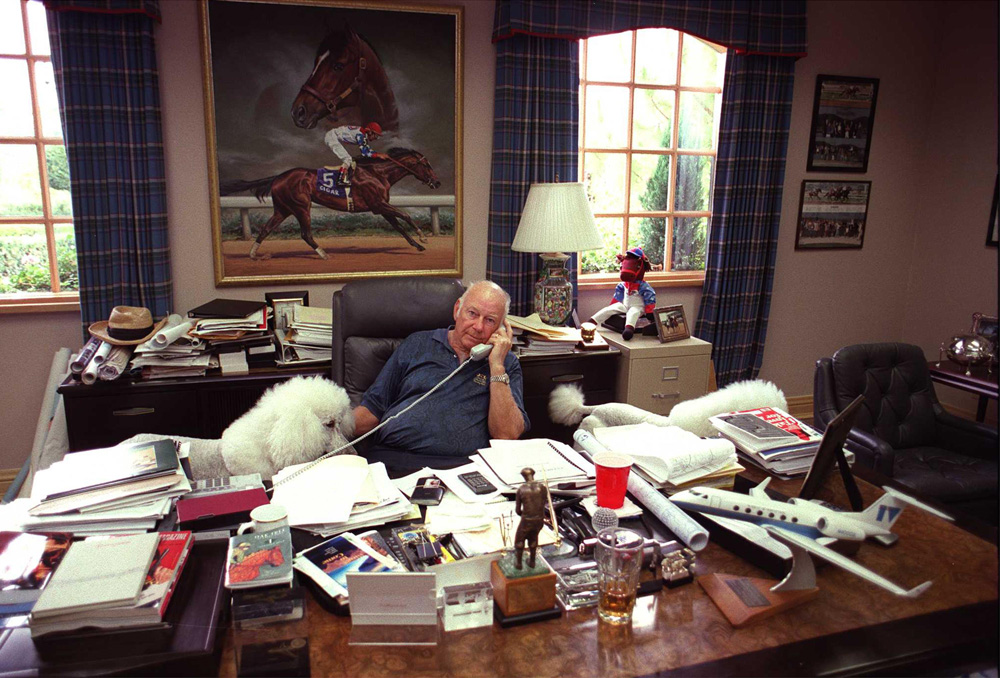 The Cigar show hit the road again, going to Del Mar for the GI Pacific Classic. There was no reason to believe the streak would end at 16. The competition didn't include anyone to fear and Cigar always ran his race. But it did end, in a stunning upset turned in by a 39-1 shot named Dare and Go.
The pace worked against Cigar. Siphon, the second choice in the wagering, sped to the front and Bailey went after him. The half went in 45.96 and the six furlongs was also fast, 1:09.29. A quarter-mile out, Cigar had pulled ahead of Siphon, but he didn't have enough left to hold off Dare and Go.
"I simply asked him to go too fast, too soon to keep another horse from boxing him in down the backside," Bailey said. "I always thought that if I gave Cigar a chance to win, put him out in the clear and didn't get him into any trouble that he would win. There was a price to pay that day and it was too much."
It might not have been Bailey's finest ride, but this was Cigar, a horse that was supposed to be able to overcome anything they threw at him. It was more than a loss. It was a turning point in his career as he was never again the same. He would win the Woodward in his return, but was defeated in the 1996 Gold Cup and also in the 1996 Breeders' Cup Classic in his final career start.
"He just wasn't that dominating horse that he was the year before, that could take the worst of it and still win," Bailey said of the 1996 Breeders' Cup.
Even after those defeats, he remained so popular that he was brought to Madison Square Garden for a farewell ceremony held in conjunction with the National Horse show.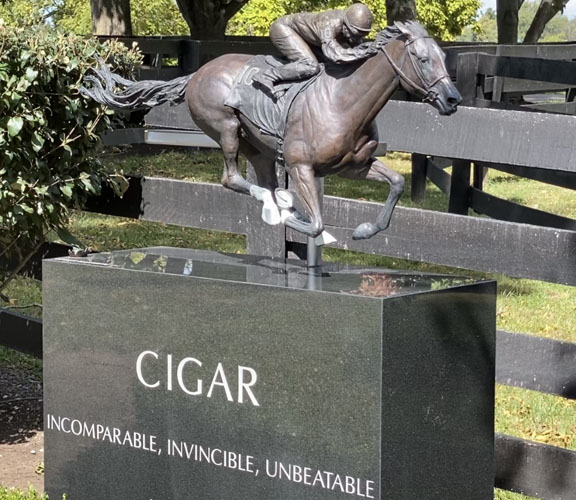 Cigar was infertile, so was never given a chance to pass on his impeccable genes. He lived out his retirement at the Kentucky Horse Park and passed away in 2014 at the age of 24. In 2010, Zenyatta would snap the record he held jointly with Citation, winning 19 in a row.
The story didn't end the way many had hoped, but that didn't minimize what Cigar accomplished. He captivated the sport and took it on a ride unlike anything anyone had seen in a long time.
Incomparable, invincible, unbeatable, indeed.