Five-time MLB All-Star Victor Martinez is following a dream with King Guillermo– already a graded stakes winner who, after a seven-month layoff, is set to return to Grade I company.  
by Bill Finley
King Guillermo will be in a tough spot when he starts in the GI Cigar Mile H at Aqueduct. The 3-year-old colt hasn't raced since May 2 and has never faced older horses. That's fine by his owner, retired MLB All-Star Victor Martinez.
"I'm not a big believer in favorites," he said.
That was the theme throughout his baseball career and helped him surpass the modest expectations when he was a skinny kid out of Venezuela who got a mere $8,000 signing bonus from the Cleveland Indians as a 17-year-old prospect. He still feels that way, his beliefs strengthened by the emergence of the horse who seems to do his best when it is least expected.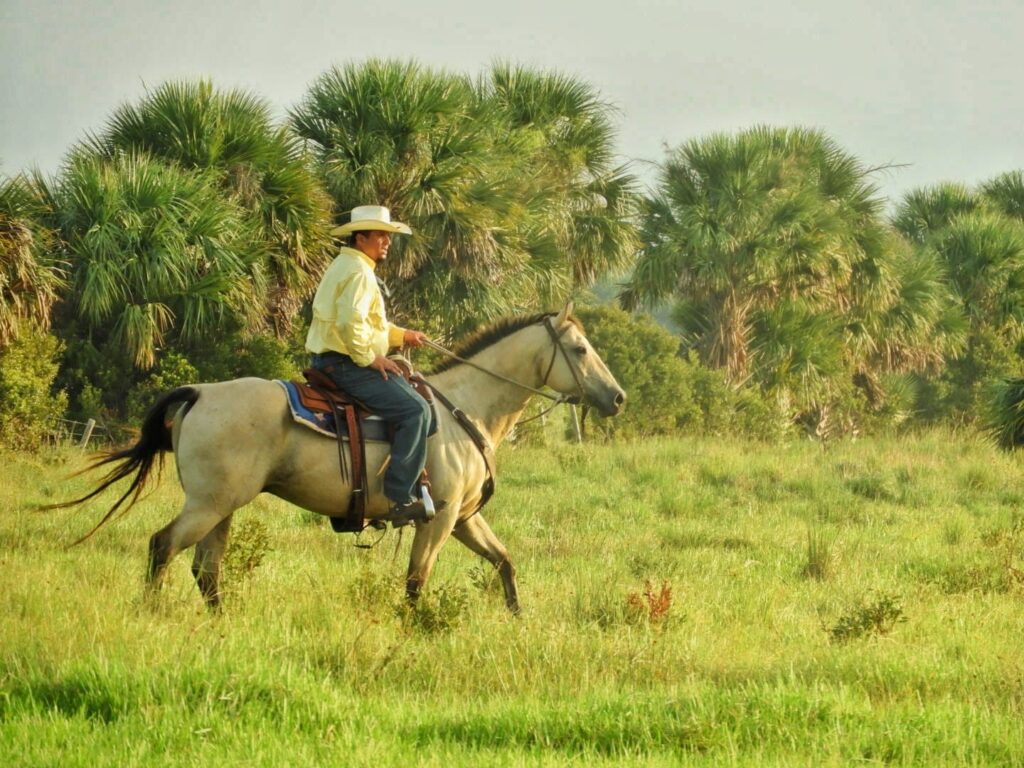 During his playing days, Martinez was a casual racing fan who was first introduced to the sport as a boy in his hometown of Ciudad Bolívar, Venezuela. He retired in 2018 and just a few months later decided it might be fun for his family if he were to own a few racehorses. His agent from his playing days put him in touch with trainer Juan Carlos Avila, who had recently arrived in the U.S. after a distinguished career in Venezuela. Martinez didn't want to just own horses. He wanted to own special horses.
"I sat down with Juan Carlos and I told him, 'Listen you're not going to get a horse just to go to the Kentucky Derby, you're going to pick the horse that will win the Kentucky Derby,'" Martinez said. "He looked at me, like this guy is crazy. I've been dreaming my whole life, my whole career. I came to the United States with zero dollars in my pocket. Why not keep dreaming?"
Listen you're not going to get a horse just to go to the Kentucky Derby, you're going to pick the horse that will win the Kentucky Derby."             –Victor Martinez to trainer Juan Carlos Avila
Avila didn't have the heart to tell Martinez that was being unrealistic. The two were soon headed to the 2019 OBS April 2-Year-Old sale in search of that special horse Martinez seemed to think was easy to come by. Martinez knew little about racing, breeding and the sales, but understood that Uncle Mo was one of the sport's best sires. He wanted one.
"I just wanted a son of Uncle Mo," he said.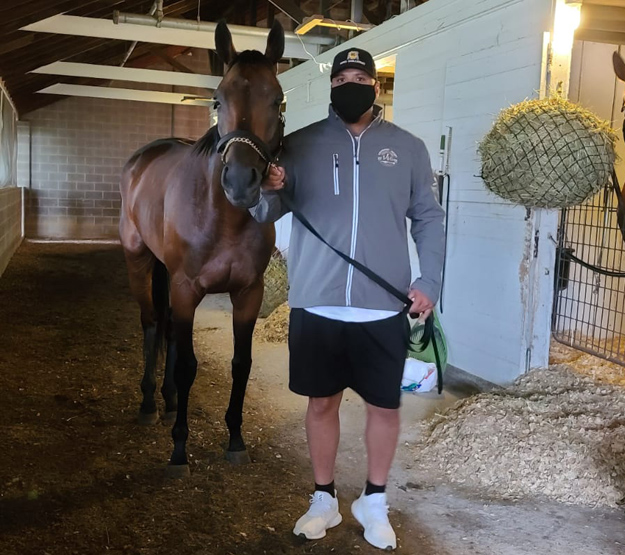 The one he picked out was out of the Dixieland Band mare, Slow Sand. From six foals of racing age, she had produced five winners but no stars. Then there was the colt's size. He was on the small side, something that would turn off a lot of buyers but not Martinez. He felt a connection with the horse.
"The way we got him, it made me reflect on my career," he said. "He was a little guy and if he had weighed 100 more pounds we wouldn't have been able to buy him. He would have cost way more. I was the same way. When I first signed in professional baseball I was 120, maybe 130, pounds. At the time, I was a shortstop and I only got an $8,000 signing bonus. I put a lot of work in to get where I did. He was a little guy that a lot of people didn't pay any attention to."
He broke in with the Cleveland Indians as a shortstop, but was told by that organization that the only way he could make it was if he switched positions and became a catcher. He was so discouraged by that decision that he called his mother and told her he was quitting. She refused to let him give up, maybe the best advice he ever received.
That scrawny kid from Venezuela bulked up to 235 pounds and became a five-time All Star. Martinez had 246 home runs and 1,178 RBI in his career, hitting .295. In 2015, he signed a four-year $68 million contract with the Detroit Tigers.
So there was something about this horse that reminded him of himself. For $150,000, a reasonable sum for an Uncle Mo, Martinez purchased the horse.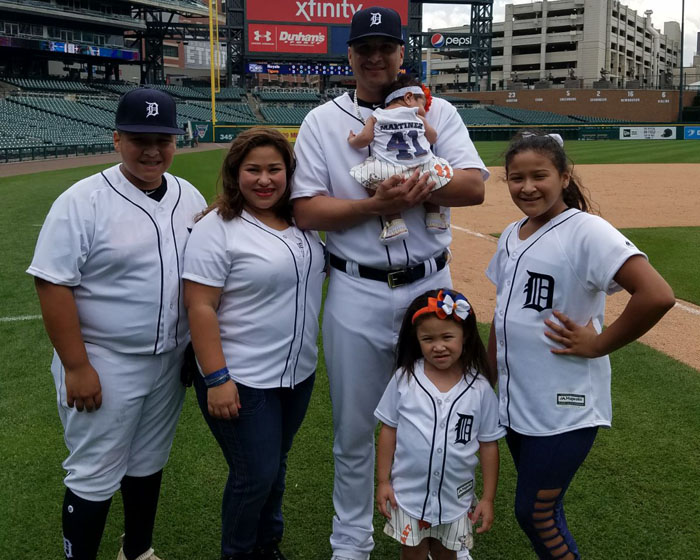 The Uncle Mo colt was one of the first three horses he purchased and he wanted to name one in memory of his father, Guillermo, who died when he was just seven. He was going to give the name to a Bayern colt he purchased a year earlier at the Keeneland September Sale, but Avila told him that if he really wanted to honor his father he should give the name to the Uncle Mo colt. The trainer was starting to think he could be special.
King Guillermo made his debut Sept. 29 at Gulfstream and the word was out. Bet down to 6-5, the colt didn't come through. He finished sixth, beaten 11 1/4 lengths.
"Juan Carlos, his face, it was like somebody had died," Martinez said.
After the debut, Avila decided that King Guillermo's future was on the grass and wheeled him back in a one-mile maiden special weight on the turf. King Guillermo appeared to prove his trainer right, winning by 6 1/4 lengths. Next up was the Pulpit Stakes, another one-mile grass race at Gulfstream. King Guillermo, made the 3-2 favorite, didn't win but was third in a promising effort.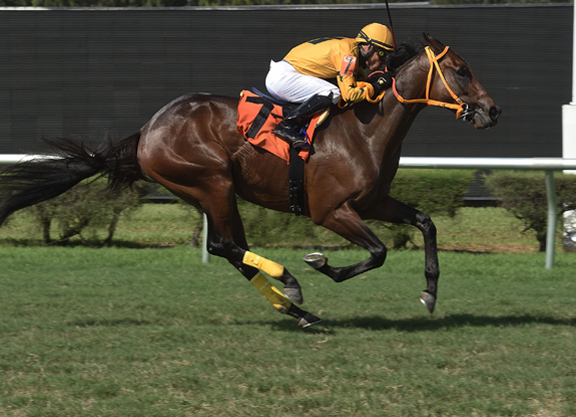 It appeared that he had a bright future as a grass horse, but that didn't fit the narrative of Martinez's dream. The Kentucky Derby is not run on the grass.
"I wanted to see him one more time on the dirt," he said. "I didn't care what people might say. Juan Carlos said, 'Ok, I'm going to look for a decent race for him.' I said, 'No, no, I don't want a decent race, I want you to put him in race where we can point him for the Kentucky Derby.'"
It's just great when I hear his name because of this horse. I told my mom one time that King Guillermo reminds me that my dad is looking down."  — Victor Martinez
Avila picked out the March 7 GII Tampa Bay Derby, which looked like an impossible spot as it featured a number of proven, high quality dirt runners. At 49-1, King Guillermo scored the upset, winning by 4 3/4 lengths. He had the points to make it into the Derby, and the colt had accomplished something else important to Martinez. His success was exactly what the former catcher had hoped for when he decided to name him in honor of his father.
"I remember very little about my dad," he said. "It's just great when I hear his name because of this horse. I told my mom one time that King Guillermo reminds me that my dad is looking down."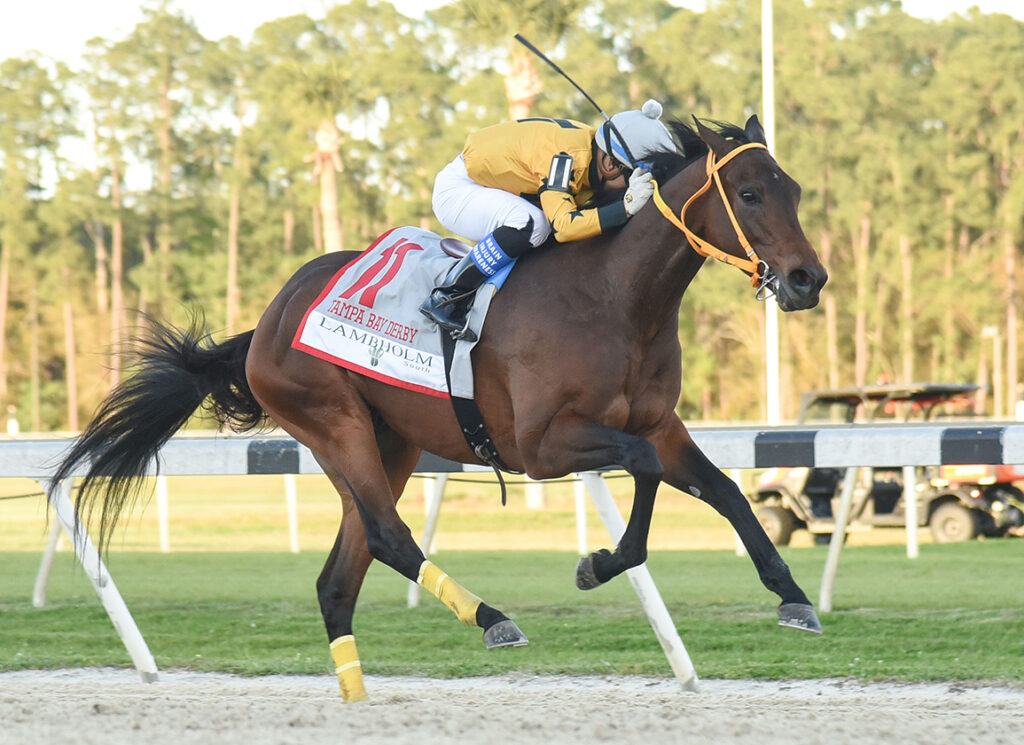 Within a few weeks, Martinez's plans to make it to the Derby were upended by the coronavirus. The Derby was delayed, which forced Avila to make alternative plans. He settled on the GI Arkansas Derby and King Guillermo proved that his win in the Tampa Bay Derby was no fluke. He finished second behind the highly regarded Nadal (Blame).
With the Kentucky Derby rescheduled for Sept. 5, there were plenty of options for King Guillermo, races like the GI Haskell S, the GI Travers S. and the GI Belmont S, which was rescheduled for June 20. But, after giving King Guillermo two months off after the Tampa Bay Derby, Avila made the controversial decision to give King Guillermo another four months off and not resurface again until the Kentucky Derby. Martinez supported the decision, saying that his colt needs time to recover from his races and that he tended to lose a lot of weight after he raced.
"A lot of people would say he should race more," he said. "You know what? To race, you've got to be healthy. To play in a sport, you've got to be healthy. You don't think I didn't want to see him race more? I only have three horses. I want to see him race everyday if they could. But you have to make him right, make him healthy and then go race. It's hard for me to think that a lot of people in this industry don't understand that. For me, being an athlete, that's the most important thing. You've got to be healthy."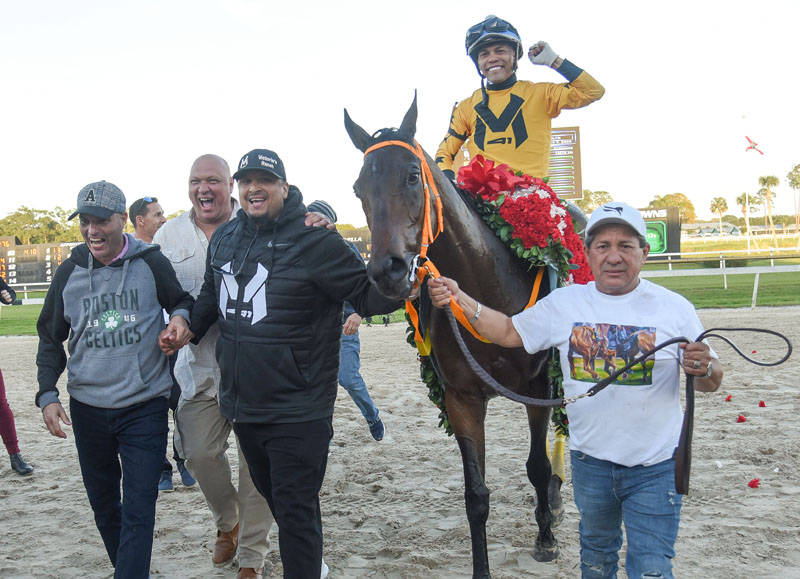 King Guillermo arrived at Churchill Downs to prepare for the Derby and Martinez says he was "the best we had ever seen him." But fate intervened. King Guillermo got a virus a few days before the race and was withdrawn. With the setbacks, he will come into the Cigar Mile without having started since the May 2 Arkansas Derby.
Martinez understands that the Cigar Mile will be a tough assignment for his horse, but Avila has been telling him the colt is ready.
"It's been a long time but his condition is there," he said. "He's been working really good, so we will see. Anything can happen in a race. We're always hoping and praying for a clean race. If he has a clean race I think he's going to be right there."
Martinez has so enjoyed the experience that he says he has become "addicted" to racing. He has added five more horses to his stable from this year's 2-year-old and yearling sales. At Keeneland September, he bought a yearling filly by Nyquist, and yearling colts by Practical Joke and Malibu Moon. For the three, he paid a combined $200,000. At the OBS Spring sale he bought a Dialed In colt for $75,000 and a Air Force Blue colt for $180,000.
Based on the long odds that any horse makes the Kentucky Derby or the GI Kentucky Oaks, the new additions are unlikely to make it to Churchill Downs next spring. That doesn't worry Martinez one bit. He likes long shots. He used to be one himself.