By Lucas Marquardt (reading time: 6 minutes)
Take the man-made structures from most cities and what's left is a meadow and, maybe, a pretty confluence of rivers. Take them from Rio de Janeiro, and you have one of the most picturesque places on Earth. Soaring granite peaks…verdant jungles…wide, pristine beaches and an eponymous ocean current that keeps the turquoise coastal waters warm year-round.
Add to that landscape an ethnically diverse population of 7.5 million people who share a love of beach culture and good times, and you have one of the most dynamic and vibrant cities in the world
Now add to that landscape an ethnically diverse population of 7.5 million people who share a love of beach culture and good times, and you have one of the most dynamic and vibrant cities in the world.
Welcome to Rio, the misunderstood but brilliant jewel of Latin America. Home of the 2016 Olympics and the 2014 World Cup Final. Eternal home of the caipirinha, Brazil's national drink. And, as it turns out, an excellent place to catch a horse race.
On Feb. 9, Hipódromo da Gávea will host the first leg of the Brazilian Triple Crown for males, the G1 Grande Prêmio Estado Do Rio De Janeiro. The filly version, the G1 Grande Prêmio Henrique Possolo, is on the same card. Both are contested over 1600 meters on turf.
Last July, I traveled to Rio with my wife Ada, who was teaching poetry, and spent two weeks exploring the sprawling city. Naturally I spent plenty of time at Hipódromo da Gávea, Brazil's main race course. Gávea is in one of Rio's most affluent neighborhoods and is adjacent to the upscale communities of Leblon and Ipanema, making it an ideal place for those looking to mix traditional tourism and race going.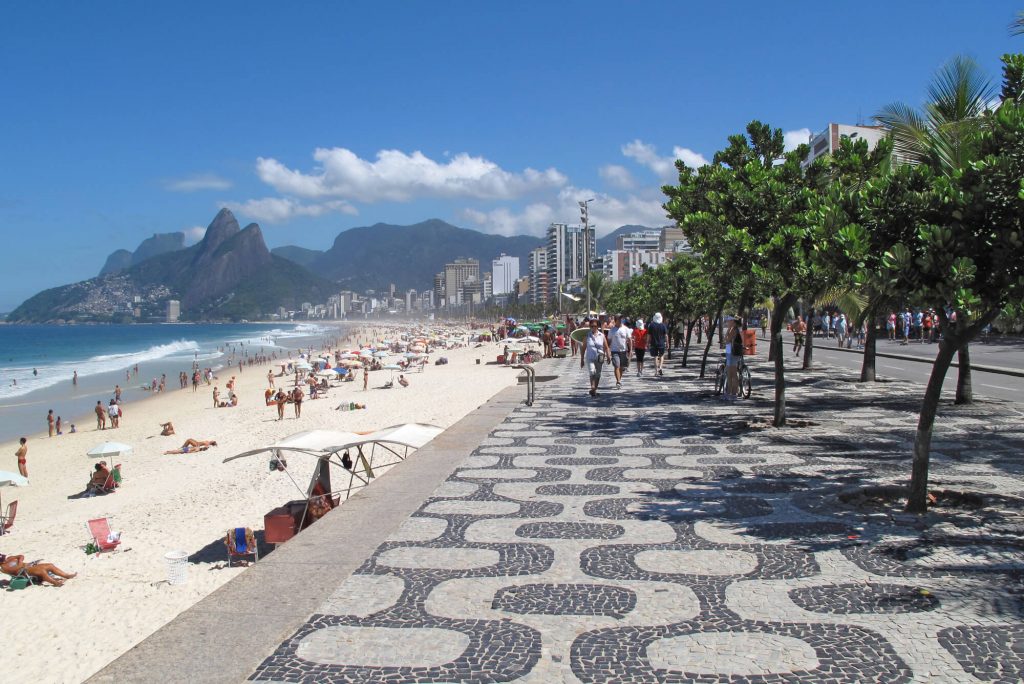 Any story about Rio de Janeiro begins with its geology and ecology. As much as any city in the world, Rio is defined by the land it sits on. Located in Southeastern Brazil, Rio feels as if it were cut from the jungle…and is actively being reclaimed by it. The rainforest that surrounds the city—Tijuca—is one of the largest urban forests in the world, and the beautiful city sidewalks here, patterned in black-and-white mosaics, are often dark and crowded with ficus and cannonball trees.
Rio itself is a city misnamed. According to popular lore, when the Portuguese first arrived on New Year's Day, 1502, they assumed that Guanabara Bay was the mouth of a river, hence the name Rio de Janeiro, or January River.
Sitting over this bay is one of Rio's great attractions, Sugarloaf Mountain. A granite and quartz monolith that rises nearly 1,300 feet straight up, Sugarloaf is accessible by tram and offers amazing panoramics of Rio. The first trams began running at Sugarloaf in 1912, some tin-can contraptions that must have put the fear of God in riders on a blustery day.
There is no bad time to visit Sugarloaf, but sunset ensures a near transcendental experience. As a stiff warm breeze kicks up off the ocean, you can watch the sun go down behind the western edge of Rio, backlighting the famous Christ the Redeemer statue and the rugged mountain terrain. Have time to kill? Order a beer and watch planes cross over the mountains and head straight toward Sugarloaf, only to descend rapidly and bank hard to the left, carving out a 45 degree turn and straightening in time to land at the domestic airport at water's edge, Santos Dumont.
Christ the Redeemer is Rio's other primary mountaintop destination and is an iconic feature of Rio's skyline. This Art Deco Jesus, finished in 1931, towers nearly 130 feet from its base, and with outstretched arms stands as maybe the most recognizable Catholic symbol in the Western Hemisphere. Hire an Uber or Lyft to Corcovado Mountain in Central Rio and an inexpensive cog train will take you slowly through tangled jungle terrain to the statue.
On the morning we visited, this train, unfortunately, took us straight into a massive fog bank, so that when we reached the base of the statue, Christ's head was barely visible and the magnificent views of Rio could only be imagined. It was a Sunday morning, however, so we did catch the tail end of the weekly mass held in the small chapel that's set into the base of the statute, Nossa Senhora Aparecida, or Our Lady of Aparecida. Weddings and baptisms can be celebrated here, so plan accordingly.
Back down Corcovado Mountain, far below the right arm of Christ the Redeemer and just across the street from Hipódromo da Gávea, is the Rio de Janeiro Botanical Garden. Closely tied to Portugal's colonial history in Brazil, the garden was founded in 1808 by Portuguese monarchs looking to slip away from an Iberian peninsula imperiled by Napoleon. The monarchy briefly made Rio its new seat of power and quickly established three institutions: a national bank, a national museum, and a national garden. (The museum sadly made news recently when a fire ripped through it, erasing centuries worth of priceless Brazilian artifacts.)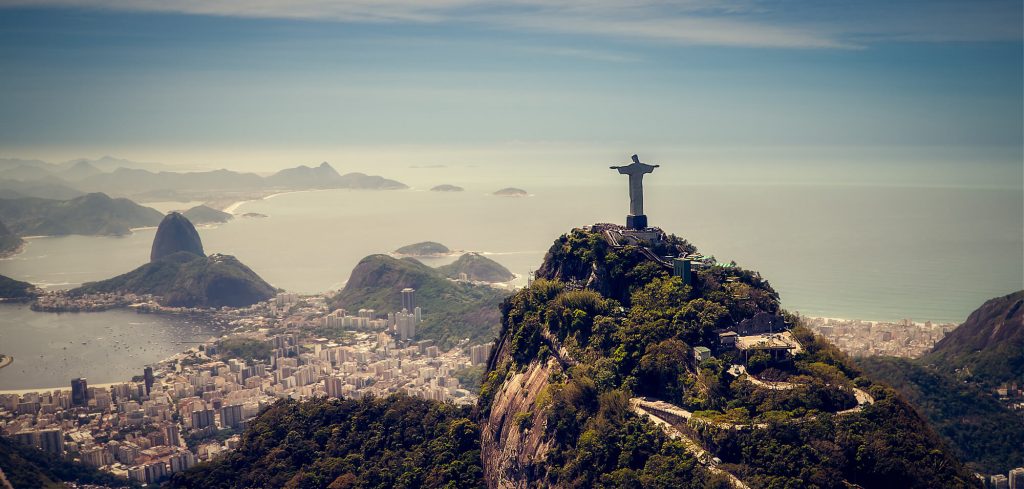 The 54-hectare garden is home to over 6,000 species of plants and trees, most or all native to Brazil. There are fountains, towering lines of palm trees and, as we found out, plenty of curious monkeys skittering about, looking for an easy treat. According to our guide, the oldest tree in the park is believed to be about 600 years old—or did he say 400?—and is so broad that 30 people, arms outstretched, are needed to fully circle the thing.
But wait. This is Rio, isn't it? Why aren't we at the beach?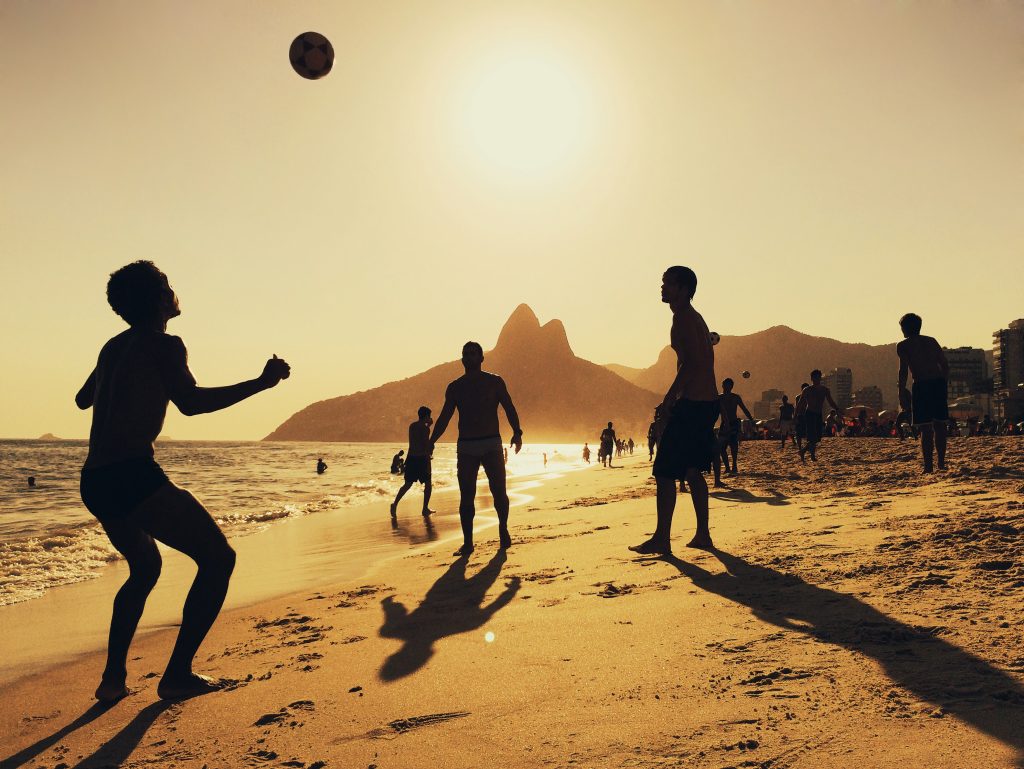 At Copacabana, Leblon, Ipanema…this is where you'll find the heart and soul of Rio. These beaches are huge, running miles down Rio's edges. Here you'll find cariocas, the nickname for Rio's citizens, of all ages and types. Teens in groups of four or five circle and juggle soccer balls for hours. Hawkers carry large poles, packed with swimsuits for sale, and make their way through the teeming crowd. A rainbow flag designates the gay and lesbian section of the beach. There are areas for volleyball and footvolley—the fun-to-watch cross between soccer and volleyball.
But wait. This is Rio, isn't it? Why aren't we at the beach?
In what seems like a statistical impossibility, everyone is tan, and everyone is attractive.
After a day of exploring the city a good meal is in order, and Rio offers a huge variety of options. Be sure to find a place that does feijoada right. Feijoada is Brazil's national dish, a stew of black beans with beef or pork often served with rice and sausages. We chose Casa da Feijoada, a small, unassuming restaurant tucked away in the neighborhood of Ipanema.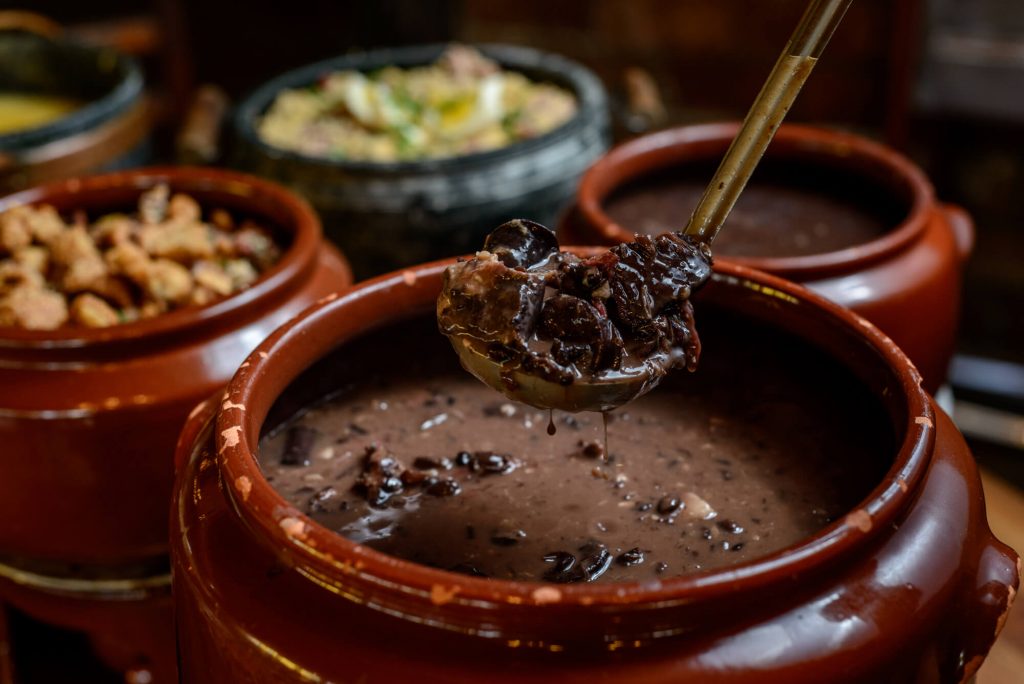 With wood-carved chairs and dated wall art, Casa da Feijoada isn't going to win many style points, but with food like this, who cares? To begin with, a friendly waiter appears with a panful of fried mini-sausages that he doles out liberally. He returns at acceptable intervals with more caipirinhas, then brings the feijoada—thick, salty, and delicious—in heavy clay pots. It's comfort food at its best.
Another highlight on the menu is the carne seca com abobora, or jerk meat with pumpkin. Here, it's stewed and shredded beef with onions over a pumpkin purée, a perfect mix of sweet and salty.
In what seems a statistical impossibility, everyone is tan, and everyone is attractive.
Another option, particularly if you're looking for a night out at the races, is Rubaiyat, a steakhouse located on the far turn of Hipódromo da Gávea. Rubaiyat is tangentially associated with the track—there are no simulcast TVs or betting windows—but the place is only feet away from the turf course, and so every half hour or so you can feel the thundering of the field rise up and fall away in full doppler effect.
Beef is the star of the show, and Rubaiyat offers Brangus (a cross between Angus and Brahman) and Kobe. Try the master beef-in-bone steak, an intimidating dish that looks like a medieval weapon and tastes like heaven. The cap of rump "picanha" is excellent and, if you come on a Saturday, Rubaiyat has a feijoada buffet.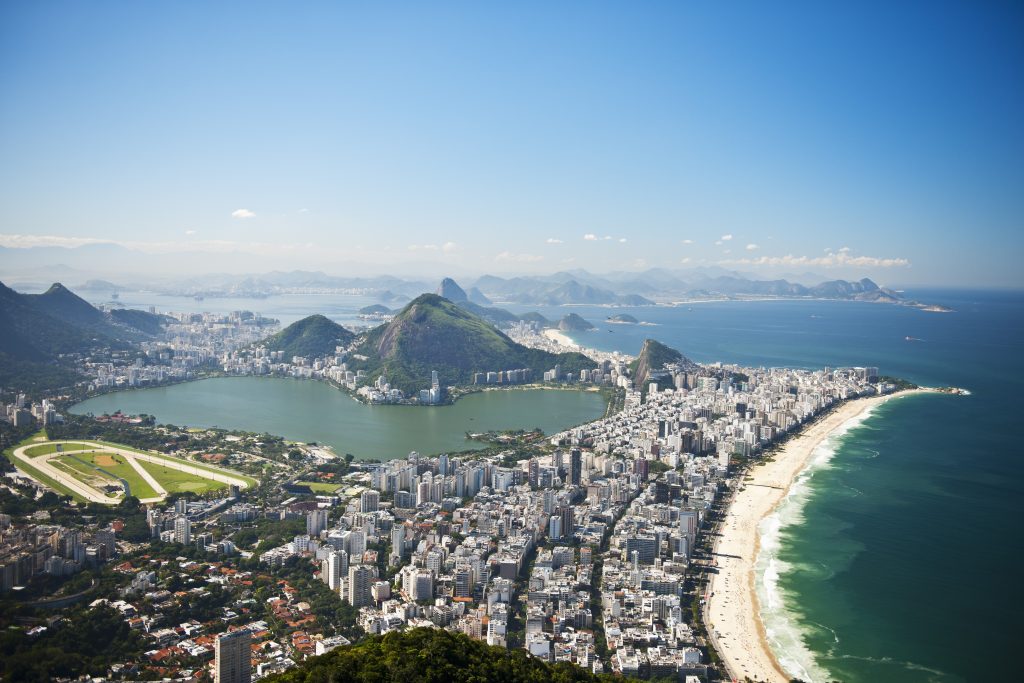 Last but not least we have Hipódromo da Gávea itself, which has to rate among the world's most picturesque tracks. It sits under Corcovado Mountain, and so at any point, day or night, an illuminated Christ the Redeemer looms over the head of the stretch. At the other end of the turf course, beyond the clubhouse turn, you can see the Tijuca's Stone of Gavea, a granite and gneiss mountain that's popular with climbers seeking unmatched views of the city. Coastal mountains and high-rise apartments line the backstretch.

Built in 1926, the track was reportedly designed by a French architect and modeled after the old Longchamp in Paris, with four stately grandstands that can seat up to 3,000. A broad apron ensures room for some 77,000 more. There is wide turf course, with a dirt track and dirt training track inside. They race four days a week at Gávea. There is day racing on Saturday and Sunday, and night racing on Monday and Tuesday. The racing is good and, as shown by the likes of Bal a Bali and Gloria de Campeao, capable of turning out world-class horses.
Hipódromo da Gávea has to rate among the world's most picturesque tracks.
But whether you go to Rio for the racing, or go racing when in Rio, make sure of one thing. Go.