by Christie DeBernardis (7-minute read)
Since my first visit to Summer Wind Farm last year, the Georgetown nursery has become a regular stop on my frequent trips to Kentucky. The gorgeous property with field after field full of regally bred Thoroughbreds is a horse lover's paradise. A trip to Summer Wind is like a trip to Oz for a lifelong equestrian like myself, but the icing on the cake is the farm's owner, Jane Lyon.
On this visit, she is well dressed, as always, with part of her hair sweeping across her face and the rest pulled back in a beautiful barrette. Her blue eyes sparkle as she greets me with her million-dollar smile and a warm hug. "Hi sweet girl! How are you?" Lyon asks, her accent giving away her Little Rock, Arkansas, roots.
Lyon is as kind, caring and generous as they come and that extends to both humans and animals alike. Any horse born on Summer Wind can always return home and the farm is filled with rescue dogs and cats. Though she splits her time between Arkansas and Kentucky, each of Lyon's horses know her well and are quick to greet her in search of the carrots she always has handy.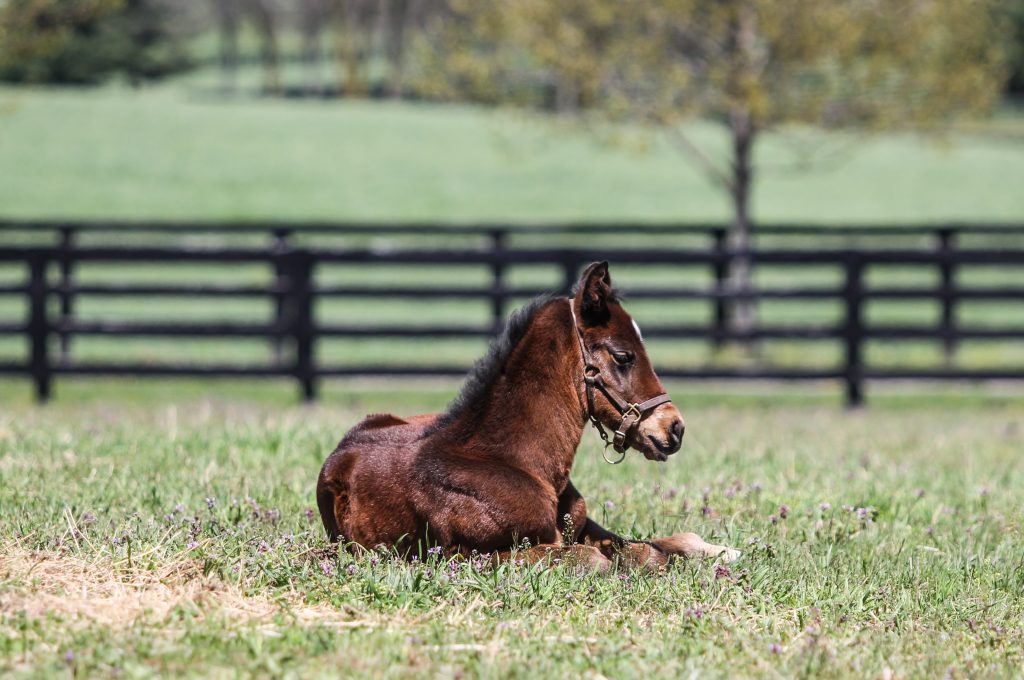 But make no mistake, Lyon is as sharp, determined and diligent as she is sweet. She is a woman who knows what she wants, has great taste and very good instincts, which can be seen in the star-studded broodmare band that she has assembled. With the help of her late husband Frank Lyon, the lifelong horse lover has spent decades pursuing her dream of raising quality horses in the Bluegrass and that dream has reached new heights recently. Over the past two years, Summer Wind has been responsible for the likes of champion Game Winner, multiple Grade I stakes winners McKinzie and Moonshine Memories, Japanese Group 1 stakes winner Mozu Ascot and Grade I stakes winner Chasing Yesterday. The farm also had a banner sales season last term and is preparing a group of yearlings for market this year that are sure to turn heads.
She has raised some really good horses. A matter of fact, my whole barn is basically Jane Lyon's with Game Winner, McKinzie, Chasing Yesterday and Magic On Tap. —Hall of Famer Bob Baffert
Lyon has a team of advisors, of course, led by farm manager Bobby Spalding, but she studies all the pedigrees herself and goes to see almost every mare she buys before adding it to her band, allowing those good instincts to help guide her decisions. When Lyon saw a chestnut mare named Littleprincessemma at the 2014 Fasig-Tipton November Sale, it was love at first sight. At that time, the chestnut had a 2-year-old colt that was creating a lot of buzz after a pair of Grade I wins, but he had been knocked out of Breeders' Cup contention with a foot issue. That colt was American Pharoah and, a year later, he made history by becoming the first Triple Crown winner in 37 years, making Lyon's new love, Littleprincessemma, an even hotter commodity than she could have ever imagined.
In a previous interview for a TDN Weekend story, Lyon said, "The year I bought Emma was the first year I focused on producers. I had spent a lot on fancy mares carrying their first foals and, frankly, very few of them produced anything like themselves. When I saw Emma, I fell in love with her. I just loved the look of her and her personality and aura."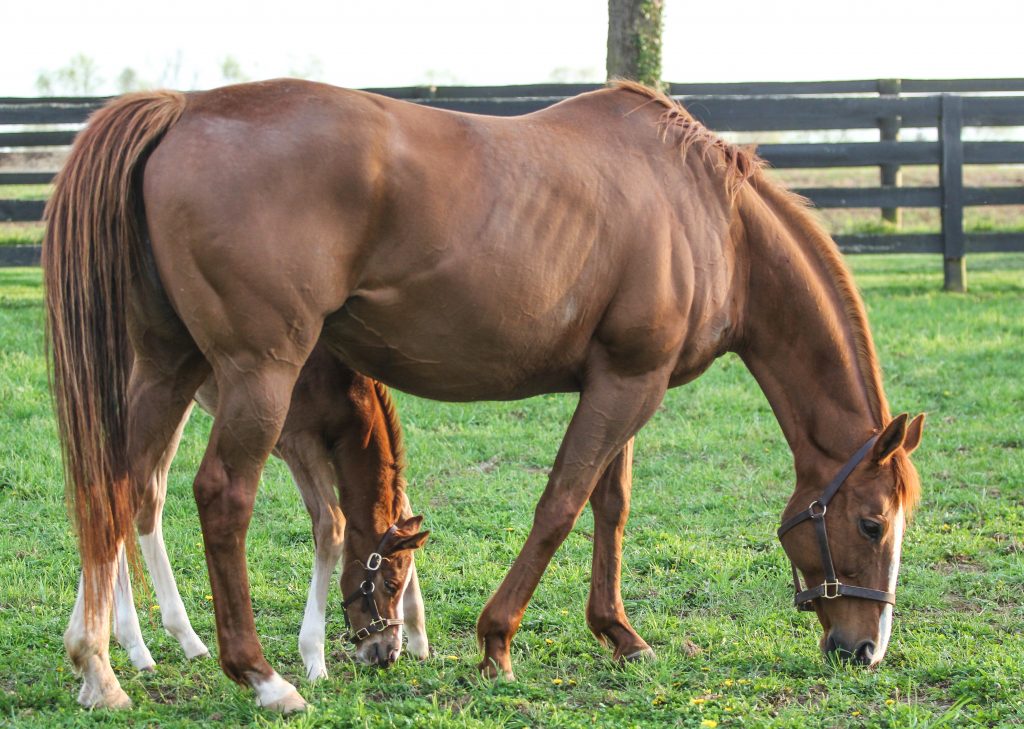 Lyon leads me to the stall that houses the farm's queen, affectionately known as "Emma," and her newest "work of art" as the horsewoman refers to the beautiful chestnut filly at the mare's side. Emma nickers an eager greeting and comes right to the door for carrots.
"She's just the ultimate mare," Lyon said while stroking Emma's face. "I couldn't ask for a better disposition, a better mare to be around, a better mare foaling, a better mother."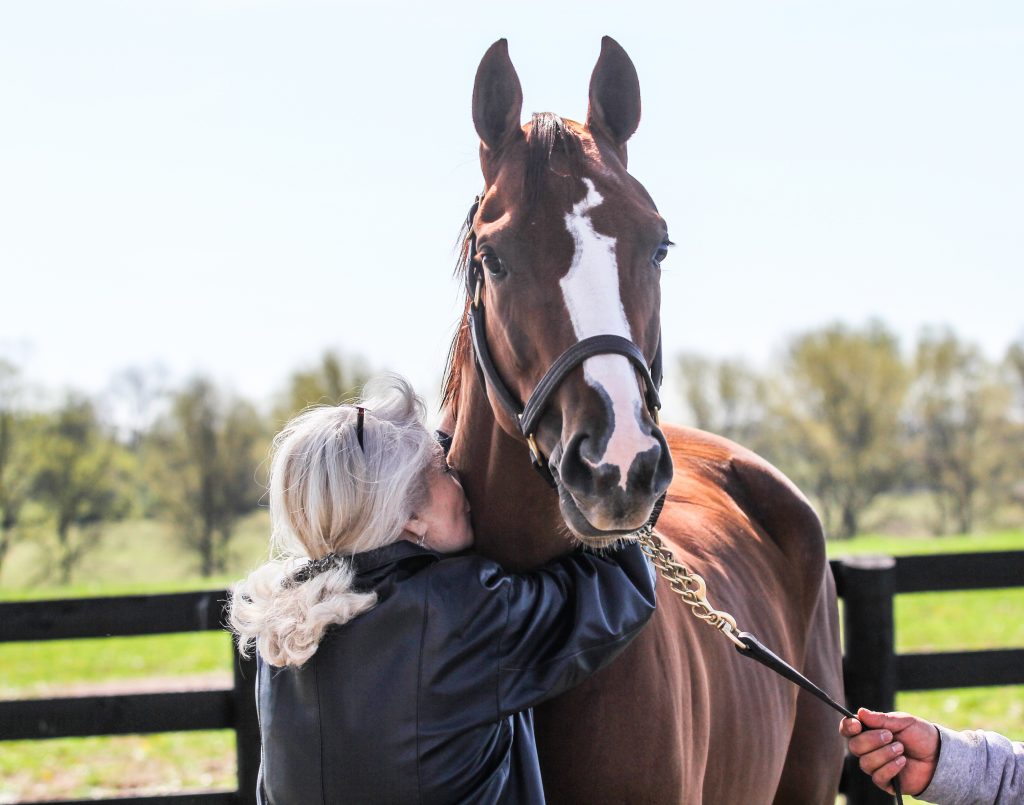 Emma's newest filly is by Tapit, making her a full-sister to Lyon's other pride and joy, Chasing Yesterday, who was the first top-level scorer to carry the Summer Wind colors. Lyon takes me to meet the 3-year-old filly, who was back at her birthplace for a break from training. It is clear `Yesterday,' named in honor of Lyon's late husband, shares her mother's sweet disposition. Just one week after arriving from Santa Anita, the filly stands quietly as Lyon hugs her neck, happily accepting treats and attention.
Mares like this are very difficult to buy and they are more difficult to produce. In order to keep the bloodline going, I will keep fillies, at least one or two.
Bob Baffert has trained four of Emma's offspring: American Pharoah, Chasing Yesterday, St Patrick's Day and American Cleopatra, and said they all shared their dam's personality.
"They have all been very sweet horses," the Hall of Famer said. "They like human contact. They all want to run. They are aggressive and they come around quickly. They are not slow-maturing horses. I heard she was really fast, but got injured early."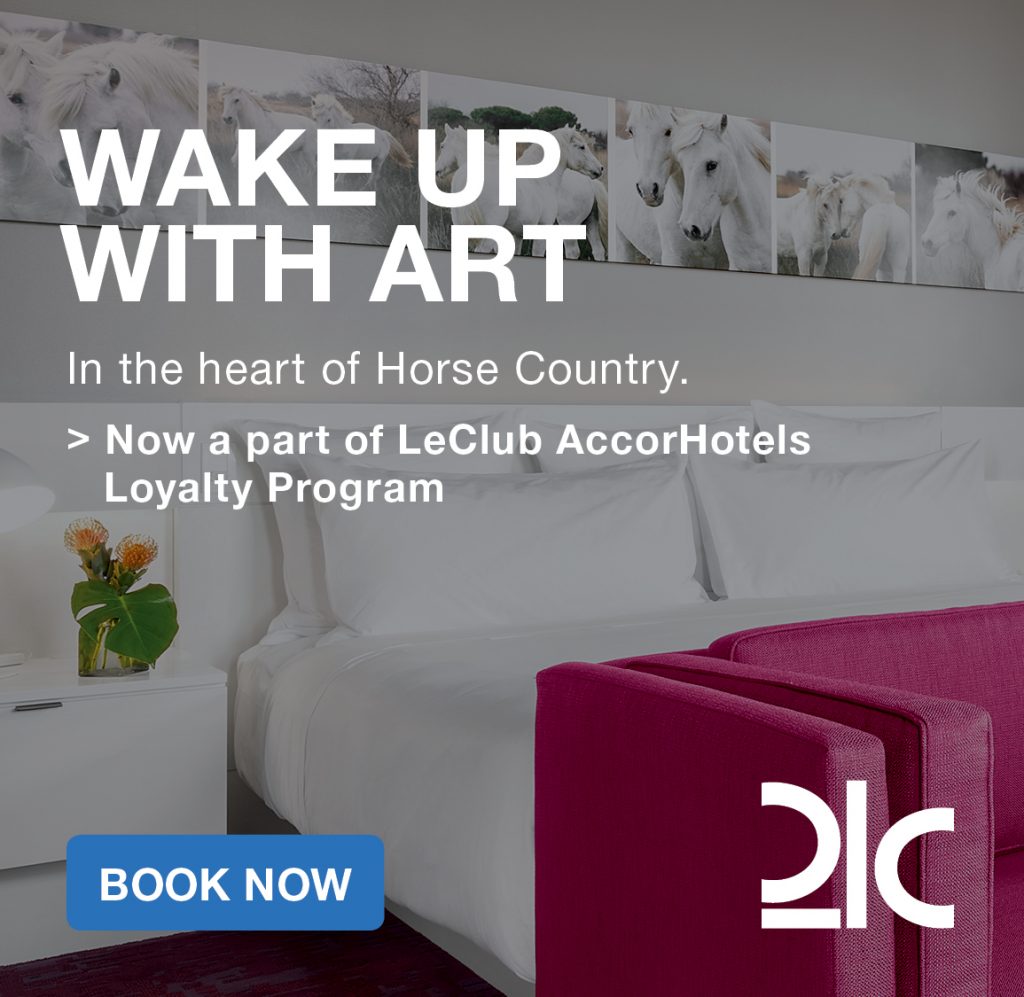 Lyon has retained Emma's 2-year-old colt Theprinceofthebes, a full-brother to American Pharoah, who is currently in training with Eddie Woods, and Triple Tap, Emma's yearling colt by Tapit, who has already caught the eye of many horsemen. After producing three exceptional foals by Tapit, Emma will return to the Gainesway stallion once again this year.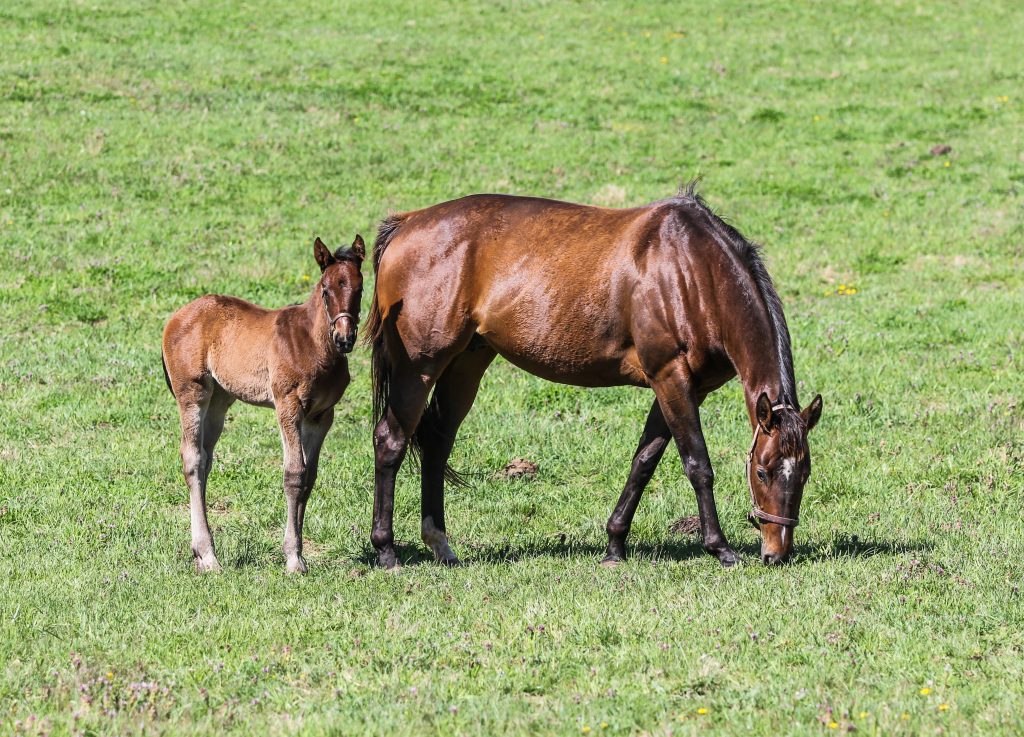 Emma is not the only relative of a Triple Crown winner residing at Summer Wind. When word began to get out that Baffert had another potential superstar in his barn named Justify, Spalding did a little digging and found the colt's half-sister, Holiday Music. Justify was just a maiden winner at the time, but a few months later, the purchase of Holiday Music proved quite prudent after her undefeated sibling became the 13th Triple Crown winner. The bay produced her first foal at Summer Wind this spring, a filly by Pioneerof the Nile, and she was bred back to American Pharoah.
"When we knew Justify appeared to be something special, and of course no one knew how special at the time, we found out that there was a sister to him near us in Kentucky," Lyon said. "We bred her to Pioneerof the Nile and she has had a filly, which is pretty exciting. The foal is balanced and very attractive and we're very happy with her."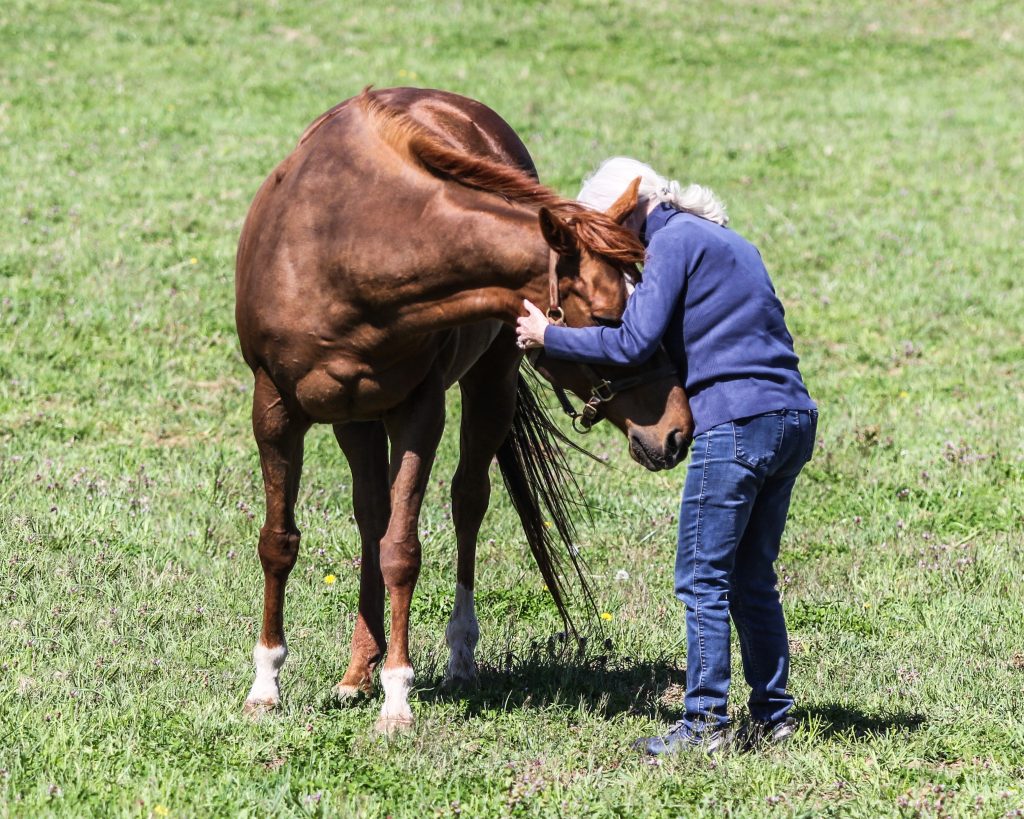 Emma and Holiday Music are not the only stars at Summer Wind, however. The nursery houses a slew of top performers from the racetrack and the breeding shed, such as Grade I stakes winner Sweet Lulu; McKinzie's dam, the graded-stakes winning Runway Model, and his half-sister Malibu Model; Whatdreamsrmadeof, mother of multiple Grade I stakes winner Curalina; and the list goes on.
Malibu Model is a mare Lyon was quite familiar with even before purchasing her in foal to Curlin at last year's Keeneland November sale as she was born and raised at Summer Wind. When her dam Runway Model had to be taken out of production shortly after McKinzie began making waves on the track, Lyon had just one filly from that family, the now 2-year-old Map Maker, so she decided to bring Malibu Model back home to continue those bloodlines.
"She has a beautiful Curlin filly and is back in foal to Street Sense [sire of McKinzie]," Lyon said. "So, we are going to see if she can do some of the magic her mother did."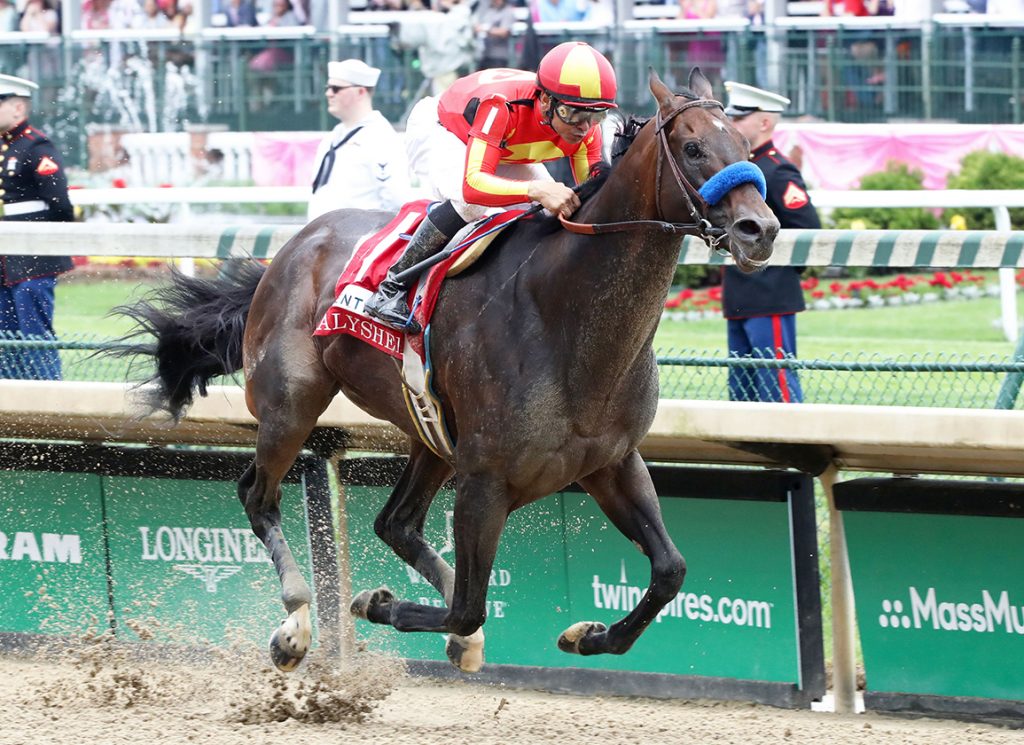 In the same field with Malibu Model and her filly is Whatdreamsrmadeof, who pops her head up from the grass in acknowledgement as Lyon and I stand at the fence observing the chestnut Curlin filly at her side.
"She is a gorgeous filly," Lyon said. "I know I am saying beautiful, wonderful and gorgeous a lot, but it isn't all prejudice. They truly are spectacular foals and we're excited to have a filly out of the mare that we will keep. Mares like this are very difficult to buy and they are more difficult to produce. In order to keep the bloodline going, I will keep fillies, at least one or two."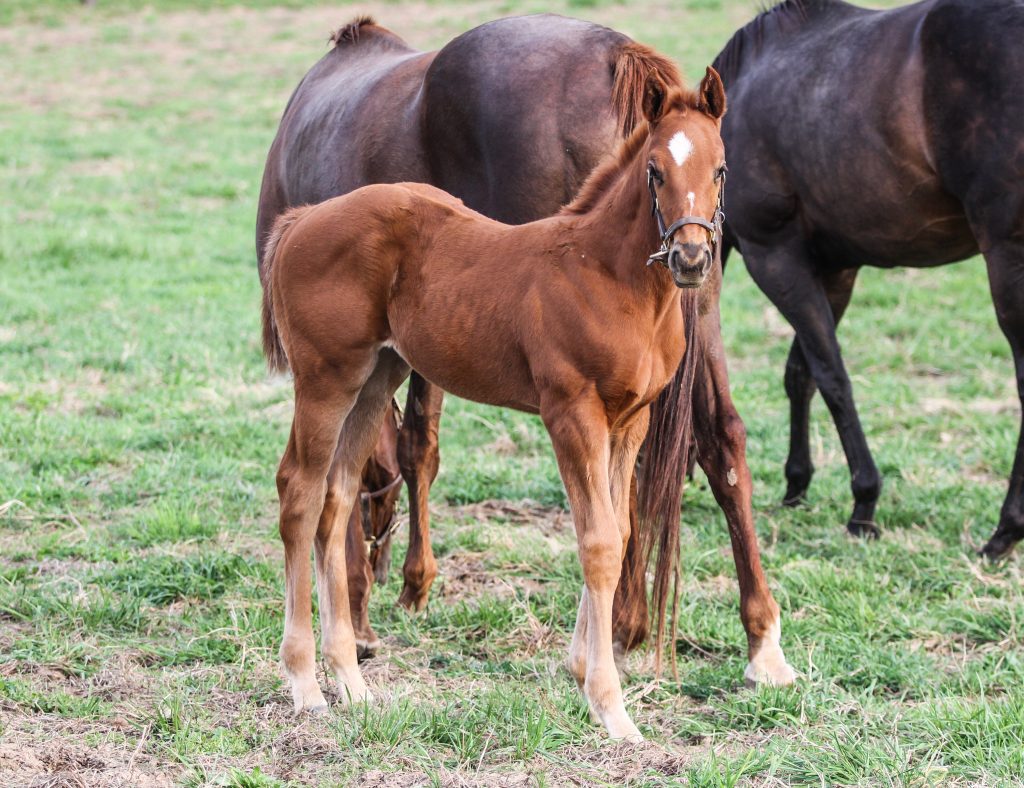 That full-sister to Curalina and Emma's filly are not the only ones on Lyon's keep list from her 2019 crop. The breeder lost one of her star mares this year, Grade I stakes winner Aubby K, but not before she produced a magnificent Tapit filly, who, of course, will stay with Lyon for life. We approach the stall to find the bay stretched out in the straw and Lyon immediately lays beside her, stroking her face as the filly nuzzles her owner in mutual affection. The filly may have lost her dam, but she still has a mother in Lyon.
"We lost Aubby K suddenly and tragically this year," said Lyon, who has Aubby K's sophomore colt Magic On Tap in training with Baffert. "She has been an exceptional foal since birth. This filly is the most perfect and beautiful of any of the foals Aubby K had while we owned her. Her loss is profound, but I am just thrilled that I have this filly to carry on her legacy."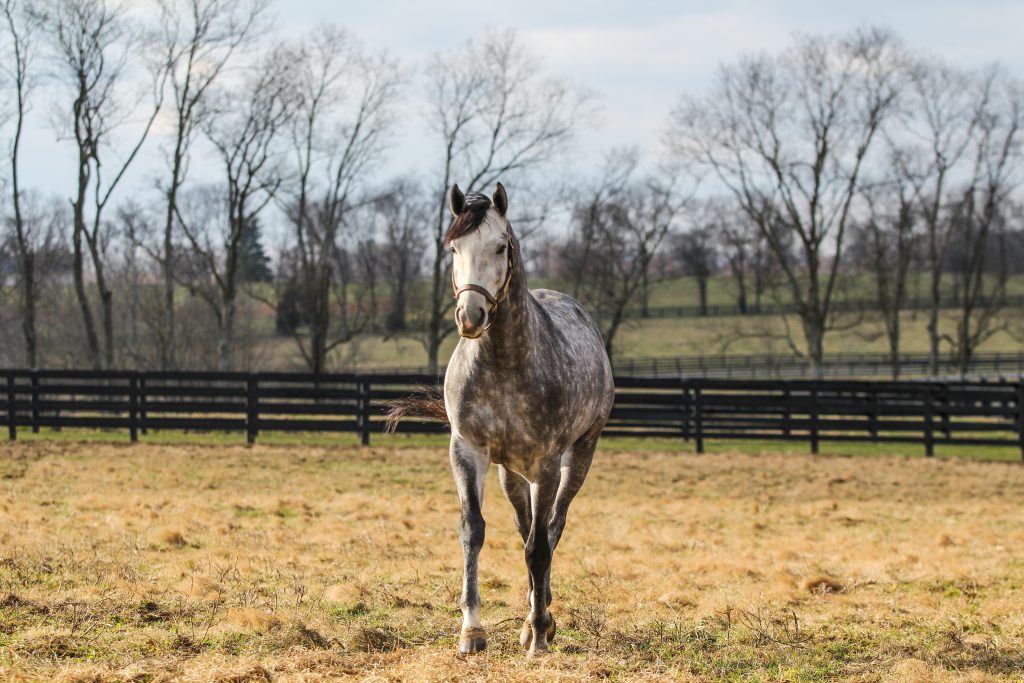 After suffering a bad dystocia last year, Sweet Lulu smoothly delivered her filly from the first crop of Gun Runner this spring and Lyon's new Galileo mares, Key To My Heart and A Star Is Born, both produced stunning War Front foals. As we tour the property, each foal is truly lovelier than the next. The ever humble and gracious Lyon even admitted this may be her best crop yet, which is truly saying something given what she has already produced.
As Baffert said, "She has raised some really good horses. A matter of fact, my whole barn is basically Jane Lyon's with Game Winner, McKinzie, Chasing Yesterday and Magic On Tap."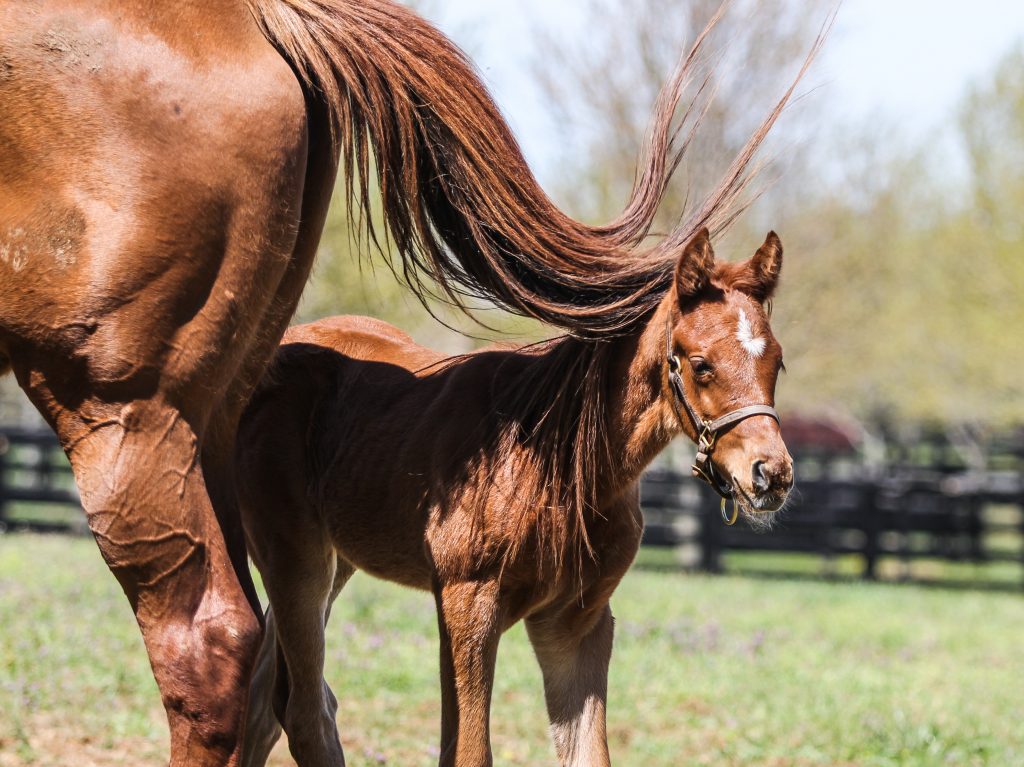 You don't need to be a Hall of Famer to see that something special is happening at Summer Wind these days. While it takes a team to run an operation like this and the farm certainly has a great one, a team is only as strong as its leader and, luckily, Summer Wind has the best one it could ask for in Lyon, a true horse lover with a giant heart, endless compassion and excellent instincts.