by Christie DeBernardis
To Listen to this story as a podcast, click the play button above.
If you drive down Athens-Boonesboro Road at the right time of day, you might be lucky enough to catch a glimpse of a hulking chestnut horse and his equally imposing bay brother romping through their field. With the residents of the adjacent paddocks at Forest Lane Farm being Angus cows and Quarter Horses, it would not be surprising for a passerby to think the playful geldings were just a pair of pleasure horses. However, educated horse racing fans would recognize that they were in fact looking at a six-time Eclipse winner and his near millionaire half-brother as Forest Lane Farm belongs to trainer Charlie LoPresti and his wife Amy, the longtime caretakers of Wise Dan (Wiseman's Ferry) and Successful Dan (Successful Appeal).
It was something else for about five years. It was an experience. I wouldn't give it up for anything. But, for us, I think the biggest thing is that they retired sound enough to be able to enjoy the rest of their lives, you know?"
Being the older brother by a year, Successful Dan came onto the scene before Wise Dan, becoming LoPresti's first graded winner with his score in the 2009 GIII Northern Dancer S., which was the third straight victory of the gelding's career. He would go on to win five more races, three of which were graded, and place in several Grade Is for earnings of $998,154.
Successful Dan's career was interrupted by multiple injuries, including one which caused him to miss the entire 2011 season, but the hard-knocking bay continuously made his way back, not only to the track, but to the winner's circle. However, in the fall of 2013, an issue with his XYZ ligament caused the LoPrestis and owner/breeder Mort Fink to retire their first star pupil at age seven.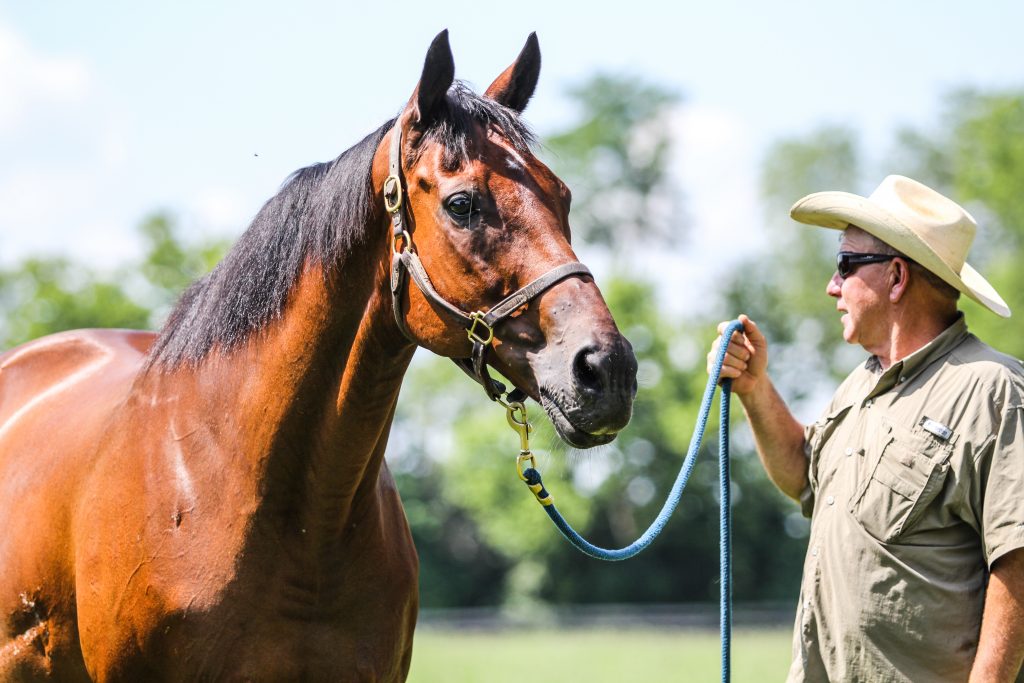 "Successful Dan actually came before Wise Dan," Amy LoPresti said. "He was getting hurt all of the time, so we were constantly bringing him back off of an injury. The old horse, he's got a really special place for us because he could come back and he tried so hard."
Wise Dan broke his maiden at second asking at Turfway Park just 11 months after Successful Dan won on debut at Keeneland. It was a pretty inauspicious beginning for a two-time Horse of the Year, but he did capture his first graded event two starts later in Keeneland's GIII Phoenix S. and made his first appearance at the World Championships next out in the 2010 GI Breeders' Cup Sprint, where he finished sixth.
The following year, while his brother was on the bench, Wise Dan emerged from his elder's shadow and proved to be a force to be reckoned with. He captured a pair of Grade IIs and ended the year with his first Grade I score in the Clark H. The chestnut won five of his six starts in graded events the following season, including the GI Woodbine Mile, GI Shadwell Turf Mile and GI Breeders' Cup Mile (video), earning three Eclipse Awards for top older male, top turf male and Horse of the Year in 2012.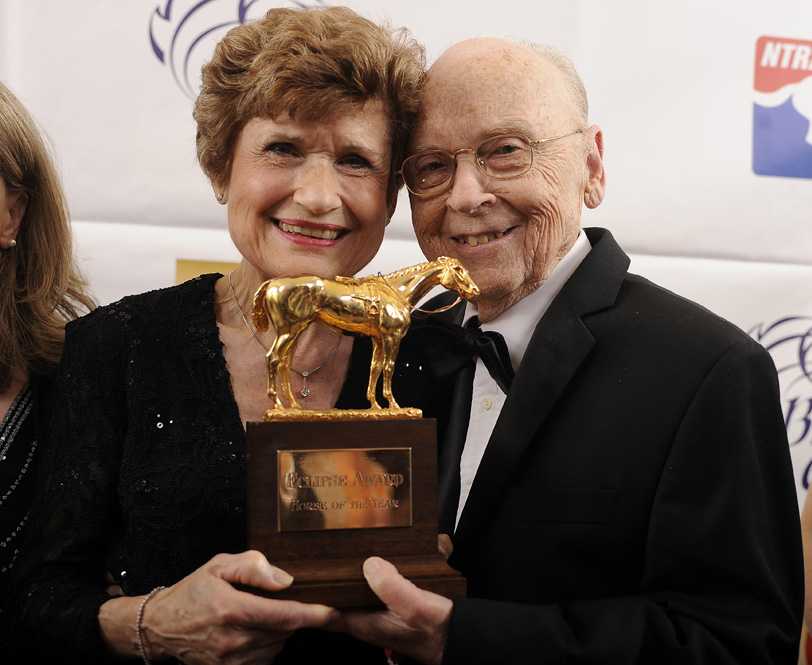 Wise Dan would repeat that feat in 2013 with another season worthy of three Eclipse Awards, including the most coveted prize of Horse of the Year. He again won all but one of his starts in graded company that term, including the GI Maker's 46 Mile, GI Woodford Reserve Turf Classic and successful title defenses in the Woodbine Mile and Breeders' Cup Mile (video), in which Jose Lezcano was called upon as a last-minute replacement for regular rider John Velazquez, who was injured earlier in the card.
While Wise Dan did not incur as many injuries as Successful Dan throughout his career, he did have a pretty spectacular comeback in his final season on the track. In May of 2014, just two weeks after winning another Woodford Reserve Turf Classic, Wise Dan was rushed to Rood & Riddle for emergency colic surgery. The now six-time Eclipse winner made his highly anticipated return to the races at Saratoga, getting up to win the GII Bernard Baruch H. by a thrilling nose after several anxious moments (video). He would go on to capture that term's Shadwell Turf Mile but was forced to miss an intended bid for a third Woodbine Mile and Breeders' Cup Mile due to a compression fracture in his ankle and a small tear in his tendon. At that time, Wise Dan was already 7-years-old and the LoPrestis and Fink decided he had done more than enough to earn his retirement.
"It started with the ankle injury after the Shadwell," Amy LoPresti said. "He had a compression fracture and it took us a while to get him over that. Two days before we were going to leave to go to Woodbine for the third time and a third Breeders' Cup try, we had him on the wash rack and Charlie noticed he had just a little, teeny bit of filling on the outside edge of his tendon. We scanned it and he had a little less than a 10% tear on the outside edge. It would not have been catastrophic, but if we ran him and he tore it, he may never have been sound again. We couldn't run him like that anymore. He had done enough, more than enough."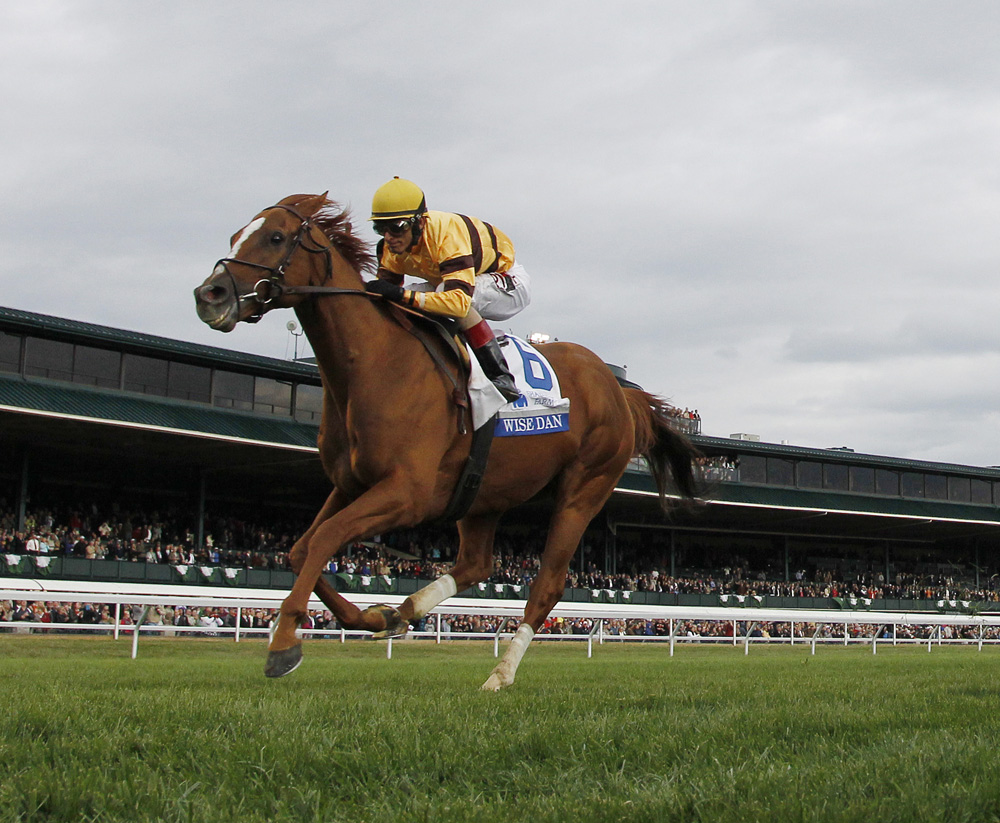 She added, "[Wise Dan and Successful Dan] were really incredible racehorses. They have big, big hearts and I really loved what they did. It was something else for about five years. It was an experience. I wouldn't give it up for anything. But, for us, I think the biggest thing is that they retired sound enough to be able to enjoy the rest of their lives, you know?"
Successful Dan had retired the year before, also at age seven, and was living out a happy life at the LoPrestis' farm, so, with Fink's blessing, they brought Wise Dan home to be reunited with his brother. Amy LoPresti led me into the big, airy barn comprised of dark wood with red doors and just a handful of stalls on the right side. She directed me to the middle stall and said, "You can go on in and see him if you like." I was caught off guard but filled with delight. She made the offer so casually, as if she was allowing me to enter the stall of her cow horse, rather than a future Hall of Famer, whom I had admired from afar for years.
The strapping chestnut welcomed me into his house, sniffing my hands and checking me for treats as I stroked his neck and face. After five years, it was clear Wise Dan was quite accustomed to his new lifestyle, but that was not always the case.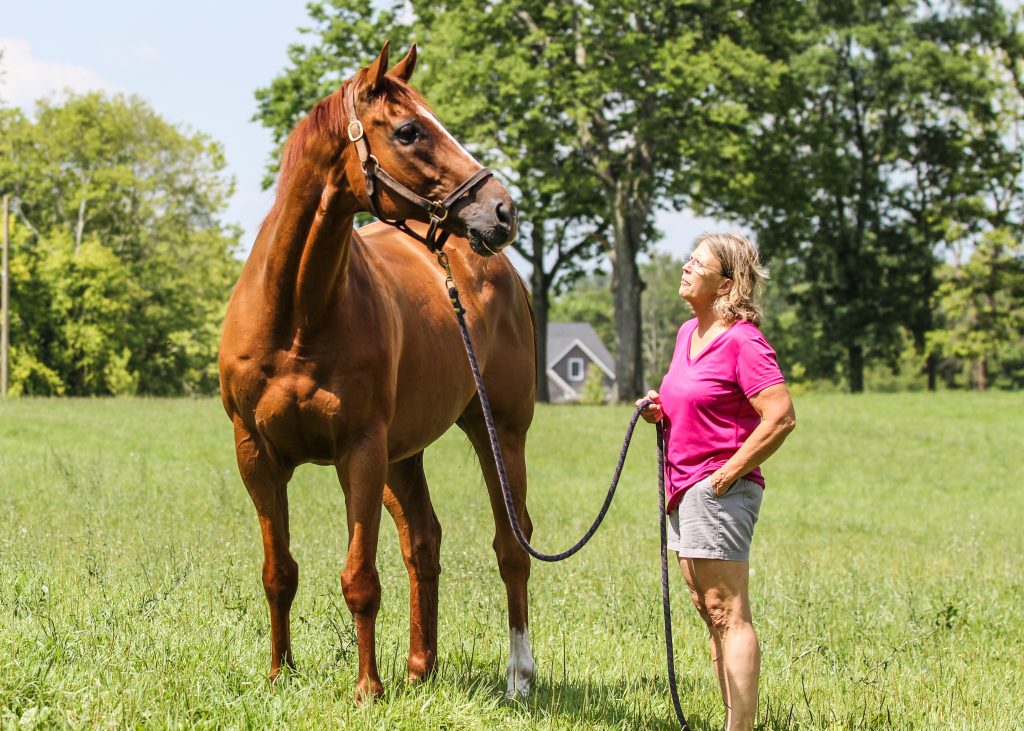 "Successful Dan was not very hard to settle in, but with Wise Dan, it had been so long since he had been turned out with anything," LoPresti said. "When we brought him home from the track, he was by himself for a month or so. Then, we weaned our calves and we were going to keep a few young heifers, so I put him out with them. He didn't know how to be around another animal because he had gotten so human-like. Charlie always said he was kind of half human. He is very sensitive to people's emotions."
The lifelong horsewoman continued with a laugh, "So, he got really attached to the cows and would take them and keep them with him all the time. If they tried to wander off from him, he'd go around and bring them back into a little group. There is a place down in the field where there is a big tree and he would sleep down there at night. You'd go in the field in the morning and he and the girls would be all together in a little bundle asleep."
He does have a lot of human qualities. I know that sounds strange for a horse, but he does."
Eventually Wise Dan graduated from cows to a paddock mate that was more his equal in his older brother Successful Dan. There were a few anxious moments at first, but now they are inseparable.
"Finally, we got up the nerve to turn him out with Successful Dan," LoPresti said. "It was a little bit of an experience because they just took off and ran up by the house and back down the hill. It was just thundering. They came past us and I thought poor Charlie was going to have a heart attack because he was convinced they were going to get hurt. They finally stopped by the house and we ran up and got ahold of them just to make sure everything was okay. Luckily, it was. Since then, they've been joined at the hip."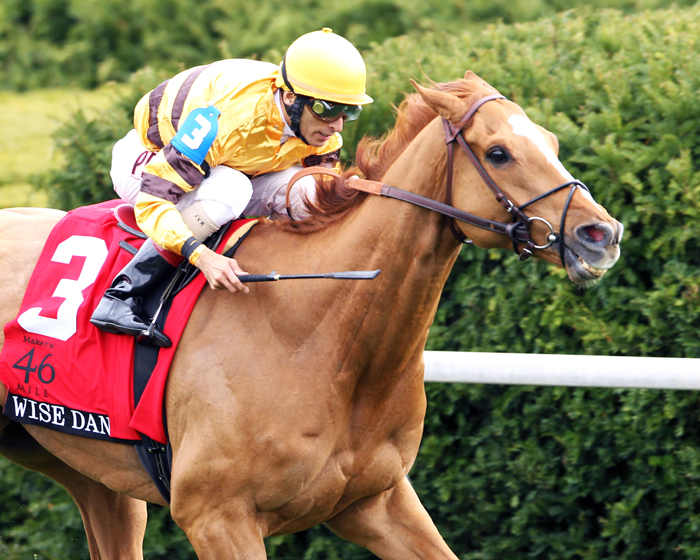 The brothers' bond is so deep now that when Successful Dan was hurt two years ago and put on stall rest, his younger brother refused to leave his side.
"Successful Dan got a huge gash on his side about two years ago," LoPresti recalled. "We don't know what happened, but he ripped himself open and had surgery that lasted two and a half hours. He had a three-foot incision on his side and had to be locked in the barn for four weeks. Wise Dan just stayed down there right by the barn. He'd come up and get a drink of water then go back down to the barn and wait to be brought in in the morning. He just pined for him."
While Wise Dan and Successful Dan have grown close over the years, they still have little spats as all siblings do. Big brother Successful Dan is the boss, despite his younger sibling's outstanding accomplishments, and he reminds Wise Dan of that fact when necessary.
"Wise Dan is a pest," LoPresti said with a chuckle. "He will follow Successful Dan around and get right up behind him and push him around or poke him. Successful Dan is pretty good about it until he gets aggravated. Then he will reach over and take a good bite out of [Wise Dan]. It's like he's saying, 'Okay, I have had enough. Leave me alone!' And Wise Dan will just go off and leave."
Despite being reacquainted to life as a horse, Wise Dan still retains his human-like characteristics LoPresti had described earlier. It was quite evident in his mannerisms and the look in his eye as I made his acquaintance in his stall that day.
Just days before my visit, the LoPrestis had taken their champion pupil to Old Friends to celebrate "Wise Dan Day," which gave fans an opportunity to meet the superstar up close. Amy LoPresti recalled a particular moment that displayed the true heart and soul of the perceptive chestnut gelding.
"There was a lady that had been a volunteer there that is now in a wheelchair," LoPresti said. "When we put him in the stall, she wheeled up to the stall front and he just took his head out, put his ears up, touched her face with his nose and blew in her hair. He just stayed there. He didn't lose focus. He just stayed there with her and I like that part of him. He's really, really sensitive that way."
She added, "He's always been that way with kids, dogs and anybody that he gets a sense is not strong enough to be around him. That part of him makes him so much different than Successful Dan. He does have a lot of human qualities. I know that sounds strange for a horse, but he does."
LoPresti summed it up perfectly, saying, "He is pretty sure he is still king of the world."
With all he has accomplished, Wise Dan has earned the right to feel that way, and the LoPrestis, as well as his multitude of fans, certainly agree.